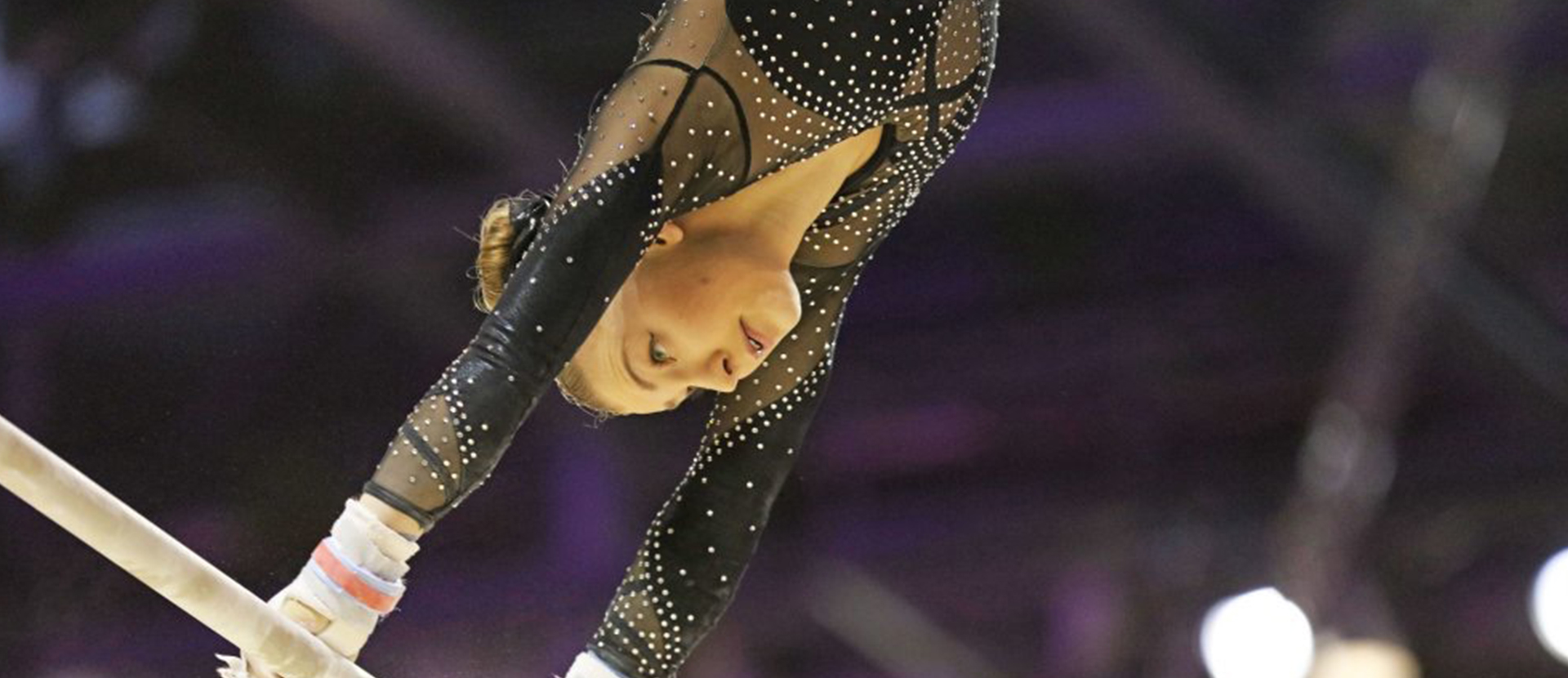 Solent gymnast gears up for Commonwealth Games
It's 'Games on' for Kelly
20th March 2018
Solent gymnast Kelly Simm is celebrating a spectacular return to form after battling through injuries the past two years. She was recently crowned All Around (AA) champion at the 2018 British Championships in March, and will also be representing England at the Commonwealth Games in Australia this April. We caught up with Kelly to find out more about her road to recovery, expectations for the Games and future aspirations.
Tell us a bit about your recent injuries
From the beginning of 2016 till the end of 2017 it felt like I was constantly injured! Over the Christmas and New Year training of 2016 I hurt my back and found out I had a stress fracture, which was the worst possible timing considering it was an Olympic year! I had to rest for a couple of months, and then we decided to have an injection and try to get back in time for the last few Olympic trials, which I did, but it wasn't enough for a place on the team.
I then went away and rested over the summer and then came back and competed again that October. During the competition I landed awkwardly on a tumble, injuring my ankle. Following five months of going to see consultants and getting injections, I had an operation to sort it out in March 2017. It took the rest of year to slowly build up to all the events again.
It was such a frustrating time but I have had a lot of help from the EIS team at British Gymnastics, coaches, friends, family and the University.
How does it feel to be selected to represent England in the Commonwealth Games again? 
It's absolutely incredible. I didn't think it was going to be possible, as I hadn't competed in an All Around competition for over a year!
How do you think the team will do?
We are hoping for a good result and are working really hard to try and make it happen! We are aware it is going to be tough and know you can't predict anything in gymnastics, so we are just going to keep working hard and see where that gets us!
Were you expecting such success at the Nationals?
Not at all. My coach and I had got back from the American Cup that week so we were going to the Nationals pretty tired! We just had the goal of completing four good routines.  To win was completely unexpected!
It made for a lovely birthday present for my coach who turned 70 that weekend; and he's now the only British coach to have coached a male and a female gymnast to a British AA title! He has also been through a lot this last year – needing unexpected heart surgery - so it was a really special moment for both of us!
What does a normal day look like at the moment, in the lead up to the Commonwealth Games?
We now have two weeks at Lilleshall national sports centre where we are training together as a team. We train Monday-Friday from 9-12.30 and then again from 3-6pm. We then fly out on the Sunday morning of the second week. 
How are you managing to balance your sporting and study demands?
I am extremely lucky to be at a university which is so understanding and enthusiastic about sport, I have had a lot of messages after recent competitions from so many people and a lot of the time when I'm around university people ask me how things are going which is lovely!
Doing my  Applied Sports Science degree part-time definitely helps me balance my studies with training and competition. My supervisor, Matt Johnson, has also been incredible during this busy time and has tried to take as much pressure (university-wise) off of me, which I am very thankful for.
Who is your biggest sporting inspiration and why?
I looked up to Beth Tweddle when I was growing up and to see her achieve her goal of an Olympic medal in 2012 was very inspiring to watch. I have such admiration for all international gymnasts, it is such a difficult sport and gymnasts have to dedicate their whole childhoods to the sport, without any guarantee of succeeding, which is incredible. There's so much respect between competitors in gymnastics which is something I really love about the sport.
Where would you like to see yourself in five years?
I think the last few years of injuries has made me realise that things can turn out completely different to what you've planned, so I try not to think too far ahead anymore! I would like to see myself happy and enjoying what I'm doing!
Banner image credit: Myriam Cawston