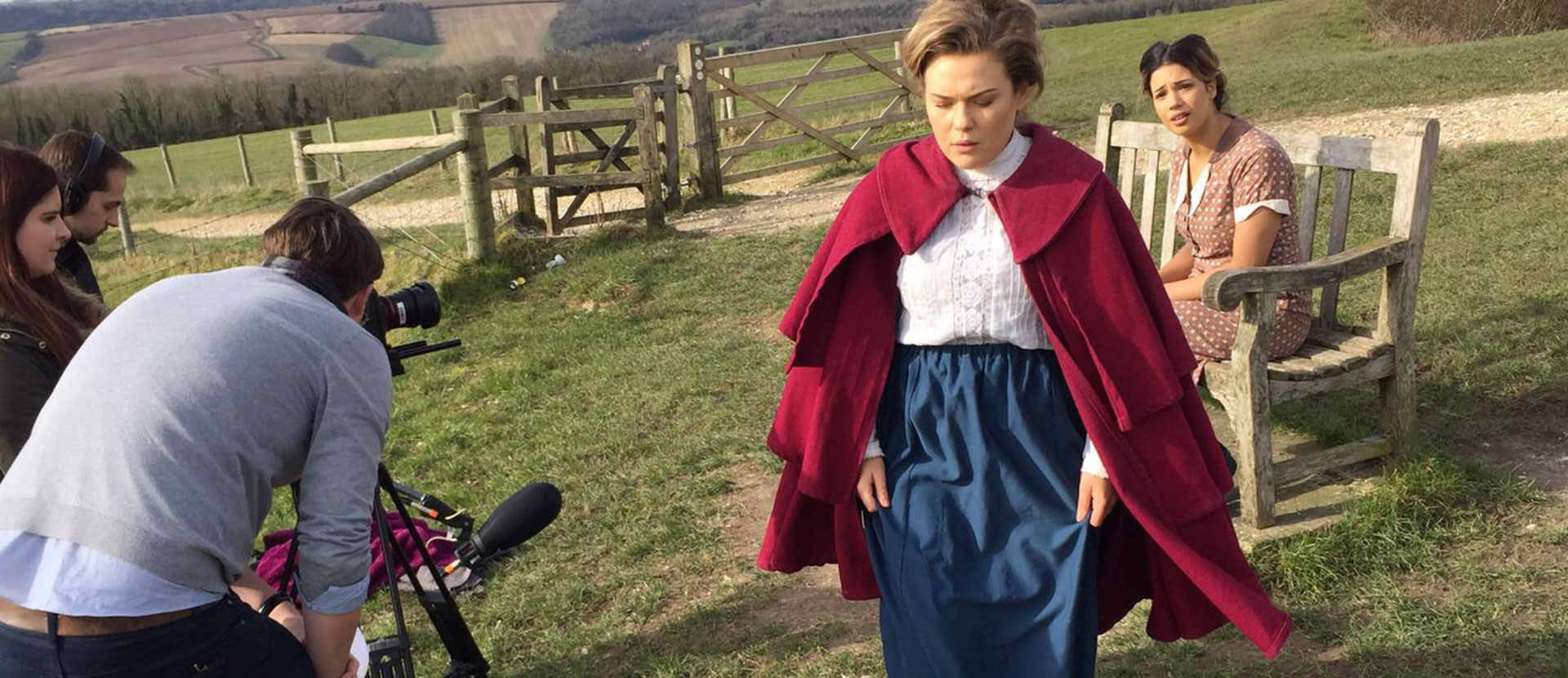 Solent performance graduate takes acting talent on tour
We catch up with Lauren Langstaff-Roberts to find out what she's been up to since graduating.
24th November 2016
Lauren Langstaff-Roberts (22) graduated from Solent with a 2:1 in performance. We caught up with her to find out what she's been up to.
How did you get started after graduation?
When I left Solent I had a full-time job in H&M from working there part-time while I was studying. As acting jobs can be hard to come by I decided to carry on working there so I had financial stability. However, while at Solent our lecturers had set us up with auditions for a touring theatre in education (TIE) company as part of our creative industries module. This meant we were able to gain more experience with auditioning and receive feedback to look at how to improve. After graduating the same company contacted me and invited me to another audition. Luckily I was successful and got a job as an actor at Solomon Theatre and I am currently on tour as Lucy in their show 'Choices' which tours round secondary schools.
Have you come up against any challenges?
When I left university I decided not to go straight into looking for acting jobs as I felt it was best to wait to look for an agent or seek acting jobs when I had saved enough to move to London. When I moved back home I joined ITV West Workshop so I could keep up with my training while working to save money. However my full-time job took up a lot of my time because of unsociable working hours, so being able to take part in shows on the side proved difficult. But when Solomon approached me not long after, and paid more than what I was currently earning, I went straight for it with no hesitation! 
What are your highlights so far?
I'm really enjoying myself on tour; we're currently going round secondary schools in Somerset and Wiltshire. I work 9am-3pm Monday to Friday doing two shows a day, sometimes more, and get weekends off to do what I want, which is perfect! The show is really fun and rewarding, especially when seeing how our audience connects with the performance, really appreciating live theatre and responding intently to the workshop afterwards. Also, Solomon give you the time to apply for other jobs and auditions, so when you're finished with the tour you have the chance to go straight into another acting job. 
Which of the skills/knowledge gained at Solent are coming in most useful now that you have graduated?
The skills I learnt about auditions whilst on the BA (Hons) Performance course certainly helped me towards getting to the job I have now, and will do for jobs to come. And learning about how you are judged on the first 30 seconds of meeting someone, to being confident, and making sure you've researched the company and job well have been useful. Also, from looking into headshots, show reels and casting sites with lecturers on the course, I have been able to make a professional website and have had successful feedback from headshots.
What did you enjoy most about your time at Solent?
I enjoyed the opportunities that we were given by our lecturers, like having regular Alexander Technique sessions, chances to work with an amazing video production company Jack In The Box Films, a chance to gain experience from being in student films, and getting the opportunity to talk to industry professionals invited to visit us by our lecturers. I believe all of this has not only widened my knowledge of the industry, but has also made me more hungry to be an actor, regardless of any obstacles. 
What's next for you - what are your future ambitions?
Next, I have been invited to stay on with Solomon Theatre for two more tours, which I am really looking forward to. They're both different shows as well so I am very excited for that. In the summer I was in The Pugilist by Jack In The Box Films which comes out in 2017. After my tour finishes with Solomon Theatre I plan to move to London with two other girls from my course where we all will pursue our acting dreams by auditioning and looking for agents for various jobs varying from theatre, screen, radio, and even adverts! 
Do you have any top tips for current students?
Be ambitious. Don't be afraid to take risks. If you want something don't just get it, take it! If you have the mind-set that you can do something and will do something, then most likely you will. I know it sounds clichéd, but if you have a dream you follow it and you don't let anyone or anything get in the way. Also, work hard because believe me, it pays off!
Feeling inspired? Find out more about performance degrees at Solent.