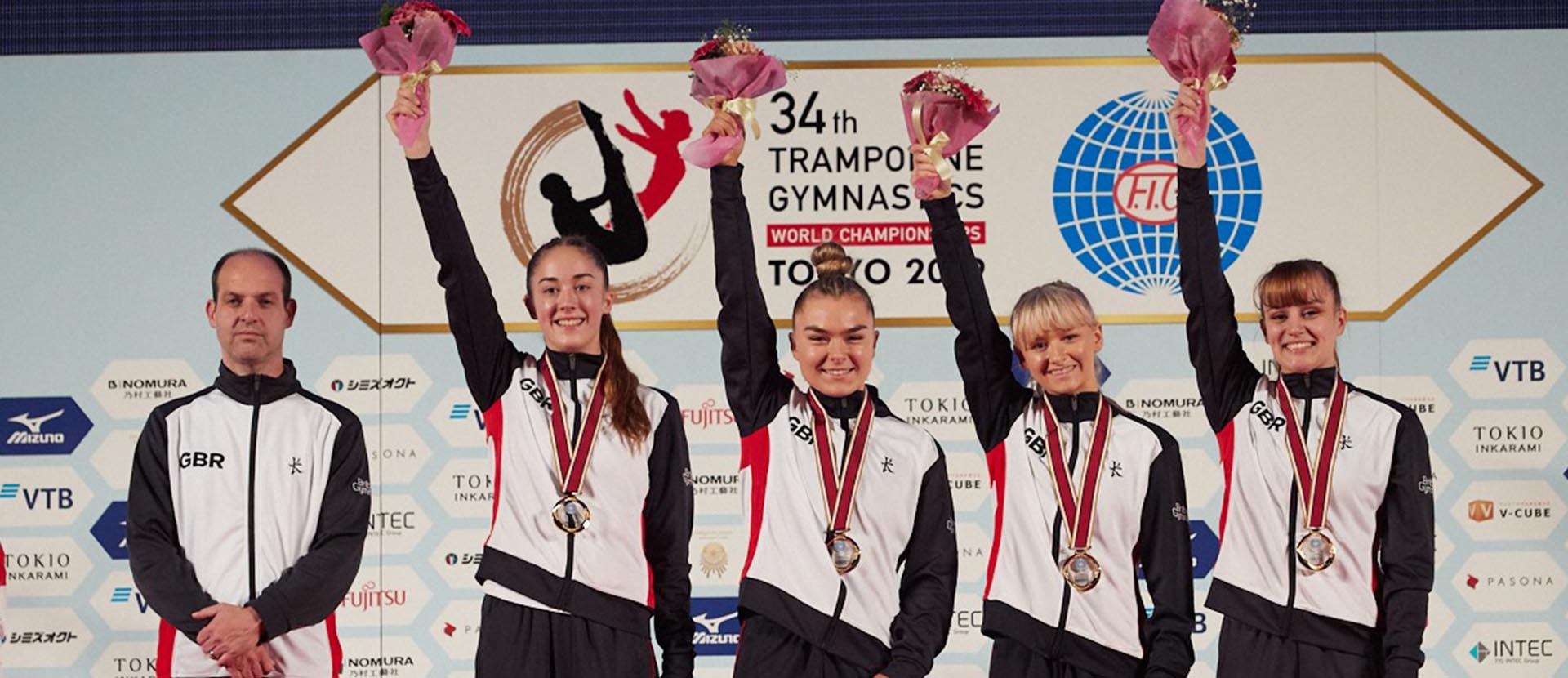 Solent student wins gold with British tumbling team
A Solent student has won gold with the GB tumbling team.
5th December 2019
Solent University student, Aimee Antonius, helped the Great Britain's Women's Tumbling Gymnasts team take gold on the first day of finals at the 2019 Trampoline, Tumbling and DMT World Championships in Tokyo.
Aimee was one of three women taking part in the event, her first senior major final, and scored a brilliant 34.300 to help the team to victory.
She said: "Winning team gold at this year's World Championships was the most incredible experience and competing at the Olympic arena for Tokyo 2020 was very eye-opening."
The 18-year-old, who is in the first year of a degree in Applied Sport Science at Solent, added: "It was amazing to be in the competition with my best friends and team mates and it was an honour to compete against some of the people I have idolised on TV since I was young."
Aimee currently completes three hour gymnasium training sessions five times a week, in addition to gym workouts three times a week, including rehab programmes, circuits, plyometric, HIIT and resistance training to aid strength and conditioning.
She said: "I receive a lot of moral support from my sports' lecturers as they are very understanding of my commitment to gymnastics. I am not currently on the High Performance Academy programme but I have applied for next academic year.
"This is important to me as tumbling is a fully self-funded sport and so I have to fund all my kit, training costs, competitions, travel, physio sessions and gym memberships. My club do as much fundraising as we can to help support all the gymnasts and I am very fortunate to be given the opportunities I have and to compete all around the world.
"Winning gold meant a lot to every single member of the team as we have trained all year to prepare and we have put every ounce of blood, sweat and tears into our tumbles. I am so proud of everyone's performances as I know how hard we have all worked."
Photo credits: British Gymnastics