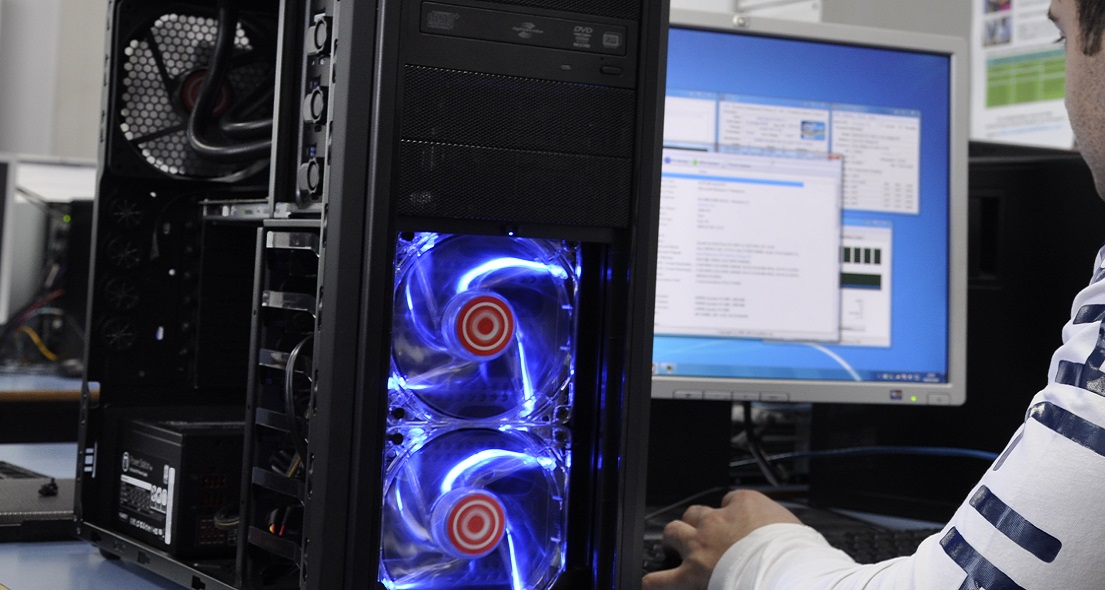 Solent students beat world overclocking records
Solent students shatter world record
30th March 2016
Two final-year BSc (Hons) Computer Systems and Networks students from Southampton Solent University have broken world records in overclocking, a specialised technique that enhances the performance of a computer processor.
Overclocking occurs when the frequency of the computer's processor is increased. For example, you would expect two identical make and model cars to be capable of the same speeds. However, if a mechanic engineered one of the cars – perhaps to allow more fuel to run through when the accelerator pedal is pressed – it would be able to go a lot faster than its original design intended, and would beat the other car in a race. This is essentially what happens when a processor is overclocked.
The average Intel Xeon CPU E5-1620 V2 processor runs at a frequency of 3.7GHz, and is considered to run at a 'turbo' speed at 3.9GHz. Solent student Petar Tashkov recently beat the world record for overclocking this type of processor, increasing its speed to 4.2GHz, at an event that aimed to demonstrate students' technical skills. His world records listing can be found here.
Petar, who is from Bulgaria, says: "I feel really proud of myself and hope I can set more world records in the future. It's something I have achieved with a lot of hard work and should show employers that I am the type of person who not only wants to learn, but can also make something innovative with my knowledge."
Ashley Raven, from Leidschendam in the Netherlands, also broke a world record for the fastest frequency on the Intel Xeon E5-1660 V2 running using water cooling (instead of the usual fan). Again, the standard frequency is 3.7GHz but Ashley overclocked it to run at 4.74855GHz. His world records listing can be found here.
Ashley says: "I'm overjoyed with my achievement; it's something I didn't even think possible at the time I started my project."
The records are a result of the students' final-year projects, during which they were taught the specialised skill by Kalin Penev, Senior Lecturer in Mobile Computing Systems. Kalin explains the benefits of overclocking for companies: "If a computer is overclocked, it can manage higher workloads with fewer delays. For example, a mobile company may send an average of 1,000 text messages an hour. Over Christmas, this may increase to millions. If they overclock their existing system to run faster, it can manage the workload over the same amount of time.
"It's also good having these records on Intel Xeon processors, as they are known for their low energy consumption, which means that the processor running faster gives more value for money."