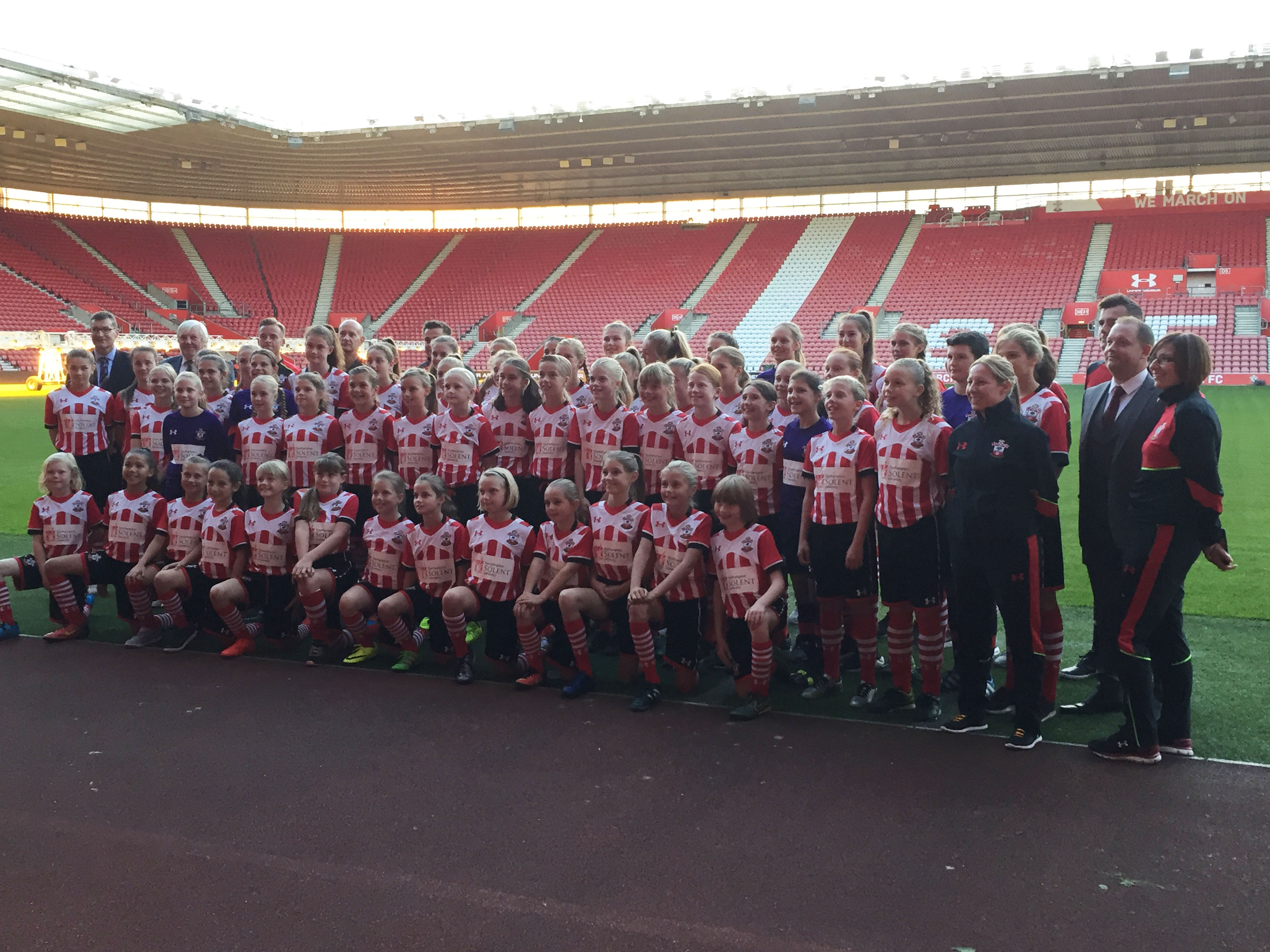 Southampton Solent extends prospering Saints partnership
Solent extends partnership with Saints
12th October 2016
Southampton Solent University is delighted to have extended its current partnership with Southampton Football Club by a further two years and will continue to support the club as Official University Partner.
The partnership extension also sees Southampton Solent University become a Regional Talent Club (RTC) Partner with the girls' football team at Southampton Football Club.
The National Tier 1 FA Licenced programme is currently operating four age-group teams ranging from Under 10's – 16's, with Southampton Solent University offering support on a number of levels.
Southampton Football Club will now have priority access to Solent's Test Park Sports Ground for squad training two nights a week, while the University will also offer sports science and performance analysis support.
Commenting on the partnership, Phil Green, Director of Solent Sport said: "We are delighted to build on our partnership with Southampton FC by playing a prominent role in the new girls programme. As well as hosting the Regional Talent Club at our facility, the girls will also benefit from working with our Sport Science students and using our High Performance Centre during the off-season to continue their physical conditioning.
"Our students will gain valuable real-life work experience in a performance environment, which increases their employability potential. Women's football is gaining profile and prominence in the UK and we are excited at the prospect of helping the next generation of leading players."
#SaintsFC is pleased to announce it has extended its partnership with @solentofficial. Find out more: https://t.co/Exe4YOI9TA

— Southampton FC (@SouthamptonFC) October 12, 2016
Hermione Cull, a 12 year old Goalkeeper for Saints Girls RTC Under 14's team benefits from the partnership with the University as she maintains a rigorous training programme with the club, working towards her dream of becoming a professional footballer.
Talking on the pitch, Hermione said: "The facilities Solent offer are very good. It is so nice to walk out onto the pitch at Test Park and know it won't be soggy or wet, the area is well lit, bright and full of colour which is uplifting and means we can just focus on what we need to."
Hermione continued: "My passion for football became apparent when I was three. My brothers would play Sunday League Football and I used to stand at the side of the pitch, watching them kick the ball around, desperate to join in.
"At first, my parents thought football would be a hobby, but as they watched me progress, they were in agreement – 'maybe we should start getting her into bigger clubs and teams.' When I was picked to try out with Southampton, it was a huge confidence boost.
"I love playing for Southampton, it is the biggest club where I live so to trial and get in is was a dream come true."
Being a young player, Hermione is managing a rigid training schedule, along with school work. "School work is important, training three evenings a week, means I don't have much time – so I use my breaks and free time to get my homework completed."
Martina Heath, Head of Women and Girls at Southampton Football Club added: "The partnership with Solent offers many rewards. It isn't just the training ground and facilities, there is so much more that we can benefit from as a team.
"In particular, we are really excited about the academic opportunities, including the knowledge of lead scientists we can take advantage of at the University. For us, education is important, some of our players may decide later down the line they want to coach; there are some great degree choices at Solent to support this development."
Southampton Football Club's Chief Executive Officer Gareth Rogers said: "We are delighted to welcome Southampton Solent University as a partner of our FA Regional Talent Club.
"Since its launch, the programme has continued to go from strength to strength, with a number of girls receiving international recognition, and that's in no small part down to the support of Solent University.
"As a club our values are very much centred around turning potential into excellence, and that ethos is very much aligned with the University's objective of excellent and engaging learning opportunities.
"We would like to thank Southampton Solent University for their support, and look forward to working with them to develop our Regional Talent Club."
Solent's Vice Chancellor, Professor Graham Baldwin, adds: "We are excited not only to be Southampton Football Club's Official University Partner, but also a Regional Talent Club Partner, offering our students a fantastic opportunity to interact with the club and gain valuable real-world learning experiences.
 "It has been great to see the recognition the players have been receiving and how football plays an integral part of their life. We look forward to helping them excel further through this partnership."
Saints will recognise Southampton Solent University's support by having their logo on the front of the girls' team kits, both home and away.
You can find out more about the sport courses and facilities available at Solent here.