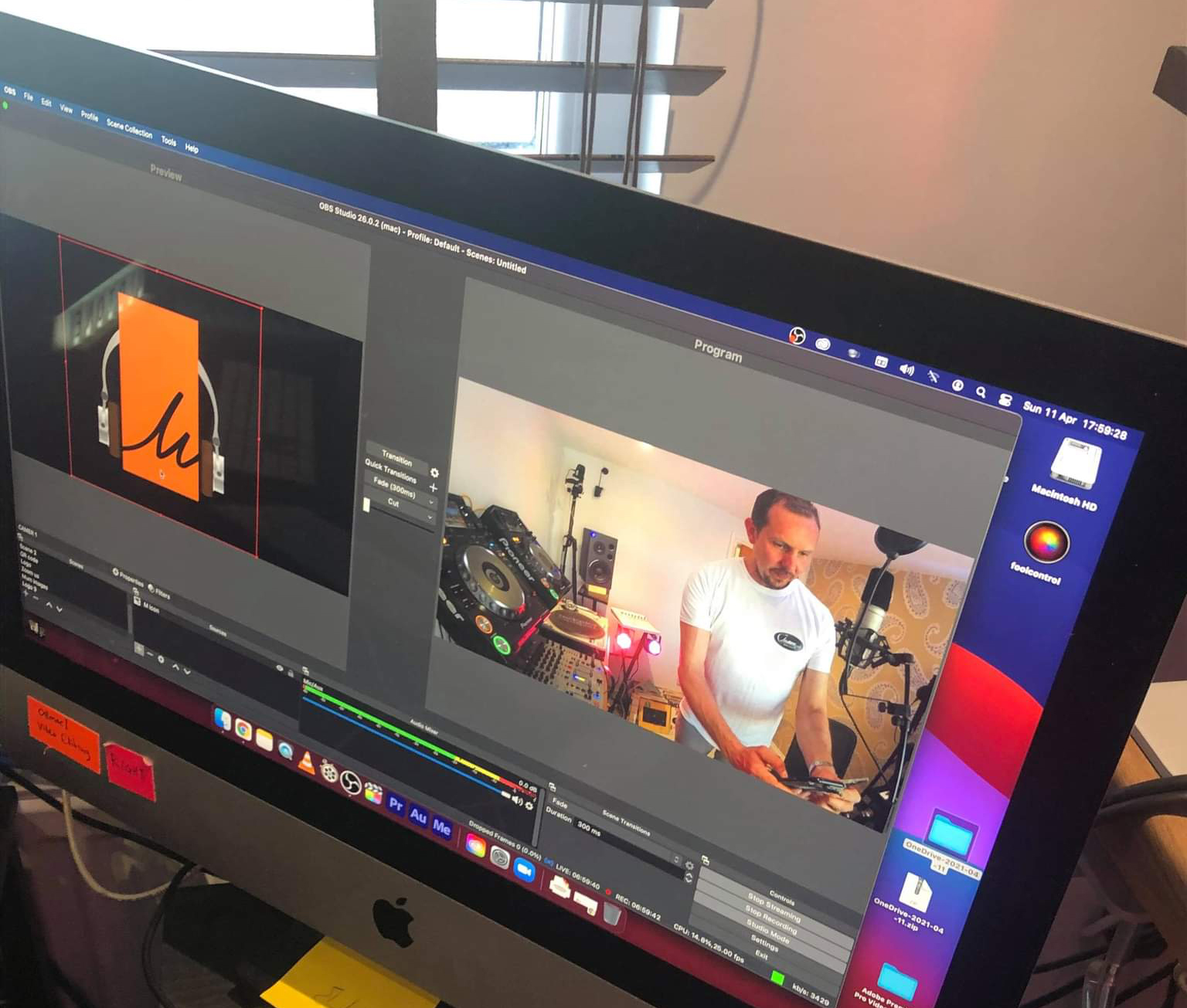 Steve introduces Midtone Music
This World Music Day, Solent University celebrates the success of Technical Instructor for Digital Music and Audio, Steve Middleton's radio station; Midtone Music.
21st June 2021
Set-up at the start of the COVID-19 pandemic, Steve initially started Midtone Music to keep in touch with friends and family, but it has gone from strength to strength and now has listeners all over the world reaching as far afield as Chicago and Australia. Every Sunday from 3pm, Steve takes to decks live to hold a three-hour show full of all kinds of House music.
April 2021 saw the station mark it's one-year anniversary, and to celebrate Steve held a seven hour 'Vinylthon' in memory of his mother who sadly passed away in early 2021, raising over £2,500 for Macmillan Caring Locally. We caught up with Steve to find out more about the station, and how he brings his experience from this area into his teaching.
Hi Steve, tell us a bit about why you decided to set up the station?
I've been DJ'ing for over 20 years, and have always had a passion for radio – growing up I used to listen to Radio 1 every Friday/Saturday night and be so envious of what these guys were doing, I just knew I had to be involved.
When I started my studies at Solent, the first thing I did was sign up to Sonar Radio (Sin Radio back then) and I hosted a Friday night show for three years mixing nothing but House music. I had so much fun doing the show, it gave me inspiration and a real taste for radio.
My role at Solent means I'm heavily involved in music and radio, and I'd been thinking about setting up my own show for a long time. Lockdown happened and that was it! A perfect time to get this all going. I researched other online stations and what they were doing and felt it was the right time to start my own. I signed up to an online hosting server and begun broadcasting. I already had my MIDTONE MUSIC website, so I thought great, a perfect name for the station. I adapted the website myself and starting streaming.
Can you give us an overview of the station?
The station is primarily an all House music station. Although, I do mix other genres I wanted to keep it House music. Every so often I do live Tech/House, Techno and Funk/Soul shows too, to spice things up a little.
If there's one thing the station is well known for its the show I started to do on Sunday afternoons during lockdown. I called the show 'Super Sunday's' this was basically me doing what I do best for three hours live every week. Having fun, mixing lots of feel good House music and getting my enthusiasm out there.
In these very challenging recent times, I think this did help people to escape for a couple of hours and people felt as if they were part of something. It was (and still is) the highlight of my week, I can't wait to get behind the decks on a Sunday afternoon and do the show. People now tune in from all over the UK from Newcastle to London, and even as far afield as Chicago and Australia, and we all party together.
Tell us more about the seven hour vinylthon:
​This year has been hands down the hardest year of my life, just after Christmas my mum was diagnosed with an aggressive form of Liver Cancer. The cancer grew at such a rate that Chemo was not even an option anymore. After numerous tests we were told it was days (not weeks) and true to their word it was 10 days exactly. Mum died at home with her family around her on 7 February. The hole in our hearts is just unimaginable. My Mum was everything and as a family we are still struggling to comes to terms with Mum not being here anymore.
Macmillan Caring Locally did so much for Mum and us as a family. In fact, I was blown away by the level of compassion these people who, had never met Mum had for us all. The district nurses were exactly the same, just selfless human beings who treated Mum as if she was their own Mum, it was something else.
I wanted to give something back - Mum (and Dad) listened to the show on a Sunday every single week, and Mum's love of music was what inspired me to start DJ'ing. On Sunday afternoon's Mum would make herself a drink (usually a Malibu and Pink Lemonade) sit back and enjoy the tunes in the sunshine in the garden on Super Sunday.
This is where I thought of doing the Vinylthon. The Sunday shows were growing in numbers, so I had the idea of going in the mix all day to raise some money for Macmillan and to dedicate the entire show to my amazing Mum.
I started the JustGiving page and thought if I could raise a couple of hundred for these wonderful people then I'd be over the moon with that. I made the page live and was UTTERLY blown away by the responses. I made it live on the Friday afternoon and by the Friday evening we were already up to over £600. The show was a big success and I also video streamed the show on Mixcloud. I was non-stop mixing and dancing for seven hours and by the end the total amount raised was a staggering £2,650 which was just amazing. I played a mix of House and Soul music and a selection of Mum's most loved records. I know Mum would have been dancing along with us.

What can people look forward to if they listen?
​The station is live streaming 24/7 playing some amazing House Music (with no ads). So, perfect for anyone wanting constant upbeat House music.
The main show is Super Sunday's which I host from 3-6pm live every Sunday, and play House music from past to present and keep the good vibes rolling. People text or email during the show with their shouts and dedications. It's a great way to connect with others and have some fun.
I also cut in with other live shows too. I'm a big fan of Tech/House and Techno and would quite often do a live show on a Saturday evening.
How do you bring your experience of DJing into your teaching?
Whether I'm working with the Digital Music team or the upcoming journalists in the radio studios I always try and bring my experience into what I'm doing. I'm fortunate to work alongside some really enthusiastic students which makes it so much easier.
Some students come in and within their first year they are working on their radio production skills to a very high level. I try and preach to them that it's a good skill to try and find out as much about their chosen field as possible. Of course, if you want to be a presenter then that's great, but the chances are you are not going to fall straight into that job. So, knowing a little about production/tech, writing, producing etc is not a bad thing as you might end up doing something along those lines before getting that 'dream job'.
I've also been doing a lot of production at Solent recently too. Again, if I'm working with the music and music production courses, I feel it's only right I'm doing it too. I have a good couple of tracks I've been producing recently which I'm very excited about. Working with like-minded students is great as we're able to share ideas and production techniques.
We hold the DJ assessments every year at the Joiners in Southampton but unfortunately due to the COVID pandemic they have not been running these last two years. It'll be great to get back doing what we do best next year. This gives our up-and-coming DJ's a platform to perform what they have been practicing and to really hone their skills. They are a lot of fun and the students get to put on some very slick events to show their friends and colleagues.