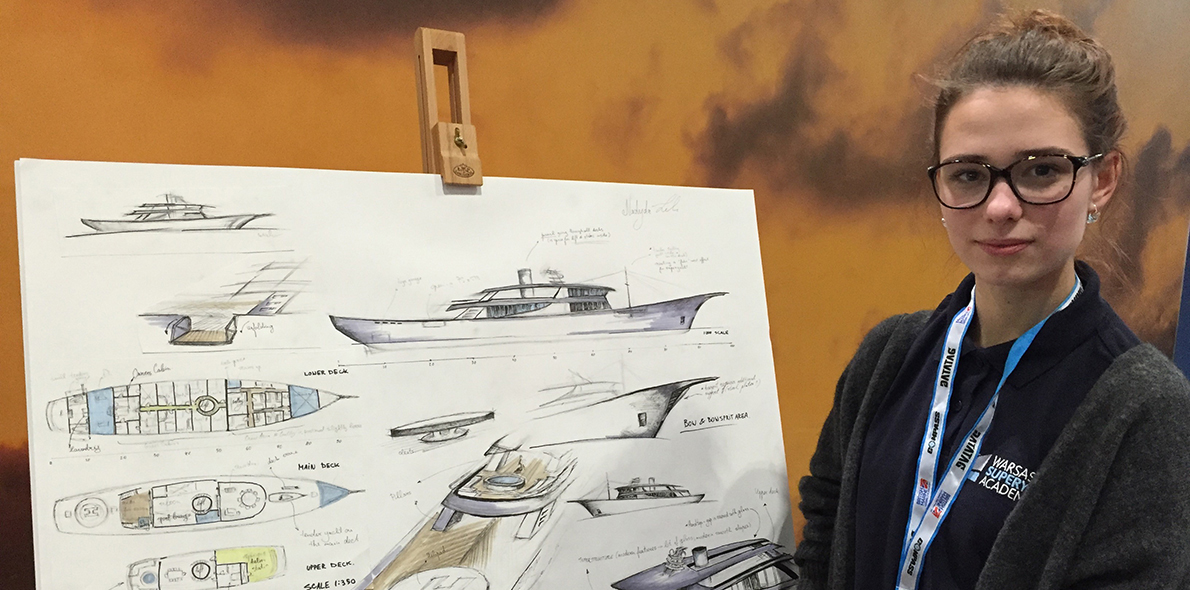 Student superyacht designer highly commended
Nadezda Lele designs 'Super' yacht!
21st January 2016
Architecture and construction
Solent student Nadezda Lele has been recognised for her design talents in Superyacht UK's Young Designer competition held at this year's London Boat Show.
Equipped with nothing but a pencil, skill and imagination, students had just 15 hours to complete their designs, which were judged by representatives from British yacht design and naval architect companies.
Nadezda is in her second-year studying BEng (Hons) Yacht and Powercraft Design and was one of eleven students from universities across the UK to design a superyacht from scratch live during the show on Thursday 14 January 2016.
She says: "It was a great chance to test my design skills and to work under pressure, as the time was constrained plus everyone visiting the show was able to see what we were doing.
"I enjoyed sketching my design, luckily there was my favourite topic in the brief – a compromise between modern and classic."
Nadezda won the 'highly commended' prize for her hand-drawn superyacht design, earning work experience with Isle of Wight based Olesinski Design.
She says: "It was a great chance to see people from the yacht industry. And the prize is a couple of days in Olesinski's design office, so now I am absolutely excited and look forward to going there."
The Superyacht UK Young Designer competition, which takes place live on the show floor during the London Boat Show, puts the design skill of hand-drawing under the spotlight and is an opportunity for students to showcase their design ideas to industry representatives, as well as helping to raise the profile of the marine industry as a potential career path.
Superyacht UK represents the interests of the UK superyacht industry both at home and internationally. As part of British Marine, Superyacht UK champions UK innovation, excellence and heritage.
If you're inspired by Nadezda's prize-winning design talent, find out more about Solent's BEng (Hons) Yacht and Powercraft Design course.