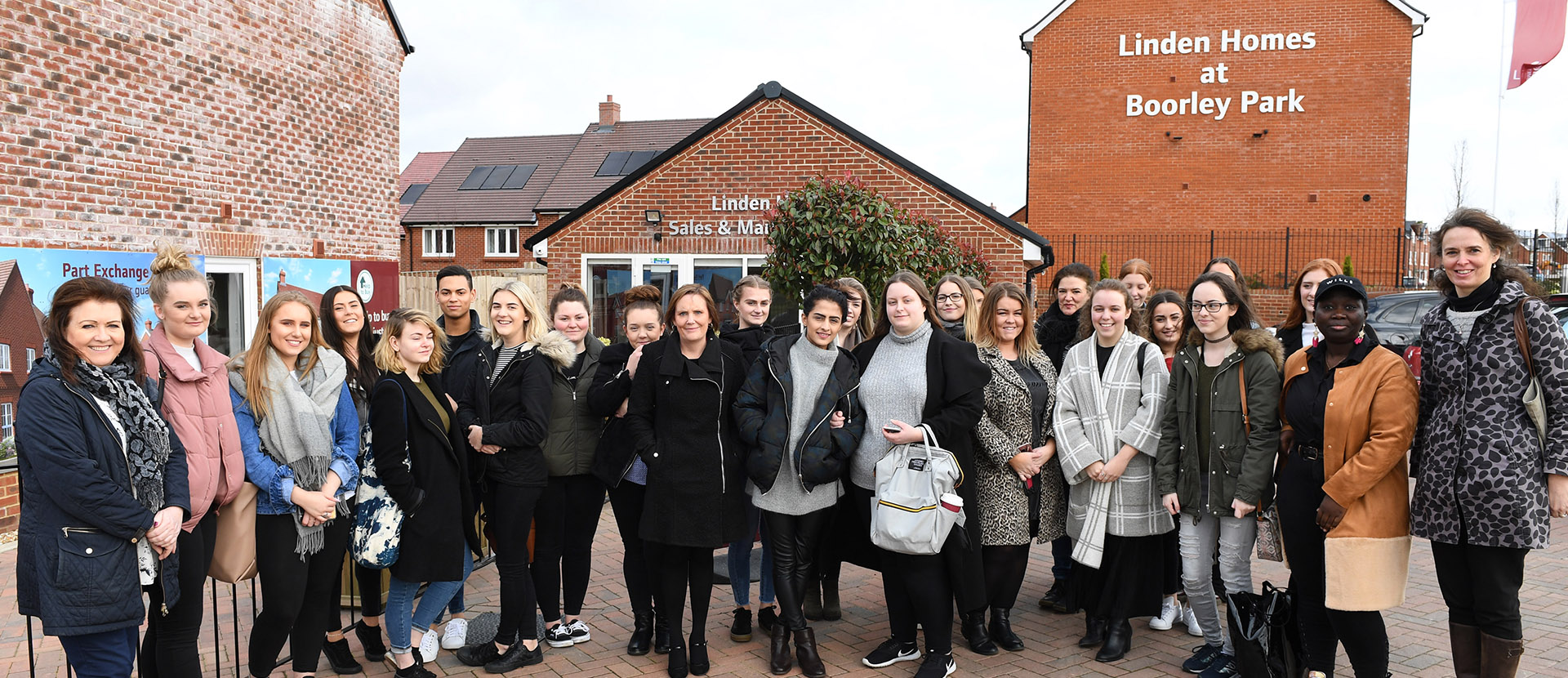 Students kick start project with visit to local new homes development
Interior design students get real-world experience
14th March 2018
Our BA (Hons) Interior Design Decoration students have been getting some real-world experience helping to kick start a new project at Linden Homes show home, Botley Park, Botley, which they recently visited.
The visit was aimed at helping the students visualise the living space in one of the homes, which they have been tasked to redesign, using themes created by well-known fashion designers, as well as creating their own wall paper and furnishing designs to be included in the space.
The partnership between Linden Homes and Southampton Solent University, now in its fourth year, has proved invaluable to previous students and this year was no different.
Olivia Devereux, 19, currently studying interior design decoration at Solent, comments on the visit: "It's been really useful to come here and see the space we've been tasked with redesigning first-hand as it brings the whole project to life. It's also been useful to look through the design boards supplied to Linden Homes by the interior design company to get a feel for how the brief has been interpreted and presented, and to ask questions in a professional capacity."
As well as introducing first year students to a professional setting, Linden Homes has also been involved with judging the students' projects in a pitch style environment, as well as those submitted to feature in the University's end of year show. A number of the winning students have gone on to carve out great careers for themselves, including one who is now working for a leading fashion designer and another who has launched her own textile business.
Lydia Southwell, Southampton Solent University Course Leader, BA (Hons) Interior Design Decoration, added: "Each time we have visited a Linden Homes development our students have found it really helpful to get their creative juices flowing. It also benefits them to see the type of job they could be doing in the future, helping to put their career goals into focus."
Linden Homes South Marketing Manager, Jo Dixon, was on hand to give an introduction to Boorley Park and the types of homes for sale at the development. Jo also provided an overview of the process behind how the team selects the designs for the interiors based on their insights into the anticipated purchaser profile.
Jo Dixon says: "It's a real pleasure to be able to work with Southampton Solent University again and provide the students with an opportunity to see how we brief and work with our interior designers to create our beautiful show homes.
"Their passion and ideas are always really impressive and it's such a difficult job to judge their projects once we get to that stage in the project. Linden Homes is committed to helping nurture new talent as who knows, one day they could end up working for us!"
Find out more about our interior design decoration courses