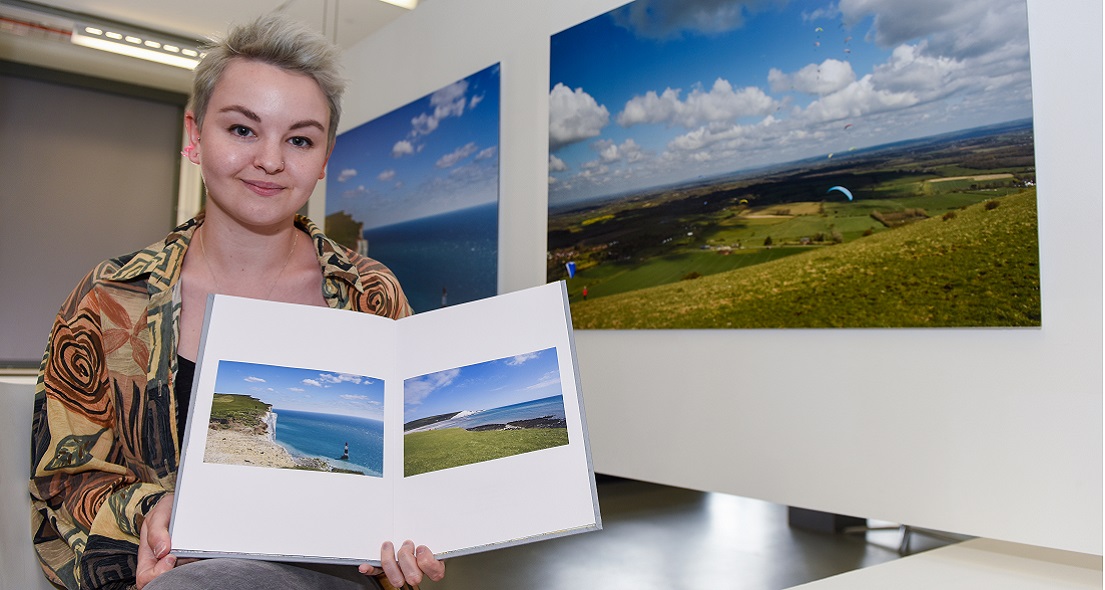 View of the Downs through Charli's eyes
22nd July 2016
Prepare yourself for a visual delight that might make you wish you were born in Sussex.
BA (Hons) Photography graduate Charlotte Scally's love of her hometown inspired her final year project, which she showcased at this year's final year degree show. Charlotte takes viewers on a journey of land, sea and the sweeping landscapes of the South Downs.
We talk to Charlotte to find out about her project, which all started from a poem written by renowned English writer Rudyard Kipling.
Tell us about your final year project
My final project is called Sussex Born, and is a personal exploration of the South Downs. I use self-portraiture to show my deep connection with the place I grew up in, as well as the insignificance of humankind compared with the vast landscapes.
What was the inspiration behind your project?
My project was inspired by the poem The Run of the Downs by Rudyard Kipling as I found out that he was proud as me of the South Downs. The final line of the poem, "You be glad you are Sussex born!", had such a huge impact on my project so I decided to title it as a homage to Kipling himself.
What have you enjoyed most about your time at Solent?
I have enjoyed being able to develop my skills in an extremely supportive environment. All of my tutors have continuously supported me throughout my three years at Solent.
I thoroughly enjoyed working as assisting editor on the third edition of Penta Prism, a student-led magazine that helped raise money towards our degree show. I have also enjoyed how close all of the people on my course are and how supportive we are to each other.
What's next for you? 
From 2 July I will be exhibiting in a group exhibition called Up the Downs which will take place in the South Downs Heritage Centre in Hassocks, West Sussex. I am also very excited that I will be studying a Masters in Photography at UCA Rochester from September.
Do you have any advice for other students or potential students?
If you want something to happen you have to work for it, never let anyone tell you that you can't achieve it. Hard work really does pay off.
Ready to show off your photography skills? Join us on our BA (Hons) Photography course.