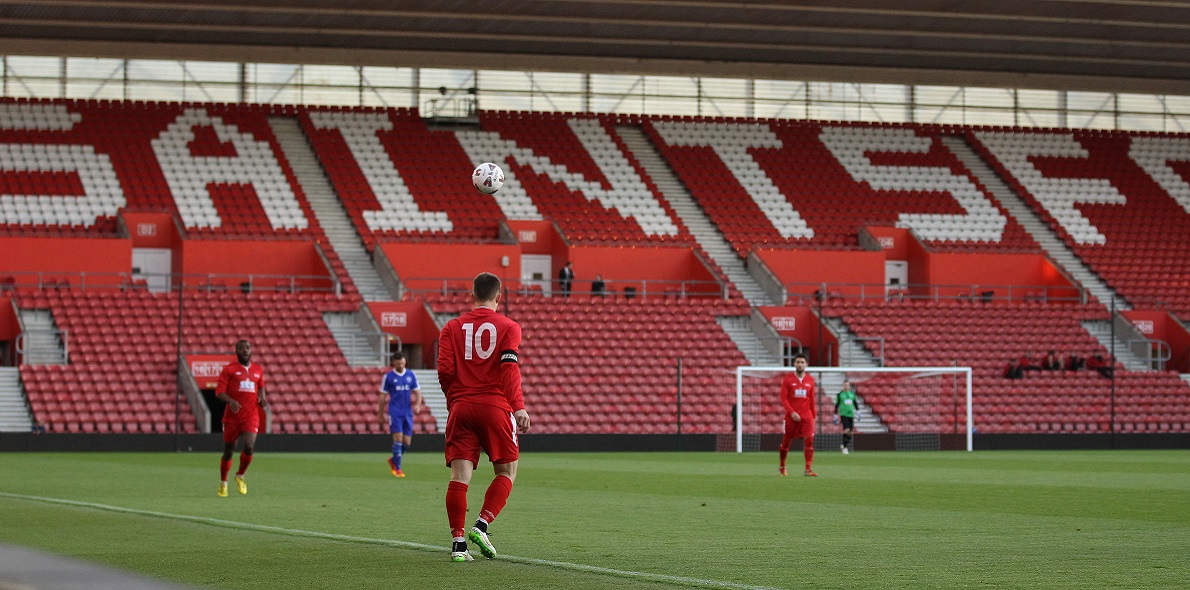 Team sets sights on making it a double
Team Solent FC hope to pick the Southampton Senior Cup up for the second time.
8th April 2016
Team Solent FC have had an amazing season so far and are hoping to top it off by lifting the Southampton Senior Cup for the second year in a row, at the home of Southampton FC, St Mary's Stadium.
The club progressed to the final after winning 1 – 0 against Brockenhurst and will be taking on Blackfield & Langley on Wednesday 13 April.
James Taylor, the team's manager, says: "The team has had a fantastic season so far and have really over-achieved in our first season playing at this level.
"The main strength that adds to our success has been how the whole squad has contributed throughout the season. They have all improved, and now feel confident that they can compete and win games."
Jesse Waller-Lassen, former Tottenham Hotspur youth team player and BSc (Hons) Applied Sports Science student, will captain the team on the night. Speaking about the club's success Jesse says: "As a team we're so happy to be in the final again. After getting promoted and winning the Southampton Senior Cup last season, we thought we couldn't top it but we are sixth in the Sydenhams Premier Division and in the final of the Sydenhams League Cup!
"On top of that we get to play at St Mary's in the Southampton Senior Cup final with the chance of winning it back to back.
"We know it's going to be a really tough game against Blackfield & Langley, who are one of the best teams in our league, but we are all excited and looking forward to giving it our all. Bring on 13 April!"
When asked what the secret is to Team Solent FC's success, Jesse said: "I think it comes down to two things; the belief we have in each other, and the work rate we have in games."
Several of Team Solent FC's players will be playing in the final for the second year in a row- Pip Nolan, Olly Goddard, Sam Byles, Jemal Wiseman, Matt Sheedy and Jesse Waller-Lassen.
Team Solent Football is the biggest sport club at the University. It has four teams with two competing in the BUCS league. The first team is part of the Sydenhams Football League (Wessex) Premier Division, and the reserve team plays in the Wyvern League.
The team are looking forward to the big game at St Mary's Stadium on Wednesday 13 April. Kick-off is 7.30pm and tickets are available on the gates at £10 for adults and £5 for concessions. Come and show your support for your University team!
Follow the match live on Twitter by following @TeamSolentSport