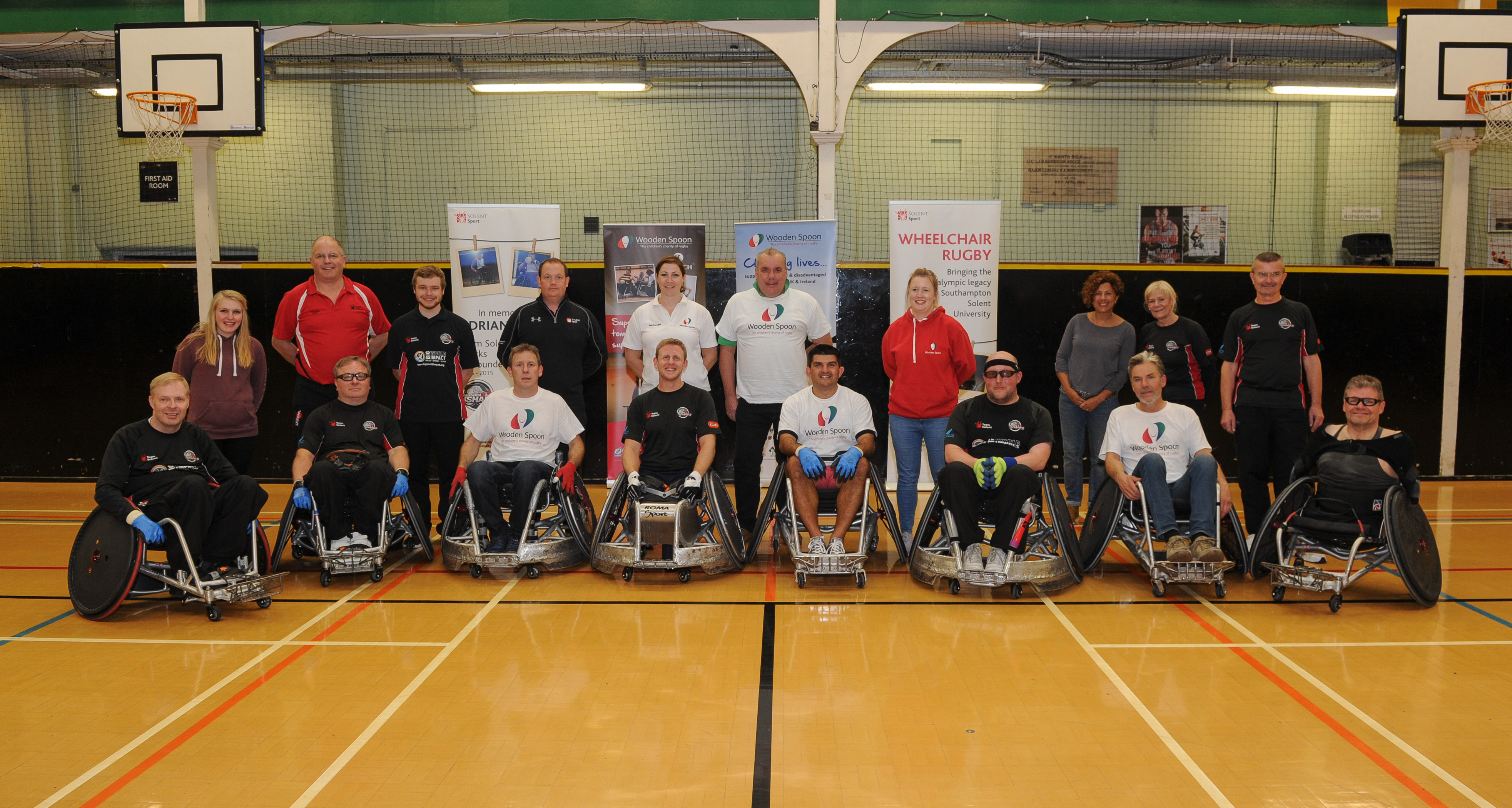 Team Solent Sharks announce partnership with children's charity
Sponsorship helps drive team forward
20th October 2016
Southampton Solent University's Wheelchair Rugby Club has just signed a deal with children's charity, Wooden Spoon, which will help support the club for the next four years.
This investment by the children's rugby charity will help drive the club forward and develop new and existing players in this increasingly popular Paralympic sport.
Director of Fundraising for Wooden Spoon, Sarah Webb, says: "We are delighted to be working in partnership with Solent Sharks.  This life-changing partnership will provide more people with disabilities better opportunities to play wheelchair rugby and help positively transform their lives."
The Fleet-based children's charity of rugby, funds around 70 projects each year that support disadvantaged and disabled children - from sensory rooms, specialist playgrounds and sports activity areas, to respite, medical and community care. Since they were founded in 1983, they've distributed in excess of £24 million, helping over one million young people.
The Charity's support of Solent Sharks is part of a bigger campaign, 'Supporting Tomorrow's Superstars' in which the charity aims to buy a rugby wheelchair for every wheelchair rugby club in the UK & Ireland. 
Solent Sport's Head of Sports Programmes Matt Bishop is excited about the future of this new partnership, and on the back of recent initiatives between the club and the charity has decided to run his first London Marathon next April for the charity.
"I've been overwhelmed by the support and funding offered to the Sharks by the Wooden Spoon Charity and I was really keen to try to give back to a fantastic cause". You can find out more about my run and the charity at the following link www.justgiving.com/fundraising/BishBashBosh9
During the official launch of the new partnership on, on Wednesday 19 October, Staff and volunteers from Wooden Spoon got to meet some of the Sharks team and were given the opportunity to try the sport themselves.