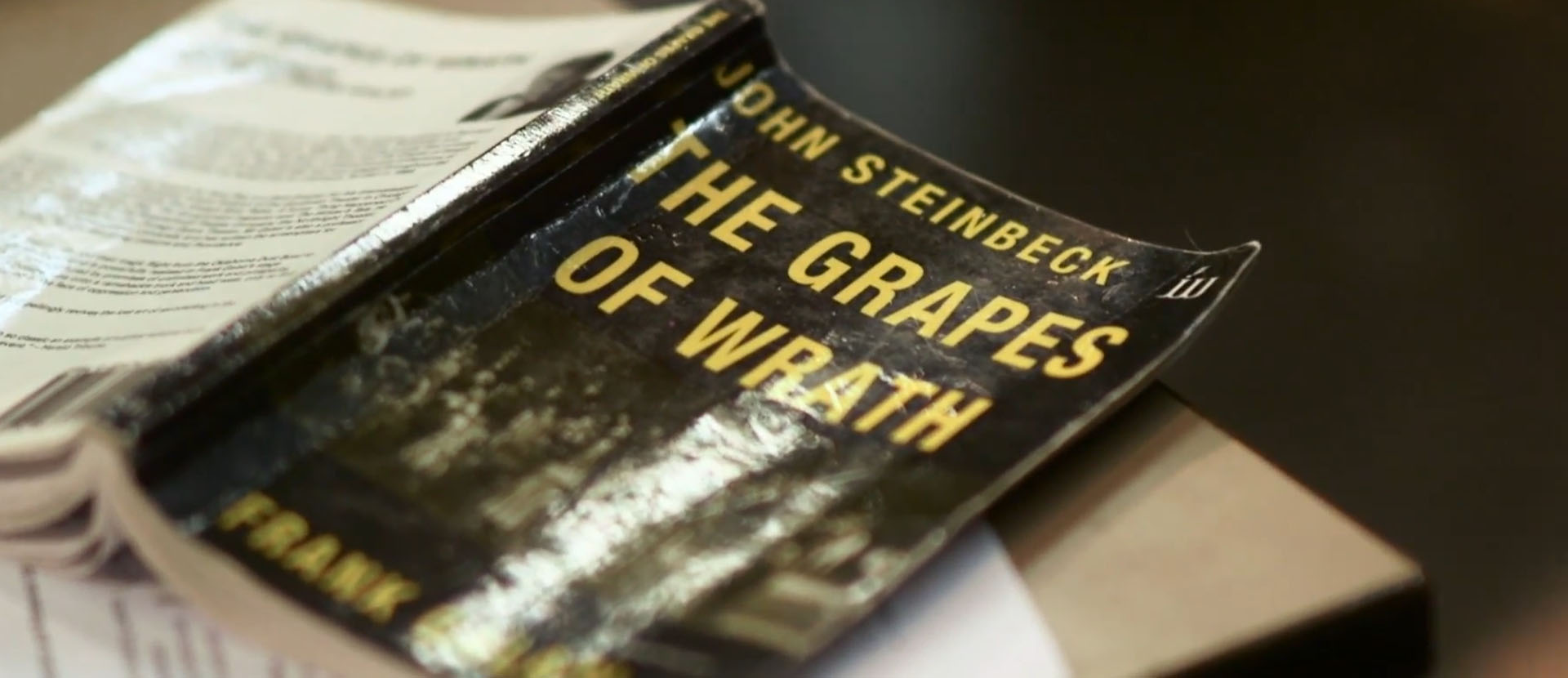 Television and video production: Working with the Grapes of Wrath cast
18th April 2017
TV, film, media production and technology
Students from BA (Hons) Television Production have been working with the cast and crew of The Grapes of Wrath. This reinterpretation of John Steinbeck's timeless novel blends professional and community theatre, seeing a professional cast working with local residents of all ages to stage certain scenes.
Our students were asked to help create promotional content for the production's website and social media. Three groups were formed and each was tasked with documenting a different element of the production.
We caught up with Faye Kelly and Alex Enright, two of the students who worked on the project, to find out a bit more about their work:
How did you get involved with The Grapes of Wrath?
Alex: "I got to be involved as part of the 'Television Business and Practice' unit. We were given several clients that we could choose from that my lecturers, Kate O'Driscoll and Tony Steyger, found.
"Me and my group pitched our idea for a video for The Grapes of Wrath and we were matched with the client based on our pitch."
Faye: "There were a few different clients available for us to make videos for, so this meant that we had to develop ideas and then create a pitch.
"We were lucky enough to have been chosen to make a video about Matt Regan, the composer and musical director for The Grapes of Wrath."
What was the best part of working on this particular project?
Alex: "The best part about working on this project was the shoot. It was a chance to travel to London and see how the actors prepare for a big production like the Grapes of Wrath."
Faye: "Seeing the whole thing come together. It was interesting from the planning stages all the way through to going up to London to film the rehearsals for our video.
"At the end we were given tickets to go see the play on the press viewing. This is really interesting as we had seen the rehearsals and then could see the whole result. The whole project was really interesting as it isn't like something I have done before and it was a good chance to work with outside clients."

What other projects have you been involved in?
Faye: "I recently directed a video for SolentTV called 'Instagran' - a video all about showing the older generation technology and finding out about how they interacted when they were young."
Alex: "I have done lots of other work experience projects. During my first year I spent most of my time freelancing and taking on projects from Solent Creatives. One of the projects I did was making a promotional video for the charity 'The Murray Parish Trust' which is founded by actor James Murray and actress Sarah Parish.
"When the video was complete and they were happy with it I asked if they could put me in contact with someone to gain work experience on a television set and not long after I was a runner on the show 'Trollied' (SKY 1). Through Solent Creatives I have also done videos for Southampton Airport, Westquay, the NHS, B&Q and Carnival UK.
"The work experience I have got through Solent Creatives has given me the opportunity to gain more work from other companies such as GoFilm, where I started off on work experience but am now a paid camera operator. This has seen me film both the Bath and England rugby teams.
"I now work for Ego Media filming club nights and music festivals. I've filmed Fatboy Slim, Andy C, Mistajam and MS Dynamite."
What's the best thing about studying here at Solent?
Alex: "The best thing about studying at Solent is the amount of opportunities that are available. Solent Creatives is a great way to kickstart your professional career and without it I would not of taken part in half the opportunities that I have  done, and would not be as confident.
"Solent Productions also regularly post work experience vacancies - having the chance to film at a big music festivals like Glastonbury is amazing. What is also good is the amount of equipment the University has - they have plenty of cameras to use and lots of other industry standard equipment like lenses and microphones."
Faye: "The best thing about studying at Solent for me is the opportunities and contacts. On my course we are given some great work experience opportunities and due to the great lecturers we have industry contacts ready to set us up for the working world."
---
Feeling inspired? Find out more about studying television and video production here at Solent by visiting the course homepage. Take a look at our tv, film and media technology page for a full listing of all related courses.