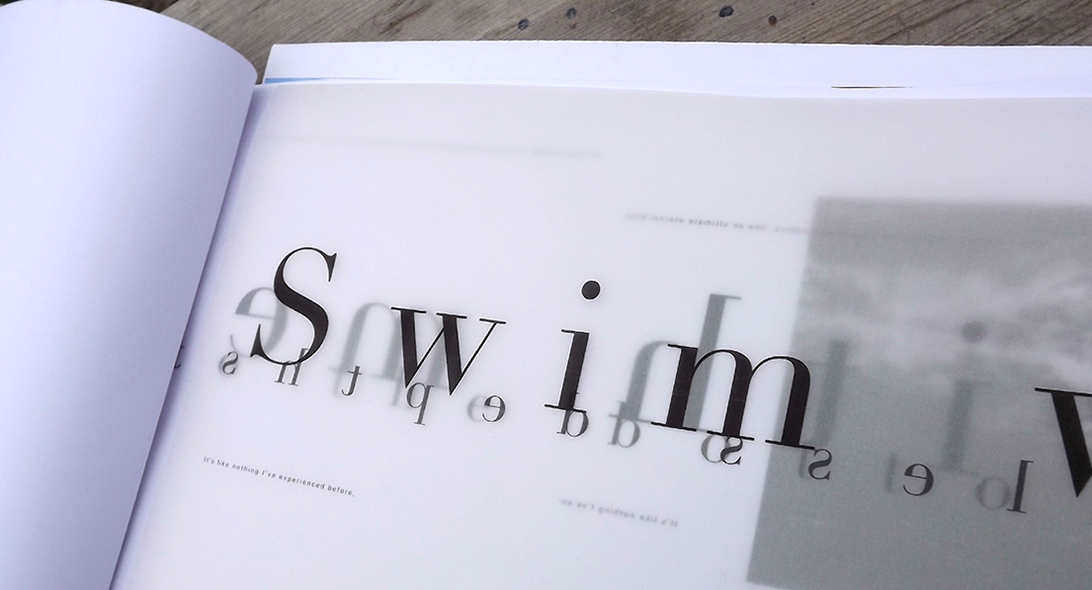 Telling the story of wild water swimming
Graphic design student Megan Glynn, aged 21, from Newtown in Wales, wanted to look beneath the surface of wild water swimming for her final major project.
17th June 2016
Fresh from the success of winning the Total Identity Best Project Award and gaining a first class honours degree, Megan talks to us about her project; the inspiring people she met; and her first wild water swim on New Years' Eve!

Tell us a bit about your final project
'Below the Surface' is an exploration into wild water swimming and the subculture of the people that take part. It's predominantly a photographic record – both in and under water – of the different groups of swimmers that let me join them during the winter months.
As well as transparent-style typography of interviews and accounts, the idea of the book is to transfer the emotions that the swimmers feel to the viewer – the feelings of serenity, peacefulness, challenge and even the cold.
With each page that's turned I wanted the layered typography and images to create the sense of going deeper into peoples' minds and into the wild water swimming community as a whole. After winning the Total Identity Award for Best Project, on the opening night of the final-year degree show, I feel like the book has achieved what I set out for it to do.
Why did you choose this theme for your project?
I've always had a love of water and I knew I wanted to spend a year exploring it further. I started by looking at British culture and how seaside locations are packed all summer, with outdoor swimming pools being a main attraction.
I looked at the fashion trends of lido's and started visiting some, until I realised it was October and that they were shutting for winter! I thought I was going to have to scrap the whole idea until I met some wild water swimmers who enjoyed lidos in the summer but swam in lakes and the sea in the winter.
After meeting more groups of swimmers I knew instantly I wanted to explore the whole subculture further, so I set myself the challenge of winter swimming and completed my first swim on New Year's Eve in temperatures of 7 degrees. I was nervous going in, I'd never even worn a wet suit let alone walked down a slope into such cold water. One of the ladies told me to relax, keep kicking my feet and just let myself go. Once in, every moment of stress and trepidation I had before disappeared. I  fell in love with it instantly. I'd never felt so alive.
I'd never even heard of wild water swimming before starting this project but I've loved every moment and met some incredible and inspiring people along the way.
Tell us a bit about the people you've met
One lady I met proved how good for the soul open water swimming is. Just a few days before her first ever winter swim in Parliament Hill, she suffered the loss of a friend.  She met a couple there who supported her through it and who, years on, remain close friends. This showed me how a body of water can bring people together in times of need.
Another fearless lady  set herself a year-long goal of completing the ice mile challenge (a mile-long swim in waters of under five degrees); and a man who swam well into his 90's at Bournemouth Pier through the winter is 100 next year and still comes down to support the other swimmers.
What's next for you?
My plan is to carry on wild swimming and documenting it as a passion project. My partner and I are travelling around Europe this summer where I plan to meet up with other swimmers and start enjoying some warm water finally!
I am currently building my portfolio and looking for the right job, hopefully in a studio environment between the Bristol/London area.
What have you enjoyed most about your time at Solent?
I've enjoyed the whole university experience. It has changed me as a person and the course has taught me so much about the designer I want to be. Being surrounded by like-minded creative people in a studio environment with the opportunities available is something I feel very fortunate to have been a part of.
What advice would you give to current and potential graphic design students?
Always follow your gut, no matter what anyone says. You know what's best for yourself. And I guess to always take risks, especially in the creative industries, it always pays off.