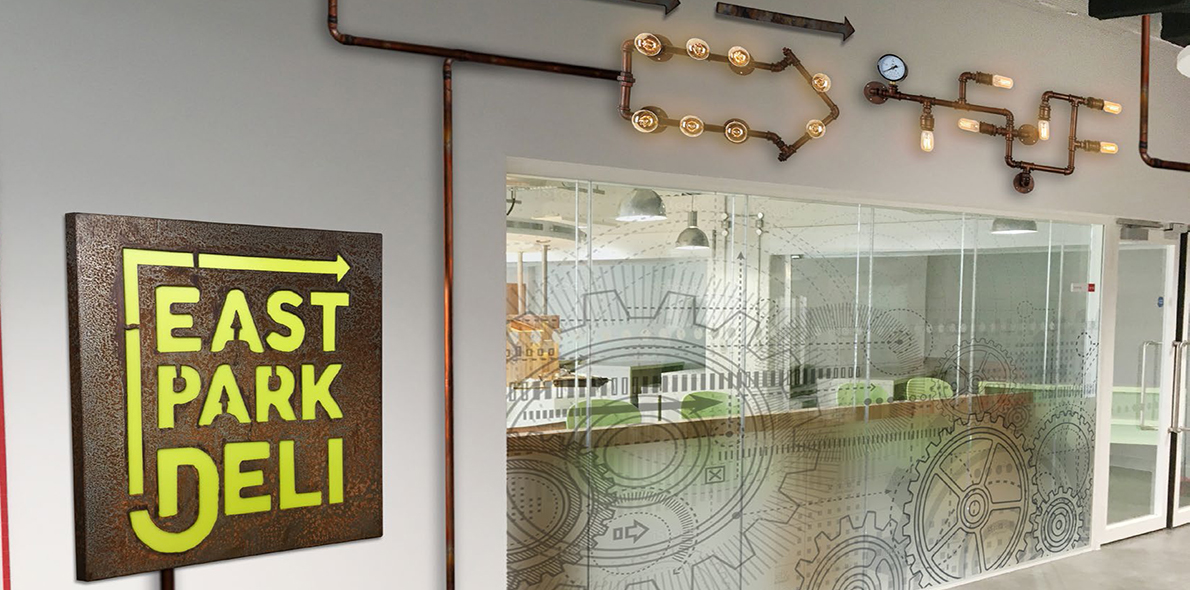 Need a coffee break? Look no further.
15th February 2016
After several months of building works – as part of the Spark development involving our John Millais (JM) building – February heralds the launch of the East Park Deli, a fresh food eatery with a delicatessen twist.
Staff and students are invited to the launch of the new deli in the JM building on 23 February from 2-4pm, to celebrate its completion and to say thank you for your patience during the building works.
There will be free food and drink samples, entertainment, prizes, giveaways and a special guest from the world of cutting-edge cuisine! Check out our official FB and Twitter accounts over the next week for more info on the event and the food and prizes that will be on offer.
Formerly the 'Aspretto' coffee bar, the deli has taken on a larger space at the front of the JM building, replacing Solent Creatives' old headquarters, which has its new home adjacent to it.
The deli will serve beverages from American coffeehouse chain Starbucks and the specially-trained baristas will be serving up classics such as lattes, cappuccinos, americanos and frappes, using fresh coffee beans ground on site. The site will also feature a new convenience store with newsagent, confectionary and daily essentials.
This stunning new catering outlet complements the Spark with a contemporary, spacious feel and will directly link to the atrium in the new building, which is due to open in the summer.
The décor will feature copper piping art, exposed brick and bold metallic decals. Providing 360° access to the food counters is the orb-shaped catering serving space in the centre of the deli, which also reflects the suspended pod featured in the Spark's atrium.
Specially designed for speedy and convenient food purchases, the new menu has been hand-crafted by the top chefs at Sodexo, the University's catering provider, to provide weekly variety.
Hot choices will include a daily selection of four soups accompanied by fresh bread, gourmet beef burgers, artisan pizza slices and mac-n-cheese loaded potato skins. There's also a salad and meze counter where customers will be served their choice of salad with protein pots packed with hot smoked salmon, chargrilled chicken, chilli prawns and more.
For those on the go, fresh sandwiches will be available including New Yorker pastrami on pretzel subs, Napolitana ciabatinni and Mediterranean wraps.
To help kickstart your brain cells in the morning, breakfast will include porridge pots, cheese and bacon croissants, smoked salmon and spinach bagels, and Cumberland sausage baguettes.
We're really looking forward to revealing this great space and its delicious menus to you at our celebratory launch event on 23 February.
Opening hours:
Term time: Monday to Friday, 8am to 8pm
Out of term: Monday to Friday, 8am to 5pm
Closed on bank holidays and over Christmas