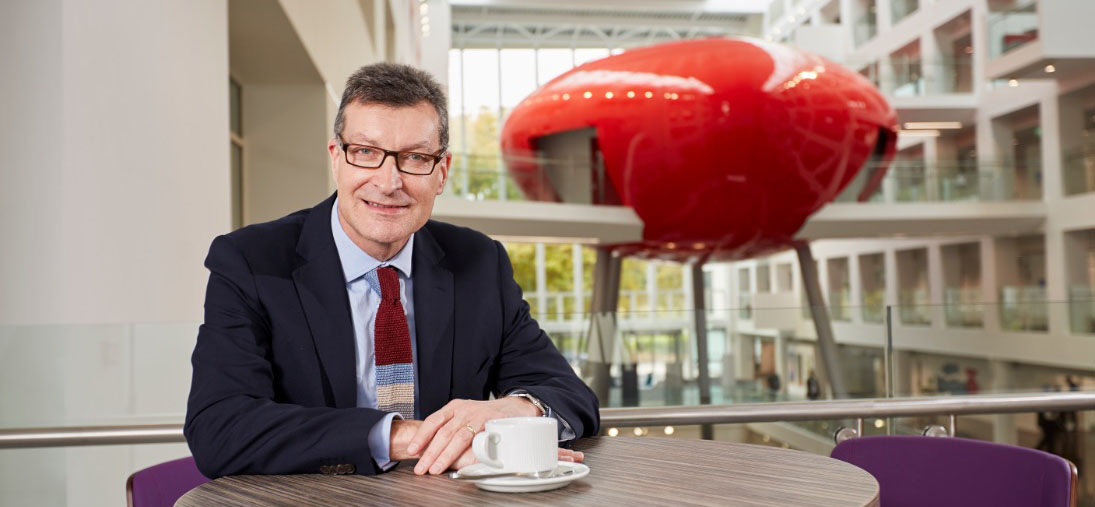 The state of education today
How higher education is changing
8th February 2017
Professor Graham Baldwin, Vice-Chancellor of Southampton Solent University, reflects on changing times for higher education student recruitment.
With recently published UCAS data showing how the 2016 entry cycle has impacted individual universities and highlighting a dramatic sector shift in student numbers, I thought it was the ideal time to give an update on our current progress here at Solent.
We are facing the most competitive student market I can ever remember. Universities used to describe themselves proudly as 'selective', but I don't think many could use that as a universal description now. It is all about recruitment. There is much more use of unconditional offers, institutions offering financial incentives and other tactics. Everyone is going to extreme lengths to engage students and pull them in. Things have changed very, very quickly.
We know there is a population decline of 18-year-olds across the country of approximately 2%, and in the south this increases to around 8%. This will certainly have an impact on application numbers to many universities, including Solent.
Our latest UCAS figures (as reported in the Guardian yesterday) show that we are almost 18% down on acceptances from 18-year-olds since last year. However, this is not the full picture. We recruit a much wider age range than this - just 46% of 2016/17 applicants were 18 or under on application and the average age of Solent undergraduate applicants in that year was 20.
In addition, these figures only include those who apply though UCAS, and so miss those who apply direct (600 in 2016/17) and those who study at our Warsash Maritime Academy (over 250 students each year). The figures also exclude part-time students, postgraduates and learners taking higher and degree apprenticeships, which are all areas of growth for Solent.
We continue to look at ways to make the application process easier for students. In the last few years we have increased the number of courses that allow students to apply directly to the University rather than through UCAS and this has been increasingly popular, particularly with our international students.
When we look at our UCAS full-time, undergraduate acceptances as a whole, we are down around 13% on the previous year. However, we are bucking the trend when it comes to recruiting white, working-class males – a priority set by the Government and a priority for our aims around inclusivity.
We are continuing to work on widening participation – for example we have had good growth in our foundation and post-graduate programmes (a 14% increase in our postgraduate numbers in 2015-16) and steps are being taken to continue this excellent progress.
We are also a trailblazer in our work developing degree apprenticeships, which will appeal to yet another type of potential learner. In the health service these are already recruiting well and include starters in January, giving us an additional cycle of recruitment and learning.
When we take all these different trends in recruitment into account, together with our much improved student retention, our official student numbers returned through HESES for 2016-17 show a net reduction of just 4%. This number is of concern, but we are confident it is manageable.
Another challenge facing universities and indeed the UK as a whole is Brexit; while the Government confirmed guaranteed funding and fees for EU students starting their studies in 2017, it has not supplied any information for those starting after that. We know from talking to students that this is a concern, and I, along with other Vice-Chancellors, have raised this as a high priority to be considered when talks to leave the EU commence.
One of our priorities is our international strategy, and we continue to work with the sector and the government to seek assurances, give advice, and influence future policy to make sure UK universities can continue to be the best in the world.
The key here is to understand what our mission is and what we're about. We have to be flexible, agile and to continue to put the students at the heart of everything we do. And we need to be prepared to change. We are fortunate in that we do this from a very sound financial base, however we will clearly need to manage our finances as we continue to assess the challenges we face. These are difficult times that are not going to get easier any time soon, but because of our attitude and our innovative approach I am confident that Solent is going to have a long and successful future.