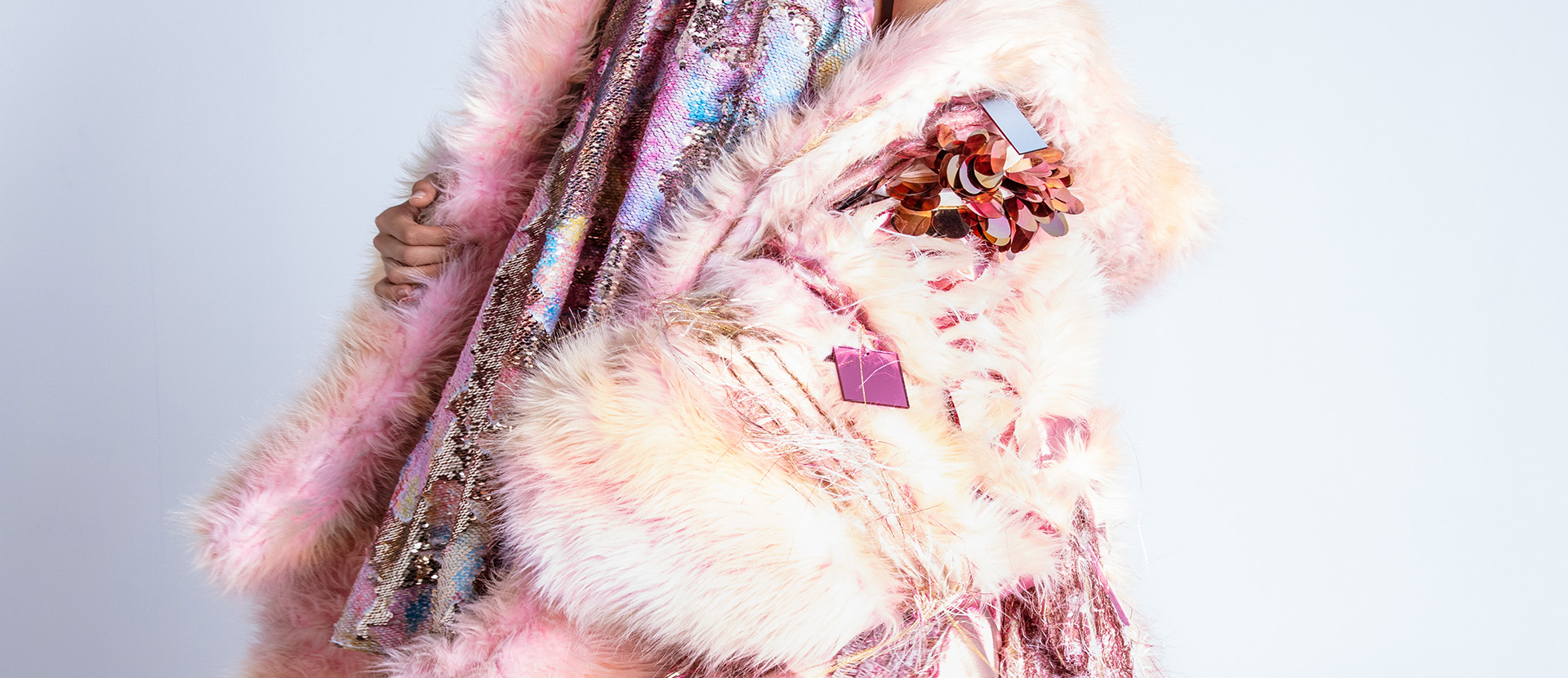 Alexandra's final-year collection explores make-up, false beauty and intelligence.
25th May 2018
Fed up with people judging her by her looks, Alexandra Terris has created a final-year fashion collection that explores make-up, false beauty and intelligence.  We caught up the twenty-one year old BA (Hons) Fashion student to find out more about her inspiration, how it feels to be selected to have her designs selected for the catwalk at Graduate Fashion Week, and her plans for the future.   
Tell us a bit about your final project
It emerged from wanting to make the point that the way someone looks does not define their personality and intelligence. My research for my final collection was all about the art of make-up, false beauty, and hidden intelligence.
I wanted it to be full of colour and print, so I experimented with texture and boldness to create the look. I combined this with well thought out pattern cutting, to create an underlying intelligence. I wanted the collection to represent a strong woman, showing an element of "this girl can", no matter what she looks like.
What was the inspiration behind your project?
I was inspired through frustration, after constantly hearing, "you wear too much make up", "why don't you go for a more natural look?" And "you don't need be this fake looking". I wanted to prove that the way I choose to look is not all there is to me, especially as people have doubted my ability to do things based on my self-image. In a society where make up and the idea of cosmetic surgery is becoming increasingly popular, I wanted to prove that someone's exterior is not a representation of their interior.
I spent my summer seeking out bright colours, man-made layering and studying the art of make-up to create a story and express my thoughts through my collection.
Your work has also been selected to appear on the catwalk at GFW, how did it feel to find out this news?
Finding out my collection was going to GFW, was the point I realised all my hard work and dedication to the course over the past three years was worth the battle. I was so proud of myself and absolutely over the moon that my dedication had been recognised and was seen as worthy to go into such an amazing event. 
Tell us a little more about what will happen at GFW and what this opportunity means for your portfolio?
GFW is an amazing event to show off to the industry what you as an emerging fashion talent can do. My collection will be walking down the catwalk at the 11am show on the Sunday and then be on display on the Solent stand with the three other collections that have been selected for the duration of GFW. Industry professionals attend GFW which is a great opportunity for students to network and get their name out there. This is an amazing opportunity not only to promote my portfolio but also to add images from the week to it.
What have you enjoyed most about your time at Solent?
Apart from meeting some amazing people throughout my time at Solent, the thing I've enjoyed the most is the course I chose to study. Fashion at Solent is a lovely community with all staff and students working alongside each other, which makes the atmosphere so enjoyable. 
Throughout the three years I've learnt a huge amount of new skills; constantly being able to be creative and grow as a designer and a person. I've loved every part of the course and will go away with an enormous amount of new knowledge of the industry, as well as what kind of designer I am.
What's next for you?
I'm currently looking for employment, but I also have a few little projects lined up, including some custom orders for new clients that I've picked up from my Instagram. I will also be focusing on making items of clothing and accessories to sell as I work to create my own fashion brand.
Please share any advice you have for other students or potential students?
Create something you love, and something that reflects your personality. And don't be afraid to make mistakes, that's how you learn. Constantly try new things and don't worry if they go wrong, because they can evolve into something amazing!