Top BBC football writer awarded honorary degree
Top BBC football writer Phil McNulty on Solent
12th July 2016
Philip McNulty, chief football writer at the British Broadcasting Corporation (BBC), has been awarded the honorary degree of Doctor of Sport from Southampton Solent University on Tuesday 12 July.
"I was surprised and flattered to be chosen for this honorary degree, but also delighted because, in recent years, I've formed a very close relationship with the media department here at Solent," says Philip.
"When I was first asked to come and speak to the students to do a Q&A, it wasn't really something I had contemplated doing before, but after making the first visit I was delighted that I had and have always been very happy to be invited back.
"The students were inquisitive, keen, interested and asked the right questions. They demonstrated that the staff here at Solent University had plenty of raw materials to work with to mould those who wanted to work in the media and elsewhere in the future."
As BBC Sport's chief football writer, Phil has the job that everybody wants. His role takes him all over the world writing about football.
Phil started his career in 1980 as a news journalist at the St Helens Reporter. He moved to the Liverpool Daily Post in 1983, where he worked as news reporter and assistant news editor. Philip was their Chief Football Writer covering Everton and Liverpool from 1987 -1993.
In 1993 he became the Merseyside sports reporter on the Today national newspaper, still covering Liverpool and Everton but adding cricket to his repertoire. In 1996, Phil moved to the Liverpool Echo as main sports columnist and assistant sports editor.
He joined BBC Sport as their Chief Football Writer in 2000, covering England, the Premier League, Champions League and Europa League. His job has taken him all over the world, covering World Cups in Japan and South Korea (2002), Germany (2006), South Africa (2010) and Brazil (2014).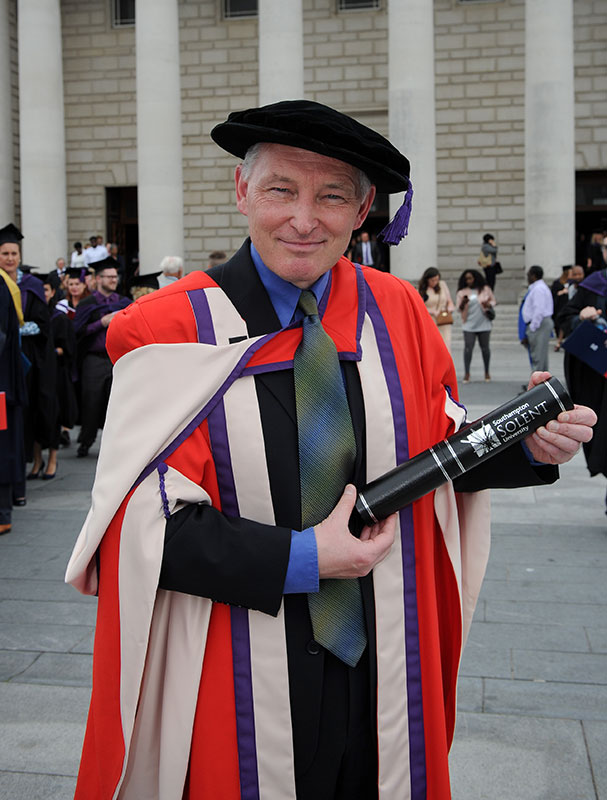 Phil has also covered Euro 2004 in Portugal, Euro 2012 in Poland and Ukraine and he has just returned from Euro 2016 in France.
He is already a Visiting Fellow on the BA (Hons) Sports Journalism course at Solent and is a regular visitor to the University, where he mentors students, hosts guest lectures and delivers writing masterclasses.
Phil is always on hand to help students with questions over dissertations and final major projects and remains a major role model and inspiration to students at Southampton Solent University.
Phil addressed the graduating students and said: "As a journalist, if I can offer one piece of advice, I would say never depart from one of the oldest principles in journalism – speak to people. It may sound simple but in the world of email and social media it can be forgotten.
"Journalism is not sending an email and waiting for them to reply or reworking a press release, and it's not simply writing a blog with your opinion, though there is a place for that. You must speak to people. Without speaking to people there will be a huge gap in your journalistic knowledge. Journalism, in my opinion at least, is still about talking to people, making contacts and getting stories."
Almost 2,500 students will be graduating with degrees and professional qualifications from Southampton Solent University during ten ceremonies over five days (11- 15 July).