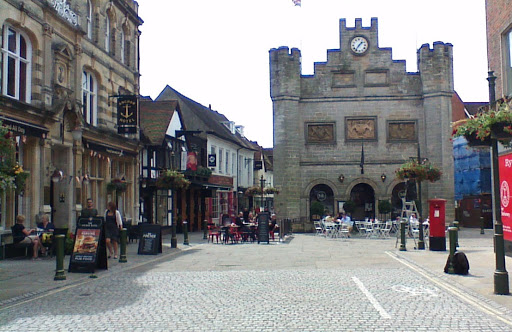 University and college support high street businesses through pandemic
Solent University and Chichester College Group have helped more than 50 businesses across Horsham in West Sussex, providing support to local high street businesses as they navigate their way through the Covid-19 pandemic.
19th March 2021
Business and finance
Fashion
In collaboration with Horsham District Council, the Horsham Market Towns programme offers a series of free online webinars, facilitated by leading practitioners from Solent University and Chichester College Group.
The webinars focus on teaching people how to help their businesses stay Covid-safe, business skills development, including opportunities to learn & discuss new models, and emerging high street trends.
Lesley Taylor, Senior Lecturer, Faculty of Creative Industries, Architecture and Engineering at Solent University, is helping to deliver the programme with Chichester College Group.

Lesley says: "Solent has been delighted to support the Horsham project and share expertise in online sales and social media, spatial design and visual merchandising."
Lesley also leads Re:So, the University's student-staffed and stocked store which is located in Southampton City Centre, adding first-hand insight to the courses she is delivering to businesses.

"Having to reopen Re:So during the pandemic, also provided us with first-hand experience on how to keep your business Covid-safe, which we have been able to share with Horsham businesses as they face similar challenges," Lesley continues.
Paul Rolfe, Director of Commercial, Marketing, Sales & Public Affairs at the Chichester College Group, said: "We have been delighted by the success of this fantastic training programme, and by the response of local businesses across the Horsham district.

"The Covid-19 pandemic has had a huge impact on businesses, who need to evolve to meet the changing demands of the customers as well as adapt to changing regulations and standards.

"We firmly believe that providing businesses with access to free training can help them to adapt and rebuild, and the feedback we've received so far has been extremely positive.

"We look forward to working with Solent University and Horsham District Council as the project moves forward and hopefully expands further."
Paul Clarke, Horsham District Council Cabinet Member for Finance, the Local Economy and Parking, says: "I am delighted that having partnered with two such leading education establishments to deliver this key training, the courses have been so well attended and well received by local businesses.
"These webinars have provided just the right skills development and insights, as well as opportunities to discuss new business operating models and emerging high street trends.
"The Council will continue to support the retail and high street sectors through a series of recorded specialist information sessions and online drop-in workshops throughout the summer of 2021.
"There will also be a Shop Improvement Grant Programme later this year which will enable our retail and high street businesses to apply for up to £4k of funding to make improvements to their premises which will help secure their future, post Covid.
"I would urge as many businesses as possible to look out for the new opportunities available and make the best possible use of them."
Sue and Jan, who own Stitch – a Storrington-based sewing shop – took part in the 'visual merchandising and interior design' workshop, to hone their knowledge and gain some objective training.

They said: "The session was really informative and we were able to concentrate on the aspects of visual merchandising that were relevant to our business.

"We were also given enough time to ask questions, which made it incredibly valuable. We very much enjoyed the session and would most definitely consider attending future sessions."
The Horsham Market Towns programme launched in November 2020 to provide free training and support for high street businesses across the district.

Its focus is on enabling businesses to adapt to changing conditions and comprises of six virtual interactive workshops, followed by one-to-one sessions.