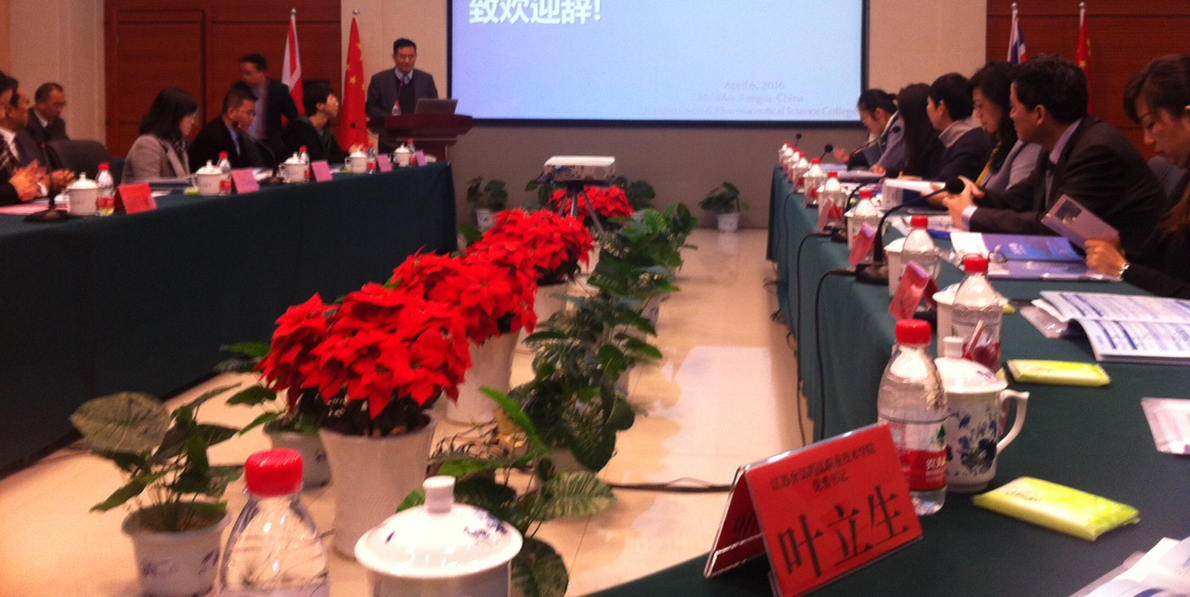 Vocational focus at China conference
Vocational education for food and beverage sector across China and internationally
8th April 2016
Earlier this April, Deputy Vice-Chancellor, Professor Mike Wilkinson, and Director of International Development, Jo Nesbitt, participated in the 2016 UK-China Higher Education Round Table in Huai'an City, Jiangsu Province, China.
The 10 organisations and institutions taking part included one of Solent's key education partners, Basingstoke College of Technology (BCoT), with whom the University is developing progression arrangements for international students, particularly those from China.
Hosted by Jiangsu Food and Pharmaceutical Science College (JFPC), the focus of the event was on vocational education for the large food and beverage sector in China and internationally. The University was invited through its links with BCoT, who have been a partner of JFPC for several years.
Commenting on the visit, BCoT's Deputy Principal, Jacqueline Grubb said: "It has been a pleasure to work so closely with Solent and we are delighted to be working with the University in strengthening progression arrangements for our learners."
The key topic at the conference was vocational education; a major focus for China as it seeks to educate and train its huge workforce in competitive global markets.
During her presentation at the conference, Jacqueline talked about skills competitions and the new UK apprenticeship framework – including its expansion to embrace levels up to Masters, funding and employer arrangements
Mike Wilkinson spoke about Solent's teaching and learning strategy:  its approach to employability through skills, competency development and enterprise; and the University's recent development of Higher and Degree Apprenticeships in construction, business, health and social care.
Speaking after the conference he said: "This was an excellent opportunity to discuss China's approach to skills through higher education and share the approaches being taken in the UK.
"The UK could learn from the amount of funding being invested if it wishes to improve international competitiveness and productivity. On the other hand, China could learn from our approaches to working closely with employers and the development of soft and cultural skills required in the international work place," he continued.
Keen to thank their hosts Jo Nesbitt said: "We are extremely grateful for the wonderful hospitality we received from our Chinese colleagues and we warmly welcomed the opportunity to explore new and deepen our existing collaborations."