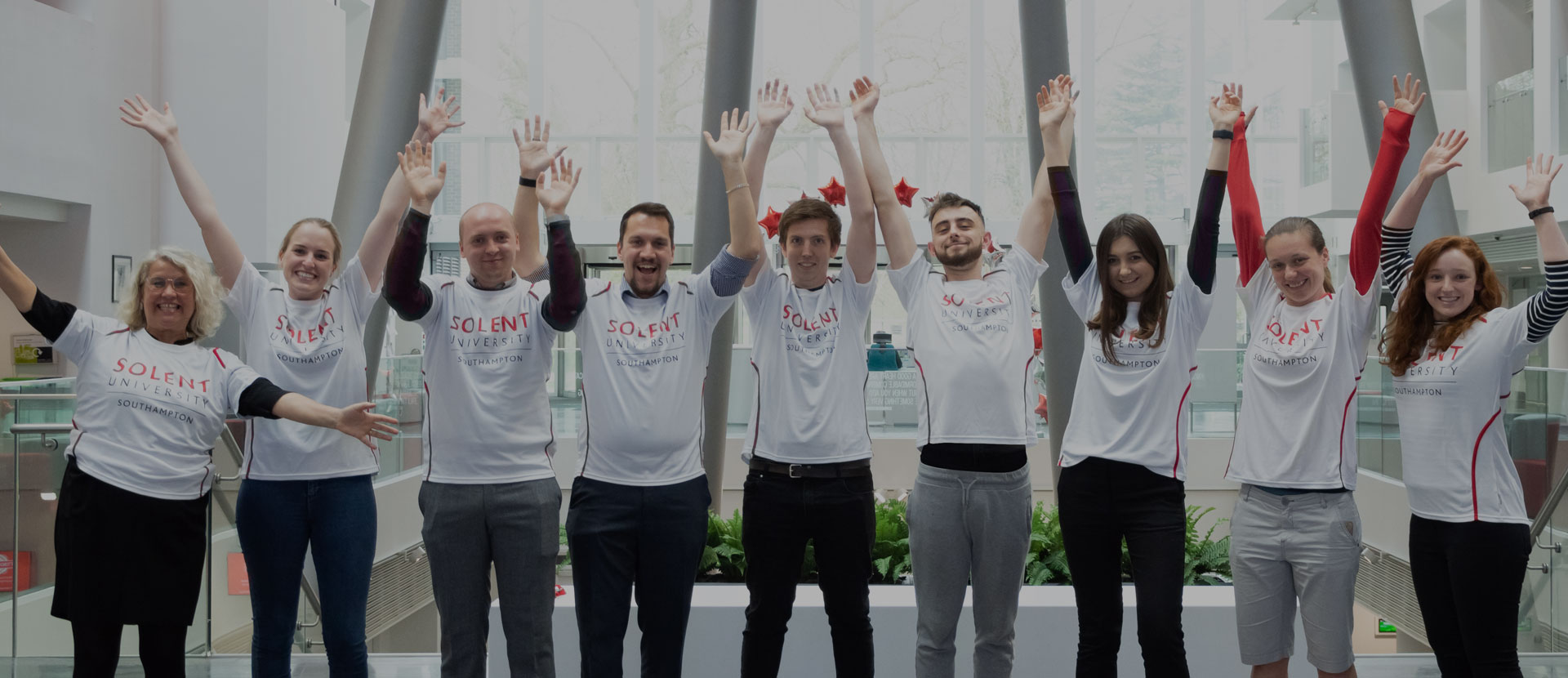 We're ready to run - are you?
It's the ABP Southampton Marathon on 5 May. Find out what Solent University has planned for the event!
30th April 2019
This weekend sees the return of the ABP Southampton Marathon. Now in its fifth year since returning to the city, this key event will once again see Solent students, staff and alumni taking part and raising funds for our local student bursary scheme.
Whether you're taking part in the 10k, half or full marathon, or coming along to cheer on friends and family here's how you can make the most of the day...
Get your clappers and cheer ready!
Looking for a spot to cheer on friends and family? Pop down to our dedicated cheer point located at Chapel Road between 9am and 2pm. Make some noise with our hand clappers and get behind those out on the course. If you're over in Guildhall Square you can also grab a clapper from our stand, but be quick - once they're gone, they're gone!
Get your race day pic
Whether you've completed one of the runs or are out with the family for the day, drop by our photopoint on Guildhall Square to grab your free race day pic. Pictures will be uploaded to our Facebook page at the end of the day for you to tag and download.
Take in some entertainment
BASH! - our BA (Hons) Popular Music Performance student band - will once again be taking to the main stage and entertaining the crowds outside Watts Park. BASH! went down a storm in 2018 and will be on stage from 1.30-2.15pm.
Grab a free massage
This year we've teamed up with Jonathan Clarke Physio to provide runners with a free massage. Drop by the Sir James Matthews building from 8am to 3.50pm to claim your free massage. Some pre-bookable sessions are available, or you can come in and get a walk in session.
Keep refreshed
If you're in need of a quick drink or bite to eat, drop by the Artisan in Guildhall Square. All medal holders are entitled to 10% off the bill, so grab a seat and enjoy some rest and relaxation after the race.
Keep momentum going – win free gym membership
To coincide with the opening of our new Sports Complex, we're giving away a pair of free 3-month gym memberships. Simply sign up to our community and events newsletter to be in with a chance of winning! Winners will be announced via our social media channels and contacted by email on Tuesday 7 May 2019. The prize is non-transferable, with one winner picked at random.
Plan ahead
Local road closures will be in place on Sunday 5 May. This may affect your journey so before you travel, check the ABP Southampton Marathon website for full details.
Good luck to everyone taking part - we look forward to cheering you on, on the day!