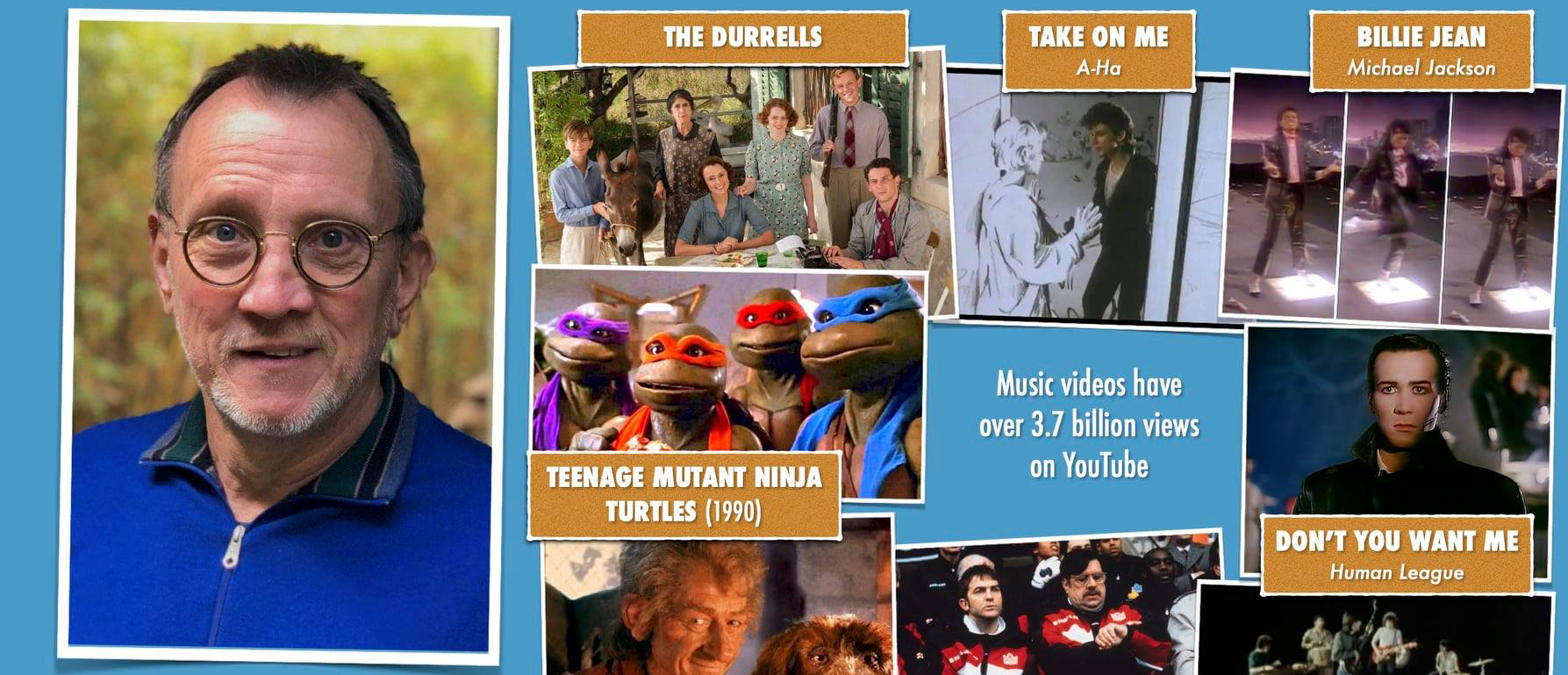 World-renowned TV and film director delivers guest lecture
Current students and applicants from television production recently had the fantastic opportunity to receive an intimate virtual guest lecture, by world-renowned TV and film director, Steve Barron.
18th March 2021
TV, film, media production and technology
During his hour-long talk, Steve shared some of his vast experience in directing including hit films Teenage Mutant Ninja Turtles (1990), Mike Bassett: England Manager (2001), ITV comedy 'The Durrells' and iconic 80's music videos for Michael Jackson, A-Ha, David Bowie and Human League.
Steve shared some fascinating anecdotes from other greats in the industry, including Oscar-winning director Anthony Minghella who told him to "always work with people who are better than you" which, Steve explained, was the best advice he ever received.
He also shared some vital advice for the industry explaining; "As a director you have to think on your feet a lot, producers can change their mind often. You can either get cross or battle it, or you can accept that's what you have to do. I've learnt there's no point in being miserable. Fight for what you believe in but be adaptable and know that you have to compromise. Just know how far you are willing to compromise, and how it will affect what you are trying to do."
Course Leader for television production, Kieron Butler said; "We're really happy that Steve was able to join us and meet our students. He's currently in post-production with his new BBC series Around the World in Eighty Days (starring David Tennant), so for him to take time out of his busy schedule was very special indeed. It was great to hear about his experiences working on his current production - and the challenges of completing it under Covid conditions - along with his other credits including The Durrells, Jim Henson's The Storyteller and Teenage Mutant Ninja Turtles (1990). His insights were gratefully received by a large audience of students and applicants alike, and we sincerely hope Steve will come visit us again soon."
Student Harris Shaikh said of the experience, "Steve was very interesting to listen to. He was able to tell stories from his vast career including the programmes and films he's made. I was personally interested to hear about the production behind the music videos he's made, including famous videos such as A-ha's 'Take On Me', and Michael Jackson's 'Billie Jean'. It was interesting to hear how working with various people could differ, such as rockstars being harder to convince on certain ideas than popstars, and how the videos were created. All in all, the talk was very inspiring and was enjoyable to be a part of."
The event was also open to applicants who are looking forward to joining the television production course in September. Applicant Lauren Neale said, "I thought that the talk with Steve Barron was very insightful. I learnt a lot from it and about how a real director works. I also learnt about the challenges that you might face as a director. I can't wait to use some of the skills I have learned in the future."
Applicant Rob Evans said of the talk "It was a real pleasure to both be invited by the team at Solent as well as learning about filmmaking by Steve Barron. I asked Steve a question about a student project I am currently working on about making characters in my mockumentary believable, and the advice he gave me was amazing - I'm using what I can from that to make a really good production. Overall it was an amazing experience, thank you."