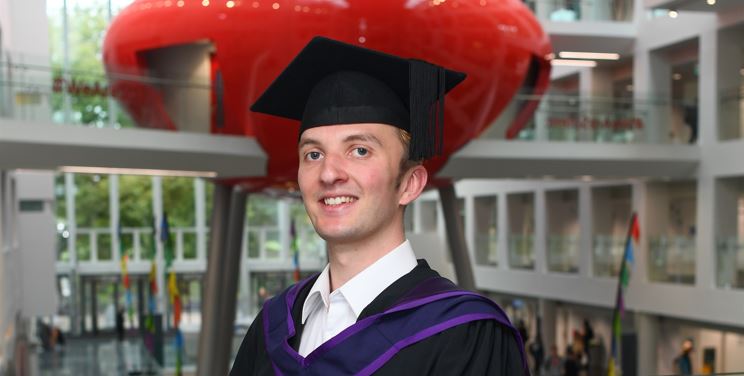 YouTube star awarded honorary degree
YouTube star Gary Merritt has been awarded the honorary degree, Master of Arts, by Solent University, Southampton today (Thursday 7 October). 
7th October 2021
Homepage - News - Featured
Gary Merritt enrolled at Solent University in 2011, studying BA (Hons) Television and Video Production, and discovered a way to express his storytelling through the up-and-coming platform, YouTube. By the time he graduated in 2014 with a BA (Hons) Television and Video Production degree, Gary had amassed 400,000 subscribers.  
Going on to develop his own media company, Gary continued making YouTube videos, streaming on other platforms, and building a social media presence.  Now, Gary's YouTube presence includes four channels with over 2.5 million subscribers and more than a billion total views.   
Beyond digital platforms, Gary also wrote and published an original, three novel, fantasy series - The Altered Adventure - based on a show he created on YouTube.   
Commenting on his award, Gary says: "It still feels very surreal to me! I grew up in a very small town, shared a room growing up, with hardly any money, and I was bullied a lot. So going from that life to THIS life is crazy! I travel the world, I have fans, I run my own business, I have written three books, I have a green card AND I bought my first house 5,000 miles away from my hometown. This path all began when I attended Solent University. I was able to achieve my goals, however I never thought this path would lead me to an honorary degree! I'm very thankful and I feel incredibly honoured."