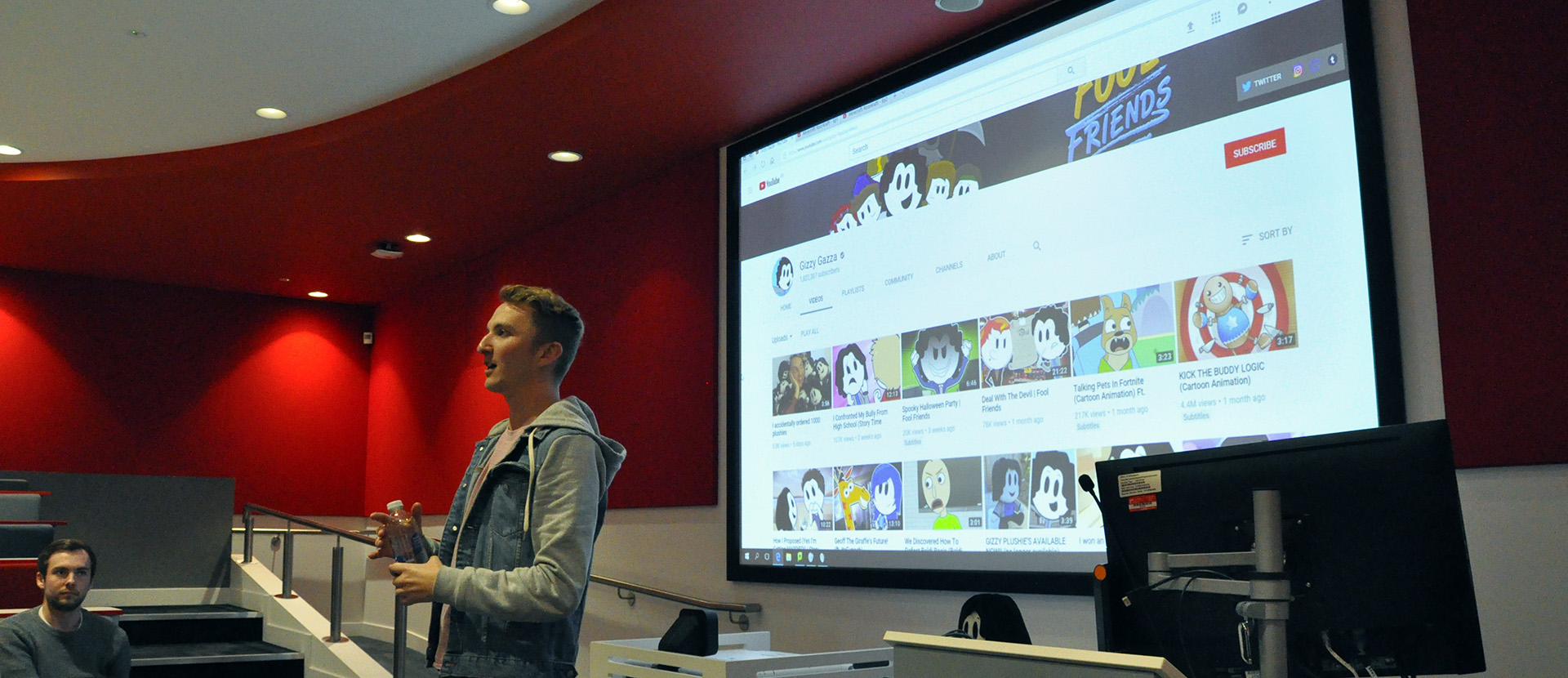 YouTube star visits Solent
YouTube star and BA (Hons) Television and Video Production alumnus, Gary Merritt recently visited Solent to give a guest lecture on how to become a successful YouTuber.
11th December 2018
TV, film, media production and technology
Gary, better known as Gizzy Gazza, has a following of over 1.8 million subscribers, and has had over 585 million video views and counting. A gamer and animator, he is most well known for doing cartoon animations of popular games such as Minecraft and Baldi's Basics.
Currently based in the USA, Gary travelled all the way from Seattle to give a fascinating one-off lecture about his experience of being a Solent student, to becoming a full-time YouTuber.
We caught up with Deborah Makumbi, a mature student at Solent studying BA (Hons) Television and Film Production, who brought her aspiring YouTuber children and their friends to learn from Gary's success.
Hi Debbie, tell us why you decided to go to the talk
I decided to come to the talk with my children and their best friends as they are all aspiring YouTubers. I wanted them to learn from someone who was once a local from Southampton, and hear what it takes to set up a YouTube channel from scratch and make it a hit. My son's best friend said he found it really informative, and it gave him a guide to his future career.
What was the biggest piece of advice you took from the talk?
The biggest advice we took was the fact that one should not only rely on being a YouTuber, and to continue focusing on their studies at school. Gary also discussed what sort of equipment is needed for a beginner to set up a channel, which was really useful.
How did your children and their friends find the experience?
My son and his best friend are aspiring YouTubers, so bringing them in was very exciting for them as they subscribe to his channel and were so happy to meet him. They also really enjoyed coming in to the University to experience life as a student. They were so inspired and are now much more motivated about becoming successful YouTubers.