Entry requirements: 2:2
Or higher
Why study a commercial law and professional legal practice master's degree at Solent University
Gain essential insight into real-world commercial law alongside practical expertise that can be applied to business, management, compliance, legal, tech, HR and other roles.
0

th

UK uni for sustained employment (Longitudinal Educational Outcomes, 2022)

£

0

m

invested in our campus estate and facilities in the last five years
Make use of specialist Law facilities including the University's courtroom which offers a realistic environment for legal argument, as well as our extensive library of legal journals, case law and online materials which are an essential resource.

We are a founding member of Southampton City Law Network, so you can make use of an extensive network of professional connections, and experience workshops and guest lectures from visiting professionals, as well as additional opportunities to explore careers within the legal profession.

We have a vibrant student Law Society, and a Mooting Society dedicated to developing your advocacy, negotiation and public speaking skills

With many opportunities for internships, you could gain valuable commercial experience to enhance your professional skills.

Free legal career consultation is delivered by our careers advice service, Solent Futures, which is available to all Solent students and graduates for life, helping you to progress in your current career or discuss options for a change in career.

This course is eligible for a Postgraduate Master's student loan from Student Finance England and can be used to cover costs (ie, accommodation, tuition fees) associated with postgraduate studies (it was up to £12,167 for 2023 entry).
Course overview
Students will develop a solid understanding of the fundamentals of commercial law, building on existing knowledge from your law or other undergraduate degree, and enhancing your employability in business, management or other commercial areas – without the additional expense and investment of time required to become a fully qualified, court-specialised lawyer.
As a graduate of this LLM, you will be well placed to work on legal issues faced by businesses or other organisations – offering specialist knowledge and a practical approach to applying that knowledge in a commercial context.
For international students, English commercial law and the laws relating to international commercial law form the basis of contracts and dispute resolution around the globe. This LLM programme would provide significant value to international students who wished to study in the UK before returning home to work in their home jurisdiction.
After an early focus on the fundamentals of commercial law, you will develop your specialist expertise; exploring risk management and compliance within an organisation, and learning to reduce both internal and external risks. You will also look at alternative non-court-based dispute resolution mechanisms, from mediation to arbitration, and have the opportunity to develop your own negotiation and advocacy skills with our law school's mooting and debate society.
You will complete your master's with either a dissertation tailored to your own personal and career interests, or through a practical internship at a real-world organisation, giving you valuable commercial experience and enhancing your applied and practical professional skills.
Course features
Specialist facilities

This course has access to specialist facilities

Part-time option

You can study this course part-time
This course is for
The course is ideal for students looking to add a legal element to their career, both in the UK and internationally – particularly those interested in managerial or in-house legal positions. While an undergraduate law degree is not required, prospective students should be able to show a passion for the law and interest in its practical commercial applications.
What this course leads to
This course is designed to lead to a range of non-practicing legal career options, primarily in business or commercial sectors, but with transferrable skills which are highly relevant in any professional environment. As an in-house legal specialist, or by enhancing your managerial or executive skillset with relevant legal knowledge, you will be well placed to take your career higher.
Legal and compliance

Managerial and executive positions

Risk management

Human resources

Procurement and tendering
Year one modules
Core modules
Commercial Law
In this module, you will be provided an introduction to English commercial law as a whole, combined with an in-depth coverage of some contemporary aspects. You will become familiar with the fundamental principles of commercial law, and you will be able to apply these principles to a wide range of transactions, centred on contracts and the usages of the market, between merchants.
International Commercial Law
You will develop an in-depth understanding of the interaction, and implications, between national legal systems and the body of legal rules affecting international trade. You will explore standard contract terms for international commercial transactions, such as the United Nations Conventions on the International Sale of Goods and the UNIDROIT Principles of International Commercial Contracts, and you will conduct an appraisal of documentary credits.
Legal Risk Management, Compliance and Artificial Intelligence
You will learn the process of identifying, assessing, and controlling legal, strategic, and compliance risks of an organisation. How to reduce internal operational risks, such as fraud, and external legal risks such as lawsuits.
Negotiation and Dispute Resolution
You will learn the difference and suitability of several kind of alternative to court dispute resolution mechanisms, including mediation, negotiation and arbitration. You will learn the strategy and tactics required for a successfully outcome.
Optional modules
One of the following:
Dissertation
You will learn about the processes and academic debates around doing research, planning, applying for ethics, collecting data, analysing data and writing your research project into a dissertation. You will learn how to manage the research process and understand complications and how to manage these when they arise during data collections.
Internship
The specific areas of study will depend on the context of the internship. This module will allow you to enhance, and document achievements, in a range of skills and knowledge areas. Common achievements include successful team working, customer awareness, problem-solving skills, skills in literacy and communications. Enhanced skills may include conflict management, negotiation and professionalism.
Learning resources
At Solent, our aim is to deliver innovative, inclusive and intellectually stimulating teaching to develop self-confident and highly employable graduates. All our courses are designed with employability in mind, which makes industry-based learning a priority.
The course offers a range of assessment activities designed to demonstrate the acquired knowledge and skills central to each module, including traditional examinations as well as practical skills-based assessments such as report writing or individual presentation.
Learn transferable skills
A key part of the course is mediation, alternative dispute resolution and negotiation – skills which are highly valued by employers and readily transferable to a wide range of contexts and industries. You will also develop your analytical and risk-management skills, consider compliance matters relating to the company, financial and charity sectors, and build a strong foundation of broader commercial awareness which will be readily applicable in a range of businesses and organisations.
Tuition fees
The tuition fees for the 2024/25 academic year are:
UK and Channel Island part-time fees: : £4,250 per year

International and EU part-time fees: Students from outside the UK are usually unable to obtain a visa for part-time study. Please visit our visas and immigration page for more information.
For further information please visit our tuition fees page.
Alumni discount
Solent alumni are eligible for a 20% reduction of tuition fees if returning to study a postgraduate course.
Find out more
Bursaries, scholarships and financial support
Solent University offers a range of bursaries and scholarships that provide financial assistance or waive fees for tuition or accommodation. Each bursary or scholarship has specific eligibility criteria. Check out our bursaries and scholarships pages to find out more.
Graduation costs
There is no charge to attend graduation, but you will be required to pay for the rental of your academic gown (approximately £45 per graduate, depending on your award). You may also wish to purchase official photography packages, which range in price from £15 to £200+. Graduation is not compulsory, so if you prefer to have your award sent to you, there is no cost. Extra guest tickets will go on sale after results publication and will be sold on a first-come-first-served basis. The cost per ticket is currently £15. Please note, we do not guarantee there will be any extra tickets available to purchase.
Entry requirements
Please select an option below:
Key entry requirements
2:2 (or higher) honours degree in any subject
Key entry requirements
If you are applying from outside the UK, find information about entry requirements, visas and agents for your country here.
For further information about UK, EU and international qualifications, please contact admissions.
Key entry requirements
If you are applying from outside the UK, find information about entry requirements, visas and agents for your country here.
For further information about UK, EU and international qualifications, please contact admissions.
Note to all international students requiring a visa
All international applicants need to be aware that the English language requirements to attend Solent University, and the English language requirements to obtain a visa from the Home Office, may be different. This means that if you meet the Solent University language requirement to gain a place on the course, you may still have to meet additional requirements to be granted with a visa by the Home Office.
We strongly advise all applicants to visit the Home Office website which outlines all the requirements for a successful visa application and to take a look at our 2023 course entry statement document.
An honours degree at2:2 or higher
Your application checklist
Applications for postgraduate courses can be made at any time prior to the start of the course. However, we strongly recommend you apply at your earliest convenience.
Please ensure you upload the following mandatory documents with your application:
Two academic references.

Certified transcripts of qualifications, including English language proficiency if non-UK student.

Copy of passport.

Copy of current visa (if applicable).

A personal statement.

Employer sponsor form, where appropriate.
Language requirements
Applicants who do not have English as their first language will be required to demonstrate an approved level of proficiency in the use of the English language. The agreed minimum requirements for this course are:
IELTS minimum 6.0 overall with a minimum of 5.5 in each individual component
TOEFL IBT 92 with a minimum of 22 in writing and a minimum of 20 in reading, listening and speaking
Duolingo English Language Test - 115 overall with minimum of 100 in each component
or equivalent.
Qualifications are checked before enrolment, and international students must bring their original certificates or certified copies when coming to study at the University.
Pre-Sessional English programme
The University also offers a pre-sessional English programme for international students who wish to improve their level of English before starting a degree course.
Solent Law School
Solent Law School is more than just learning theory - students are encouraged to interpret and apply it, understanding the legal processes and the fast-changing legal environment.
Students are encouraged to develop habits of lifelong learning and the professional awareness and personal attributes that will ensure the development as a professional long after graduation.
Our alumni leave Solent feeling confident for life, with the knowledge to embark on a successful career in law or to use their transferable skills in a broader business career. They will have had access to industry-leading teaching, and live client opportunities as well as exceptional facilities, including the University's 'moot courtroom', which enables students to practice legal skills in a realistic environment.
Facilities
Based in the University's fantastic main teaching space, the Spark Building, Solent Law School also offers access to a dedicated Courtroom and seminar space.
Here law students can practice their advocacy and corporate negotiation skills in a realistic setting, helping you develop valuable experience.
Alumni network
As part of our global alumni community, you can take advantage of a range of benefits.
Whether it's been days or decades since you left us, or you're soon to don your cap and gown, things are constantly changing at Solent. We're always innovating, but we're also immensely proud of our heritage. And that means you.
Solent University prides itself on carrying out not only pioneering research, but also research that addresses real world problems. We offer opportunities to study for a Master of Philosophy (MPhil) or Doctor of Philosophy (PhD) degree in a number of areas.
At Solent, we want to help you achieve your best and discover new insights. Whether you're thinking about applying for a PhD, or already underway with your research studies, you'll find useful guidance and information in our research pages.
Find out more
Support at Solent
All students at Solent University have access to a range of specialist support services. Whether you are having financial difficulty, need additional help with academic skills or want advice on setting up your own business you'll find that help is always on hand.
Most of our specialist support services are based around the Student Hub, a central space where you can access all of the information and support you may need during your time at University. The Student Hub is the first point of contact if you have any queries relating to your course, including questions about your timetable, options, and assessments and extenuating circumstances.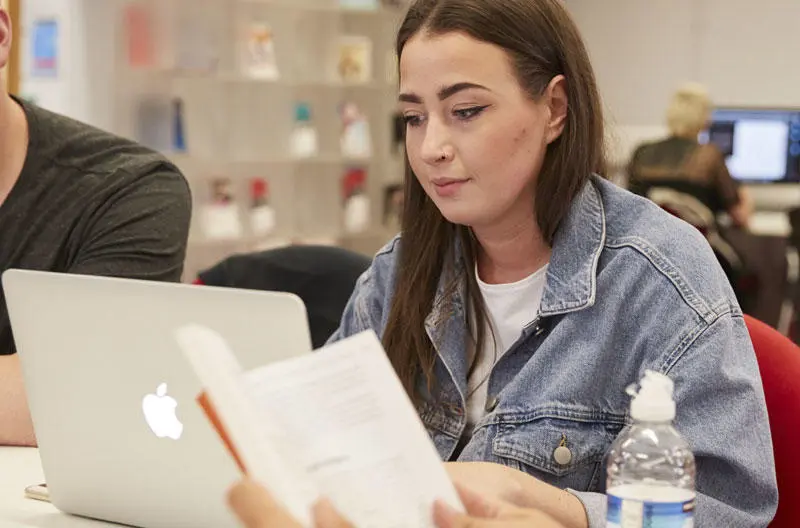 Solent's learning technologies team are on hand to offer help and guidance with the University's online learning platform, Solent Online Learning (SOL). You can contact the team either by email or via their virtual helpdesk, which is open 10am-4pm on weekdays.
Find out more