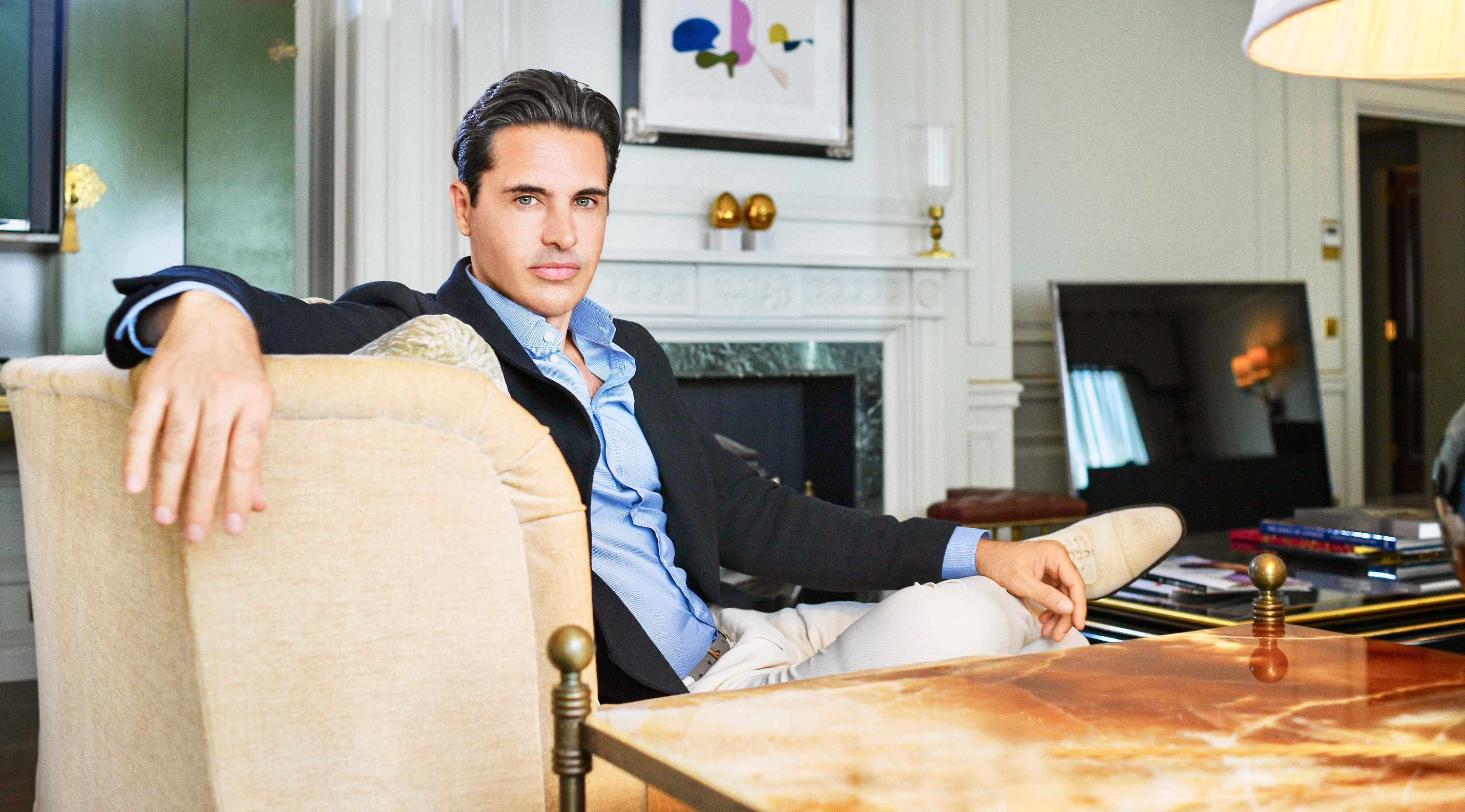 "...Adapt like a chameleon..."
Sean Yazbeck graduated from Solent in 1996, with a first in media with cultural studies. We caught up with him about his time at the University, and find out how hard work, adaptability and his Solent degree have opened a succession of doors in business.
1st November 2017
TV, film, media production and technology
So, Sean… what do you do these days?
I live between Miami and London. I'm the founder, investor and CEO of several technology companies. Some are Inc. 500 Fastest Growing Companies in America. Some are new.
My current – and loftiest project ever – is an artificial intelligence supply chain platform called Scopeworker, automating supply chain efficiency and workforce productivity for Global 1000 companies.
We're in the midst of a very interesting moment in history with artificial intelligence and machine learning; but a company's only as good as its people and we're fortunate to have a wonderfully energetic mix of intellect and creativity. It's a very exciting time for technology.
Why Solent?
Primarily because of the course. It was a wonderful blend of academic excellence and real-life application of theory to media. I was interested in the psychoanalytical and poststructuralist discourse of Derrida, Foucault and Lacan, and the faculty was exceptional; Ron Cowdrey, Julian Hoxter, Xavier Mendik and others.
I really enjoyed their lectures and my time at the University; Solent is located in the centre of a marvellous, vibrant city that made my time outside of academia that much more enjoyable.
What was your favourite memory?
Most people can remember at least one teacher, lecturer or professor that has had a positive impact in their life. I've been fortunate enough to have several, and one was Xavier Mendik, whose lectures at Solent were always full of energy, passion and gore.
It was through him that I got introduced to the philosopher Slovoj Zizek, whose writings in turn introduced me to a Lacanian interpretation of Kantian, Hegelian and Marxist philosophy. Mendik's course was fascinating and entertaining and it helped me understand many subsequent courses with other lecturers.
What's your biggest achievement?
I've always set myself goals. Big and small, personal and business – it's a healthy and productive way to live life. I picture whatever it is I want to achieve and I outline the road map to success. I then visualise myself working towards that goal. It's a good life habit to follow, and it's always worked well for me.
Certainly, getting a first at Solent was one of my earliest big achievements and it had a positive impact on my life. Having a first garners considerable attention amongst employers and opens a lot of doors.
It helped with landing some great jobs in the years following my graduation but it also had a domino effect on a whole list of accomplishments; securing an EB1 Green Card for Persons of Extraordinary Ability; getting on – and subsequently winning – The Apprentice USA; receiving the 2014 'British Entrepreneur of The Year' award from UK Trade & Investment (UKTI); and of course the general business successes I've been fortunate to experience throughout my career.
What did you learn at Solent which has helped you succeed?
Outside of day-to-day academia, I learnt one gets further in life if one is able to effectively communicate with a diversity of personalities. Solent has an enormously diverse population of students and faculty from all walks of life, from all over the world studying all manner of subjects, from law to maritime to art and design.
Being emotionally intelligent and having the ability to adapt like a chameleon to someone's energy - without losing a sense of one's self - is a wonderful skill. This put me in very good stead for future success in life and business.
How did you change as a person at Solent?
It's not possible for one to study that intensely and for that duration of time without it having an effect on one's personality and the way one thinks. Typically there isn't another time in life when the brain is stretched to that extent.
When I was in that zone the greatest change for me was the clarity around focusing on life's goals. Focusing on what I wanted and focusing on how I should work towards it. It was during this time that I decided that if I was at university I ought to focus my energy on obtaining a first. This clarity of focus has stayed with me.
Any advice to new or current students?
Whenever possible do what you love. I received a first because I was passionate about the course. Not because I'm intelligent. If you love what you do then you'll eventually be the best at what you do and with that follows success.
I apply this method of thinking to business, motivating employees and to my everyday life. And that was certainly the case with my choice of course at Solent. Therefore, each semester, choose subjects you love – as opposed to what you think you should do – and success will follow.
Oh, one last thing. How did you find Southampton?
Southampton's a superb city to live and study in. The community has a rich, eclectic culture and a wonderful mix of history and modernity. Museums, music-venues, art galleries, beautiful parks and the general hustle and bustle of a diverse city.
And of course, the University's right in the middle of it all. The city of Southampton and Southampton Solent University is a great combination for life and academia.
Find out more about our media courses here.