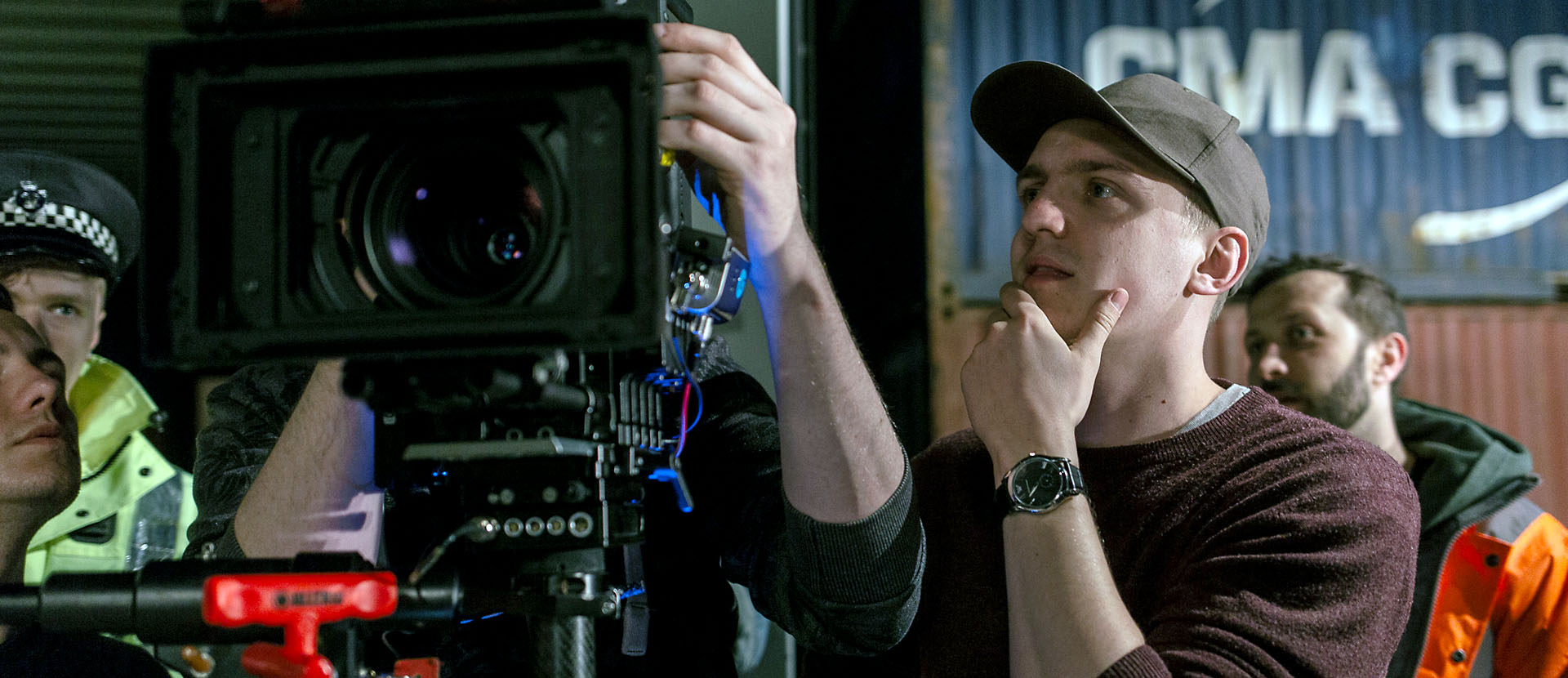 Alumni spotlight: Jack in the Box Films
31st January 2017
TV, film, media production and technology
Solent graduates Jed Tune and Glen Kirby have certainly kept busy since graduating from our BA (Hons) Film programme in 2014.
Their film production company, Jack in the Box Films, was working with a range of corporate clients by the time they entered their final year here at Solent. By 2015 their first independent feature film project, Off-Piste, was well underway.
Fast-forward to 2017 and the pair are focusing entirely on feature film production - celebrating the success of their second full-length feature film, The Pugilist, and considering options for it's international distribution after a successful trip to LA.
Here, Jed talks about Jack in the Box's rise to success and the hard work that made it all possible.
When did you first realise that you were interested in filmmaking?

For myself, I always wanted to be an actor but realised in my college days that I was better suited behind the camera. The Lord of the Rings was actually the first film that made me want to do this as a career so shout out to Tolkien and Peter Jackson!
On my first day of university I met Glen, who shared the same love for mainstream and genre films. Glen came to the game a little later on, in his early 20's, after attending MET film school and working abroad for a corporate based film company. In 2011 he decided to come and learn the theory side of the game in order to apply it to his practice.

How did you choose to study at Southampton Solent?
I actually got into UCA Farnham, as did Glen, but we both saw the social aspect of Southampton as an appealing factor as well as its varying potential filming locations.
Likewise, I was quite sporty at university and joined the kickboxing team, later becoming the vice captain, while Glen started up the boxing team.
When did you first start to think about becoming a media entrepreneur, and how did you develop Jack in the Box Films into what it is today?


That's an interesting question; it wasn't straight away for sure! Over the University years we were tactical and built many contacts through doing low/no pay jobs and simply keeping active. After graduating and going full-time on the business we knew we wanted to establish a brand - in our early days we saw corporate jobs as our bread and butter route to achieving that.
However, we quickly realised that wouldn't be enough as our end goal was feature film production and to get to that stage we'd have to develop the company and our skill sets further – so we did just that. It was at this stage we realised we were onto something good.
Jack in the Box released their first feature length film last year. What can you tell us about the process and how might current students follow in your footsteps?
We shot 'Off-Piste' in 2015 only a few months after graduating from Solent. It is currently in international distribution, which is fantastic, and we've subsequently shot our 2nd film and will be signing our sales agent on that very soon.
The process of our first feature film was a surreal one. We were on location in Chatel France for three weeks in January and then came back to Crowthorne for an additional 5 days of principle photography (with 3 days of pick-ups that would follow a few months later).
We had a short but ambitious script and used the locations to bring intrinsic value to the project. We called in all our favours and had a skeleton cast and crew, most of which were also working on their first feature – so it was a team effort all around. However, we did make sure some key roles were filled by industry professionals to make sure we got things right (such as our director of photography and sound recordist).
My advice to students looking to break into working on feature films or making their own would be to use the time at university wisely – I worked on two external features while studying while Glen worked on about four. Through these experiences we were able to gain valuable knowledge and understanding of what it takes to make a feature, what roles are key and what corners you can cut on a micro-budget.
If you are looking to make your own feature, make sure you understand the current marketplace. Why would someone invest in you? Is the project commercially viable? Will the element sell or is the project execute dependent (this is the harder sell when looking for equity)? Make sure you look into soft money opportunities and tax incentives, which will appeal to investors.
Most importantly, make sure your script is tight before you seek finance - get people you trust to read and constructively criticise it.
How have you managed to balance the corporate side of the business while also working on commercial features?
Over the first summer out of university we did a range of corporates for companies such as SONY, Makers Mark, Disaronno, The FA and Glenfiddich, to name a few. While these were great short-term projects that offered quick turn around on payment, the process of discussions to final delivery could often last up to a month, especially when dealing with re-edits.

An example of Jack in the Box's corporate work.
Once we completed our second feature film we decided we would no longer be able to balance this side of the business as the features demand too much of our time. As of 2017 we now only work on our feature projects. When we get corporate clients in we now pass them onto our go-to teams, as we are further expanding the scope of our production
What has been your favourite location to film in, and why?
Best location for me has been Chatel, France, for Off-Piste. One day we were set up to ride the piste bashers up the mountainside with our film kit, in order to reach the peak to capture the sun rise – that was a pretty spectacular moment and when combined with the experience of it being our first feature it was a great feeling.
Second would be when we wrapped production up in Snowdonia, Wales for our Viking film – we were high in the mountain and just sat watching the red sky set in. Mountains seem to be a re-occurring theme in our films! Maybe it's a throw back to Lord of the Rings - we just seem to love a good adventure!
You mentioned that are preparing for a trip to LA. What's it like working with America's film industry?
So we were out in LA for AFM for 10 days back in November 2016. That's always a great place to get out to, the weather is fantastic and it's a central hub for filmmakers, which makes for a really enjoyable experience.
We were out there with our second film, The Pugilist, and had set up a number of meetings which went really well and ultimately led to us having a number of offers on the table.
How do you think your time at Solent helped prepare you for life as a filmmaker and entrepreneur?
Solent gave us three years of safety to learn our craft and determine what we wanted to do and say within this industry. It's a great city with awesome locations and having Portsmouth and Bournemouth on either side was brilliant for the same reasons.
The support we've received since graduating is also great and as a result we always take our projects back there and try to get Solent students on board for work experience.
What advice would you give to students who are thinking of starting their own media business?
Go and do it while at University and ask for their support, not necessarily with finance (though there are post-grad grants available which we were successful with) but also with use of facilities and equipment!
Find other people to collaborate with, why do something you're good at when you can further expand your ideas using or collaborating with someone who's great at it!
What's next for yourself and Jack in the Box?
2017 is going to be a big year for us at Jack In The Box Films – we have six projects set up from now to 2018 and will be shooting a number internationally. All are either feature length or TV series.
We'll also be attending Berlin with our film The Pugilist as well as Cannes and LA later on this year again.
If you want to see some of our work check out Off-Piste, which is currently available in HMV or on Amazon. Otherwise, stay tuned!
---
Feeling inspired? Find out more about studying for a TV, film or media technology degree here at Southampton Solent University.