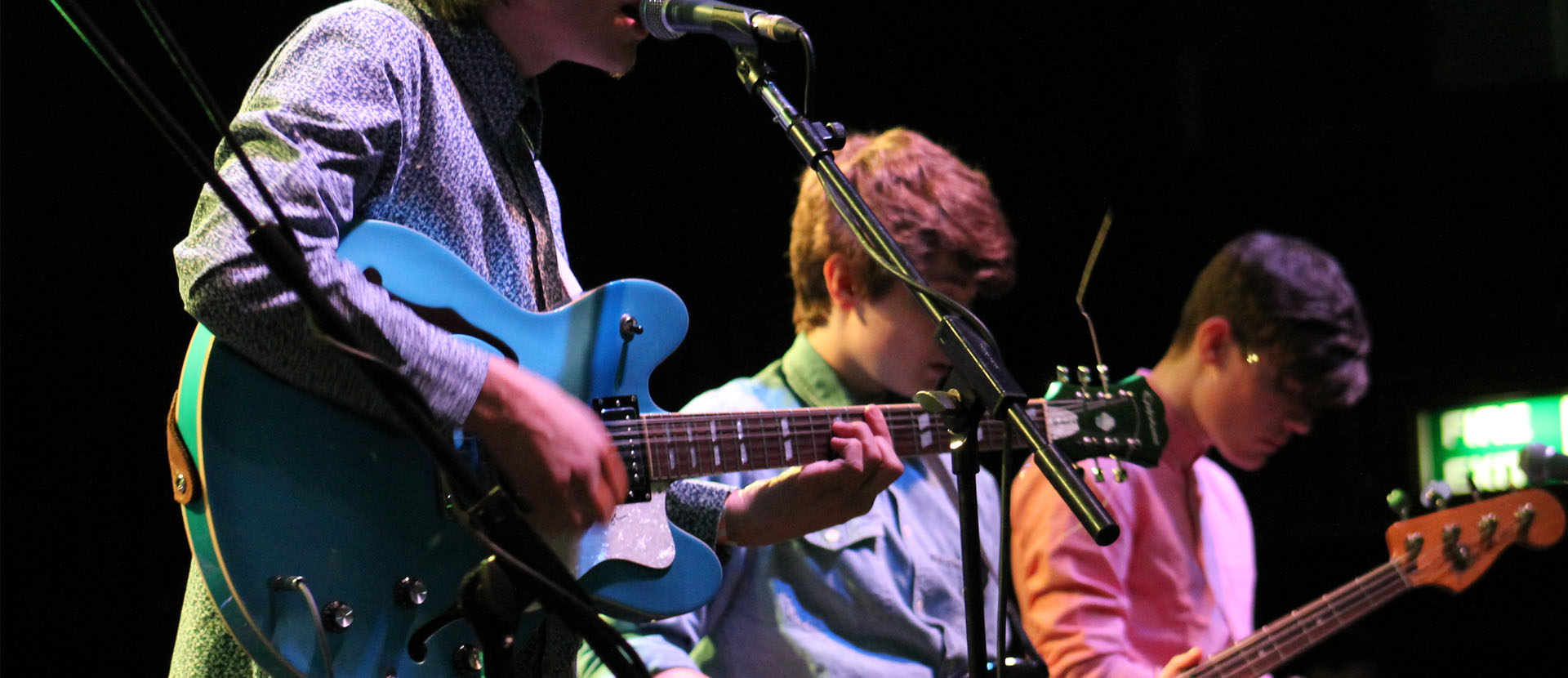 Alumni spotlight: Talking music promotion with Carly Rocket
Meet music promotion graduate Carly Rockett. She spends her days promoting bands, designing marketing campaigns and managing events - but it's her time as a student that most helped to shape her enviable career.
3rd May 2017
Meet music promotion graduate Carly Rockett. She spends her days promoting bands, designing marketing campaigns and managing events - but it's her time as a student that most helped to shape her enviable career.
We caught up with her to find out more about what she's been up to since graduation and her work at Communion Music.
Tell us about your journey since graduation
After graduation I did a lot of festival freelance work as an artist liaison, stage manager - basically any job where I felt I could gain some experience and would look good on my CV.
At one of the festivals I was working at I ended up meeting Communion's Head Of Live. We chatted whilst at the festival, and a couple of weeks later I was invited to interview for an internship. After interning with Communion Presents for 3 months I was offered a full time job at the end.
My role has developed a lot over the four years I've worked at the company. I'm currently the Operations and Ticketing Manager overseeing 200+ shows a year, as well as the ticketing for a one day festival in West London.
Did you take on any internships/work experience while at Solent?
I was always very aware that my degree alone wasn't necessarily going to secure me a job. I met a lot of passionate, talented people whilst studying and knew I could come up against any of them in a job interview.
I undertook a lot of festival freelance work, managed an artist and also worked as the head of events for the University's radio station. All of these roles helped me develop professionally and I made great contacts along the way.   
You've had many different roles working at festivals. Did one role lead to another?
Reputation is really important in the music industry. If you take time to build a good one and work hard, you'll find people remember you and may even put you forward for work.
After working with the press team at Larmer Tree Festival, they asked me to work with them at Boomtown Fair too. It was really nice to know I'd done a good job the first time round!
What advice can you give to students who do work experience at festivals?
Make the most of these opportunities. You will be surrounded by so many professionals, so network where you can. Make conversation with as many people as possible, give them your email address or ask for theirs so you can follow up after the event.
What are you doing on a typical day?
A usual day for me is very email and admin focussed to begin with. I'll be setting up shows for on sale, working with several ticket agents and venues ensuring information about a show is sent correctly and the show has a smooth on sale. Once a show is on sale I manage allocations and report the sales them to artist's teams twice a week. There's a lot of spreadsheets to maintain!
I oversee advancing of all our shows either directly in-house or via external show reps. This involves dealing with booking agents, tour managers and artist managers to ensure the show runs as smoothly as possible. Usually I'll be advancing two to three shows a day.
I'm very passionate about finding new talent to bring onto our roster, so I set aside time each week to listen through recommendations I've been sent and keep on top of acts that blogs and music websites are talking about.
I'm usually then at shows in the evenings, either our own, or checking out new acts, so the working day is usually a long one.
Communion seems like a very tight-knit team. How do you suggest approaching companies that have people in place long-term already?
Although some companies may seem tight-knit it's always worth approaching a company whose ethos you agree with and where you feel like you have something to contribute.
Sometimes companies are looking to find the right candidate but at the right time, so don't feel disheartened if they don't have a job to offer you immediately as one may become available in the future. Concentrate on just being yourself and leaving a lasting good impression.
What's been highlight of your career so far?
Working with so many incredible artists means there's a lot of special moments! Personally, working on the live campaign for James Bay was a highlight. Starting with The Slaughtered Lamb (the location of his first ever headline gig) in November 2013 and building to four sold out shows at Hammersmith in March 2016, with over 20,000 tickets sold.
The Hammersmith shows were one of the biggest campaigns I'd worked on at the time and it was great to see them all sold out.
What qualities must a person have in order to succeed in the music industry?
Be confident in yourself and your decisions. Get to know everything about your role, ask questions all the time. Always treat people how you would want to be treated - you never know who you're talking to!
What are your experiences of being a woman in the music industry?
I work with lots of incredibly talented women across all areas of the industry every day.  The conversation around women working in the industry is sometimes very blame focussed, so I think we need to have more open positive conversations around this topic. It's my responsibility along with many others to encourage those who want to work in the industry by offering our experiences and advice.
There are lots of wonderful organisations and groups working to encourage women including She Said So and Let's Be The Change.