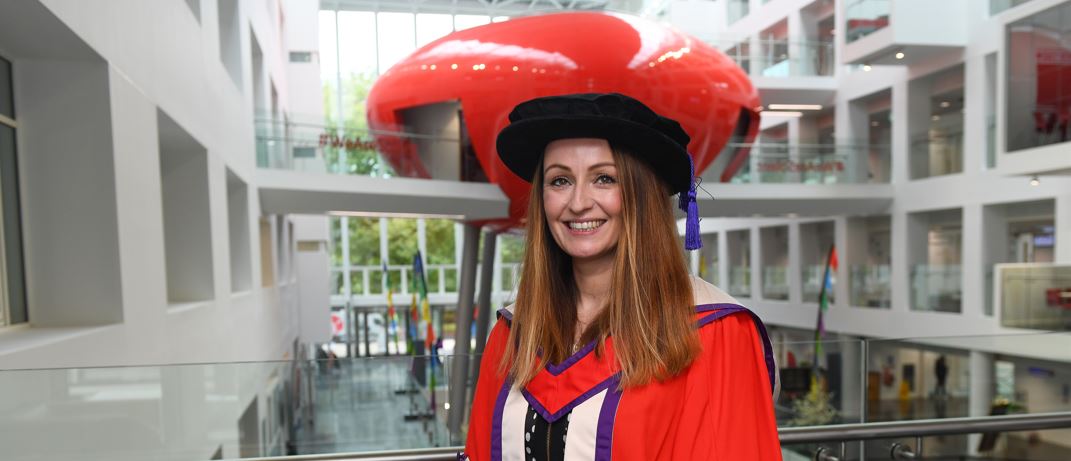 Award-Winning Leader for Diversity and Inclusion within STEM Industries Awarded Honorary Degree
Natalie Desty, Founder and Director of STEM Returners has been awarded the honorary degree of Doctor of Engineering today (Friday 8 October). 
8th October 2021
Engineering
Homepage - News - Featured
After building a progressive career in recruitment, where she was Director of Maritime Engineering at a large recruitment company, Natalie was struck by the apparent lack of progress in diversity and inclusion within STEM industries (science, technology, engineering and maths). She was particularly concerned by the insurmountable barriers that people who have had a career break face when wanting to return to STEM roles.  
Natalie developed a programme called STEM Returners, which has supported hundreds of people to restart their careers in internationally renowned organisations such as BAE Systems, SSE and Leonardo UK.
Returners take part in 12-week paid placements, enabling STEM leaders to access the best available talent, and in doing so, improve diversity and inclusion within their organisation. 96% of returners secure a permanent position within the host organisation following the placement.  
STEM Returners was awarded the Maritime UK Diversity Award in 2020 and the Diversity in Engineering Award by Enginuity in March 2021. 
Natalie received the Eily Keary Award by the Royal Institute of Naval Architects for increasing equality, diversity and inclusion in the maritime industry.
Commenting on her award Natalie says, "I am extremely proud to receive this honorary degree from Solent University and would like to congratulate everyone who has graduated today. I would like to dedicate my degree to all the returners who have been placed on programmes since we started in 2017, and the firms that have opened up their recruitment procedures to enable the programmes to take place. But we still have a long way to go – a career break should not put you at a disadvantage when trying to get a job. We will continue working with STEM industries to update their recruitment processes and improve inclusion and diversity across the STEM sector."