Behind the mic: discover Radio Sonar
Station manager, Danny tells us about Radio Sonar, and their involvement with community radio station, and Solent University official partner, Voice FM
5th May 2020
We caught-up with Danny, Radio Sonar's station manger to hear about his experiences at the radio station as well as what projects they are currently working on, including their involvement with one of Solent's official partners, Voice FM.
Hi Danny, tell us about Radio Sonar
Radio Sonar is the University's student radio station. We've been known as Radio Sonar since around 2008, before that we were known as Sin FM. We have around 100 members this year who do a variety of different things for the station, from presenting to being part of the playlist team.
We've had a really great year this year - we've had a large revamp of the station that we believe has taken us to the next level. This has been recognised through nominations at one of the two national award ceremonies organised by The Student Radio Association, a governing body for Student Radio, where we got nominated over 20 times. This includes most improved station, best outreach project (for our 24-hour broadcast), best audience initiative, and many more. It's something we're very proud of and are keen to use this as a platform to push on next year.
Tell us about your daily pre-recorded shows for Voice FM
The daily Voice FM slots are something we've been very fortunate to have over the years.
This is a fantastic opportunity for the station and any budding presenters wanting to get into student radio. As part of our station-wide revamp this year, we looked at how the show with Voice FM works and created a new flagship show called 'The Sonar Takeover'. We pulled together a group of keen presenters and producers and created a show format to highlight the best moments of Radio Sonar that week. If someone did a good interview or segment, they could get it played out as part of the show, giving them more reach than they previously would have. We're so grateful for Voice FM allowing us to create and produce content for them. It's really exciting for everyone involved to be able to broadcast on FM radio.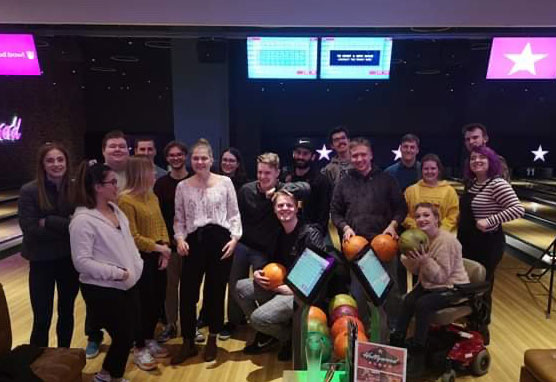 What other shows take place on Radio Sonar?
We have an incredibly diverse set of shows on our station and that has really flourished over the years. We have a very strong sports team that covers things such as live commentaries for non-league clubs. Members of the sports team in recent years have gone on to amazing roles within TalkSport, Canal and BT Sport. Our music team works closely with the SRA Music Network where they create weekly playlists and get awesome interview opportunities with upcoming artists like Lauran Hibberd, and more. We have a strong news network that does press reviews at the Nuffield Theatre and the Mayflower Theatre.
It is great to see so many people trying out different show ideas and pushing their creative boundaries.
How is this experience helping you with your studies?
I've learnt such an incredible amount from Radio Sonar, and not necessarily in the ways I thought I would. I'm very open with the fact that being part of Radio Sonar has changed my life. Not only has my confidence increased, but so many general life skills have improved as a result, which has helped my studies in many ways.
Talking into a microphone in a small room can at first be such a weird experience, but once you get into the swing of it (which I believe all our members do very quickly), it's fantastic to see some of the unique, creative and diverse content our members produce. Effectively, I wouldn't be the person I am today if I hadn't joined Radio Sonar - it's not only helped me with my studies but in my day to day life too.
How can people get involved with Radio Sonar?
People can get involved by contacting us through our website, by joining our Facebook group, or on the Students' Union website.