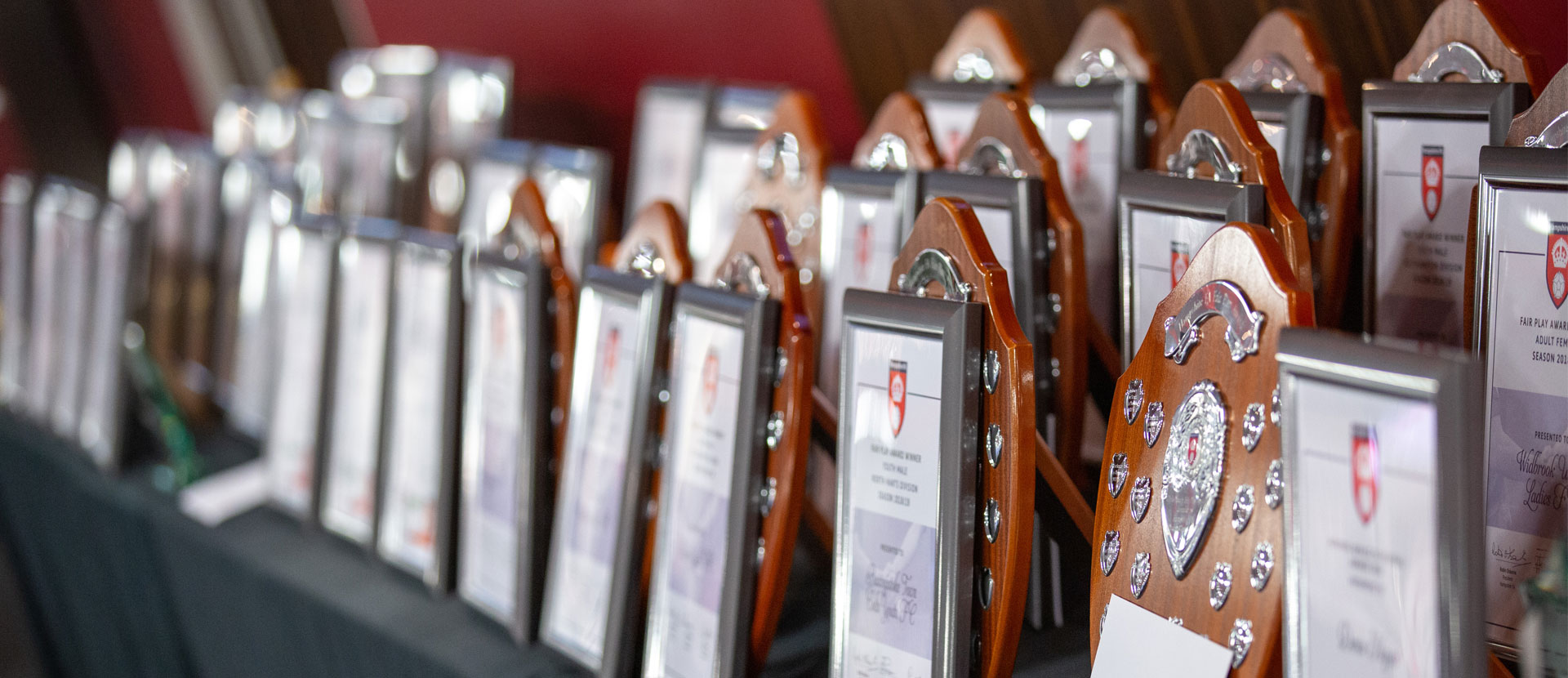 Celebrating grassroots football success
Solent University is an official partner of the Hampshire FA, working with clubs and young talent to support grassroots football in our local community. The University works with the Hampshire FA on a number of campaigns and initiatives with many projects providing real-life briefs for students.
The Grassroots Football Awards celebrate our local football heroes, recognising the support, development and growth of local clubs across the region. This year Solent supported two awards: The Outstanding Contribution to the Grassroots Game and the Hampshire FA Media Project Award.
Outstanding Voluntary Contribution to the Grassroots Game
Students Alexander Stone, Harry Fryer, Shuta Tsukamoto and Luke Brown were presented with this award for their work on the Level 1 Coach Engagement project. The award was presented by Tracey Bourne, BA (Hons) Football Studies Course Leader at Solent.
The Level 1 Coach Engagement project looked at how Level 1 coaching courses are being run across the county. Through researching the demographics and asking questions about the learners' experience on the course, the group managed to identify strengths and weaknesses and the impact this would have on learners. The group then presented back to three FA tutors.
Hampshire FA Media Project Award
This award was presented to Alex Dyer, a final year student studying BA (Hons) Sport Journalism at Solent. The award was presented by James Pearson, Chairman of Hampshire FA.
Alex won this award for his work on a 10-minute video, Equality FC, which he compiled as part of his final major project. The video explored football and its role for social change, particularly in the case of helping the homeless. Alex aims to continue to expand on social development matters in the sport as he develops a professional career.
Commenting on the awards, Tracey Bourne said: "We were delighted to celebrate the success of our students at this evening's Grassroots Awards. It's fantastic to see the students' hard work recognised in this way. The experience they have gained from this activity will support them in progressing with their career ambitions."
Commenting on their work with Solent, Neil Cassar, CEO of Hampshire FA, added: "We're delighted that the work and contribution of Solent students has once again been recognised through the Grassroots Awards. We work closely with the University throughout the year on a number of initiatives and are fortunate to be able to access such a pool of creative talent."