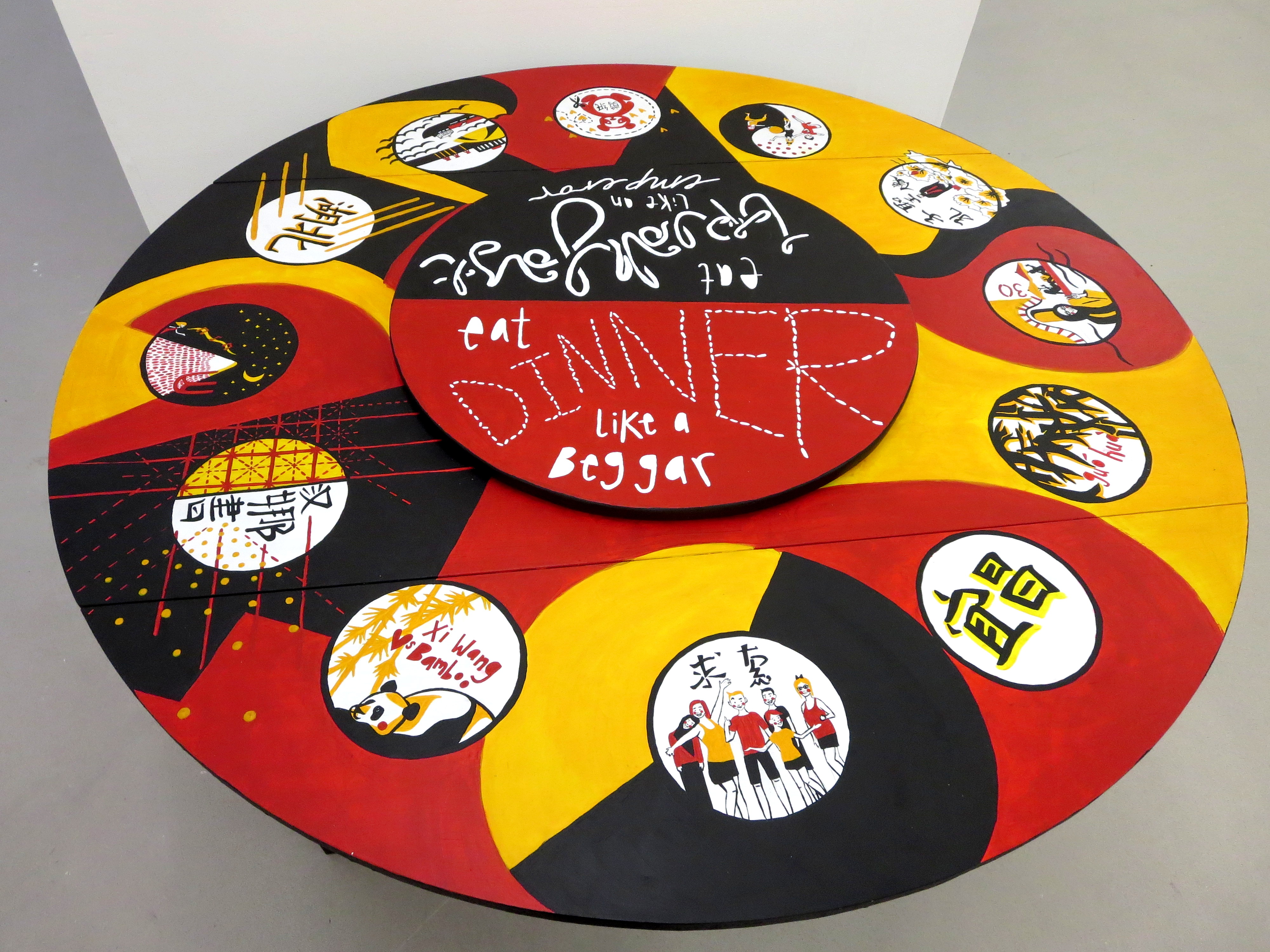 Drawing on inspiration from China
Doodles with noodles
16th August 2016
BA (Hons) Illustration student Hannah Dowding's Final Major Project (FMP) was inspired by the time she spent at Three Gorges University in China, last summer. We caught up with the 23-year-old student from Ashstead as she was putting the final touches to her piece at the final-year degree show.
Tell us a bit about your project
It explores Chinese proverbs, dinnertime in China, and is also a record of my experiences last summer in Yichang, China. I painted plate designs onto a table, added a lazy Susan, which I painted with a text design, and created an image based on Chinese architecture to accompany the table, which I exhibited in the final year degree show.
What was the inspiration behind your work?
Last year I earned a scholarship from Solent to attend a summer school at China Three Gorges University. We were taught a variety of classes including calligraphy, traditional brush painting, paper-cutting, tai chi and Chinese language. Each plate design on the table represents part of my experience there.
One of the students at the University translated a popular Chinese proverb for me: "Eat breakfast like an emperor, eat dinner like a beggar". This interested me and I painted the proverb in the centre of the table, designing parts of the text to resemble rice and noodles.
What have you enjoyed most about your three years at Solent?
It's got to be all of the opportunities – participating in the Chinese Summer School, creating an image for an exhibition in Shanghai, painting my designs on walls in RE:SO, being Chief Editor of Wooly Bully Colouring Books, and all the other opportunities too! And the tutors. They've been encouraging and given great support throughout and I am grateful to them for running such an exciting and varied course.
What's next?
I've been offered a place on the MA Creative Enterprise course  at Solent and I'm really excited to continue my education here for another year.  I hope to start up my own business in the future.
What advice do you have for current students and those thinking about going to university?
Believe in yourself, be determined and put yourself forward for every opportunity – you never know where it might lead.
You can see more of Hannah's work at http://lookseeillustration.tumblr.com/