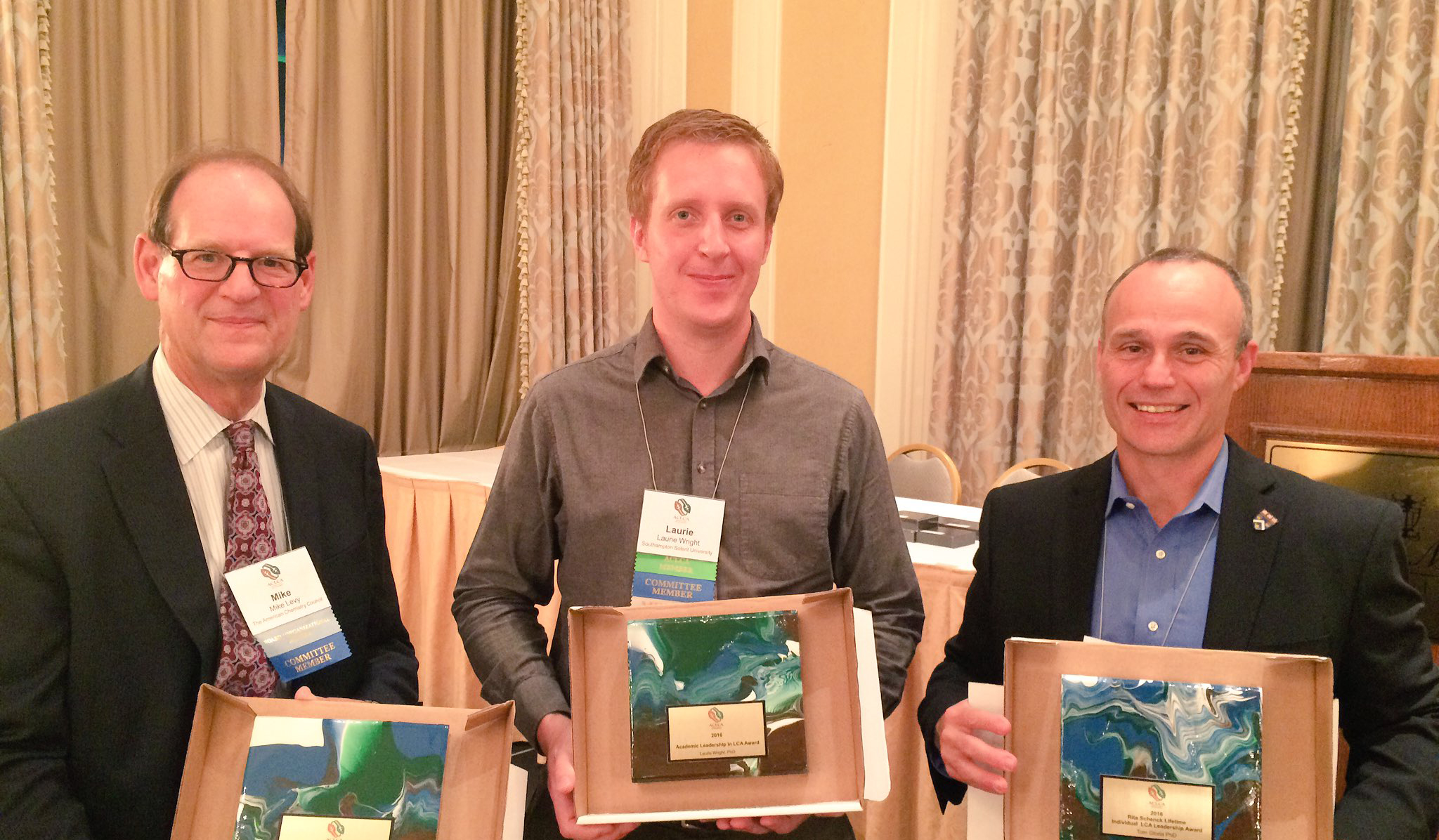 Environmental science Lecturer wins international award
Lecturer awarded for academic leadership in sustainability
11th October 2016
Southampton Solent University Lecturer Dr Laurie Wright has been honoured with a prestigious international award for Academic Leadership in Life Cycle Assessment, at the LCA XVI Awards Dinner on Wednesday, September 28, 2016 Charleston, South Carolina.
Laurie was presented with the award at the American Centre for Life Cycle Assessment (ACLCA) annual conference, LCA XVI, for his contribution and leadership in the field of Life Cycle Assessment (LCA) and sustainability.
The environmental science lecturer's expertise concerns the interface of technology, society, and the environment; and the sustainability management of social and environmental impacts. Recent projects include investigations into the environmental impacts of micro-brewing, and the life cycle management of coffee.
Speaking after the ceremony, Laurie said: "I am humbled and honoured to receive this award from the ACLCA. It is a privilege to work with a group of incredibly passionate and enthusiastic people working to further global sustainability.  I want to thank Solent University and my colleagues for their support in achieving this prestigious international recognition."
The annual ACLCA awards recognise outstanding contribution and leadership to the field of LCA and sustainability. Other award winners included Tom Gloria (Harvard University and Industrial Ecology Consultant) and The American Chemistry Council.
"The LCA XVI awards showcase the talent, dedication and sheer drive of leaders in life cycle assessment who have made a true impact on environmental sustainability. The individuals honoured - Dr Tom Gloria, Dr Laurie Wright and the American Chemistry Council - have all made their marks by going where no one else had thought to go, and by demonstrating the value and growing importance of life cycle assessment in achieving environmental sustainability," says Bill Flanagan, PhD, ACLCA Board Chair.
The LCA XVI Conference attracts more than 250 leaders from government, industry, academia and NGOs to recognize leaders in LCA who have made an impact in strengthening and advancing the science and application of LCA to achieve environmental sustainability.
The American Center for Life Cycle Assessment (ACLCA) is a non-profit membership organization providing education, awareness, advocacy and communications to build capacity and knowledge of environmental LCA. ACLCA membership consists of industry, academia, government, consulting, and NGOs.
Laurie recently accepted the position of Chair of Education for the Centre, leading the society's international efforts in education and outreach.
"My colleagues in the education committee and I are delivering a number of projects, including an investigation into the journey from student to practitioner to help develop the next generation of sustainability practitioners," he says.