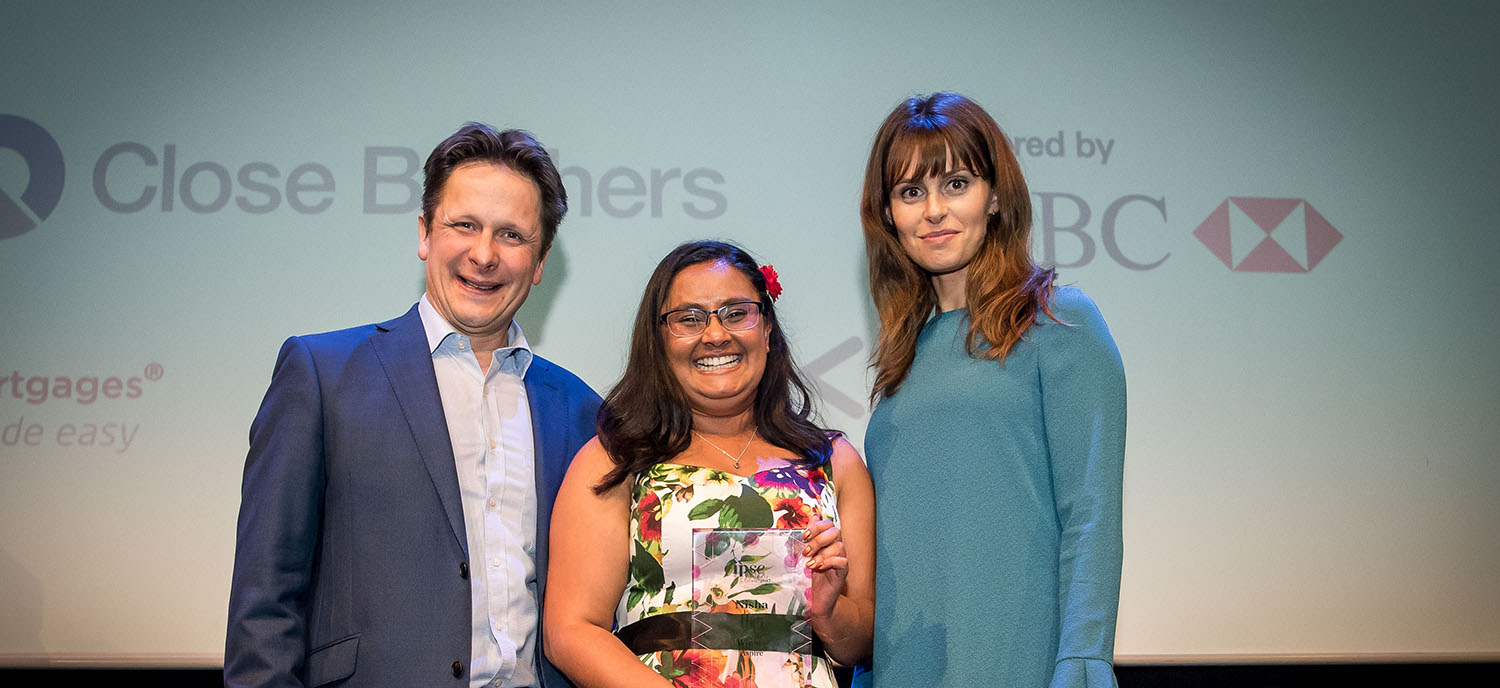 How to become UK Freelancer of the Year
Photographer wins UK award
7th July 2017
Three years after graduating from BA (Hons) Photography, alumna Nisha Haq has been awarded UK Freelancer of the Year by IPSE, the Association of Independent Professionals and the Self-Employed.
Nisha, a wedding and lifestyle photographer, set up her own business – Nisha Haq Photography - two years ago, but has been photographing people since the age of 13. We caught up with her to find out more about the award, her time at Solent, and her top tips for our graduating students.
Congratulations on winning the IPSE Aspire award – how does it feel to win?
To be awarded UK Freelancer of the Year feels amazing; I'm over the moon as I honestly didn't think I'd win. My heart was beating out of my chest when all the finalists were on stage and I was flabbergasted when comedian Ellie Taylor announced my name as the winner. I almost wasn't going to apply for the awards as I felt I wasn't good enough, which I think many creative freelancers battle with. So this experience has been a huge confidence boost and I feel so honoured to be recognised nationally. The awards also come with £3,000 investment as well as mentoring sessions with industry leaders to help my business grow. It's come at a great time too, as I've just celebrated my second year of running Nisha Haq Photography.
Why did you enter the awards?
I remember picking up a flyer about IPSE (Association of Independent Professionals and the Self-Employed) whilst I was working as a Graduate Associate at Southampton Solent University two years ago and thought it would be something I could enter someday. When I saw Craig McDougall (fellow Solent Graduate for Broken Physics Productions) become a finalist in 2015 for the same award, I felt inspired to apply. As the award is for 23 and under, this was the last year I could apply so I felt I had to give it a go or I knew I'd regret it. I also wanted to be a part of an organisation that promotes and supports freelancers and felt this would be the best opportunity to learn more.
What do you love about your career?
The freelancer lifestyle is certainly unique, fun and the most rewarding. Having done a degree in BA Photography and working as a professional photographer soon after graduating, feels fantastic. When I get amazing testimonials from my clients when they receive their images or when the mother of the bride congratulates me on how well I've done documented their daughter's wedding makes my job really special. I also love the fact I get to be really creative in my business, from branding, web design, marketing, video production and the photography itself – I get to build everything from scratch. A lot of people say it's getting to be your own boss, which is certainly true!
I've worked full-time in various design and marketing roles in small and big companies where I've gained so much work experience. It's allowed me to grow my business without too much risk so I've re-invested all my profits into my business. Now, winning the award, I feel more confident than ever to take the next step and go full-time with freelancing in the near future.
What does a normal day for you entail?
During the week, from approximately 9am-6.30pm, I travel/ work at my day job as a designer. From 7pm onwards is when I start working freelance where a typical evening would be editing photos, meeting a client, responding to emails, blogging, creating hand-made wedding packages, calling potential client leads, designing an album, digital marketing etc. Some days I could be working up to 3am or later to finish a particular project on time. At the weekends I shoot engagement / portrait sessions, arrange client meetings and typically have a wedding to photograph. Getting the work/life balance is particularly tricky, however I do aim to spend quality time with loved ones and have moments to unwind. It's important getting time to recharge and having a fresh outlook.
How did your degree help you with your career?
Studying a subject I was very passionate about only fuelled that passion even further and made it feel becoming a freelancer photographer attainable. Many people questioned doing a creative arts degree would be a 'waste of time' or that there would be no jobs in the industry and that I'd be better off studying a traditional subject for better career prospects. I'm very happy I didn't listen and I carefully chose a university that would be able to invest in my future. Whilst studying photography, I learnt so many technical, creative, theoretical skills that really diversified my understanding.
One particular project I had much support on from the lecturers was co-founding Penta Prism Magazine, a student led photography magazine that showcases Solent produced work. There was a gap in the market; all the other creative courses had a magazine, so I felt it was time photography had one. When I suggested producing a magazine in-house, from the design, editing, writing, marketing etc. course Leader, Mandy Jandrell was really behind it and backed investment into the project. My co-founders, Joe Rose and Matt Angell, and I knew this would be a great way to fundraise for the end of year degree show. The experience producing this magazine and managing the exhibition launch event from scratch was really rewarding and I continue to take this work ethic in the projects I do. I'm so proud to see it's developed into its fourth year and it's been a great success!
What support do you receive from the University?
During my third year, I decided to take Solent Creatives' Creative Entrepreneurial Freelance Practice course on top of my studies. Even though the credits didn't count towards my degree, I knew what I'd learn would be invaluable. From there I found out about the enterprise funding that the University offers for start-up businesses. I didn't really have a plan on what I was going to do after I graduated so I applied for funding, as it could be a back-up plan if I were to be successful. To my surprise the judges decided to offer double the amount that I originally pitched for giving me the much needed motivation and belief that I could make my business idea work.
After leaving university I was introduced to SENSE (Solent Entrepreneurs' Network For Sustainable Enterprises), where every month a guest speaker is invited to share business advice exclusively for Solent graduates and a place to network. The group includes people in all stages of their business, whether starting out or successfully running a company, it's a great network to encourage the entrepreneurial spirit. Having attended over two years, I've found my confidence has grown considerably and all the advice I've received has been really supportive. I also had the chance to lead a session on branding to the group which was a great experience delivering a presentation.
Would you recommend your degree to others?
Yes! The photography course was varied and had so many brand new and high-tech resources to use, creative projects to get involved with and high-quality teaching and seminars throughout the course to keep you creatively stimulated. I particularly loved the new photography books in the library, the colour darkrooms and Hasselblad scanners.
What's your favourite Solent memory?
I would say the Penta Prism launch and seeing all that hard work and creative vision come to life. When the course lectures, Head of Art and Design and fellow students congratulated me, it was a great feeling, and topping it off with a special mention by the Vice-Chancellor at graduation ceremony was a particular highlight.
What are your top tips for current students?
Although achieving a degree is a fantastic accomplishment, the industry is very competitive, especially in the creative world. To stand out, I'd recommend getting involved in as many projects, workshops, courses or start you own initiative while studying and over the holidays to increase your employability chances. It's never too early to get ready for life after university so build work experience and portfolio pieces as much as you can. It's good to keep an eye out for opportunities, so keeping regular contact with your network or join new groups such as societies to build your contacts would be a good place to start. There are often lots of great opportunities you can find on social media so having a good web presence is ideal.
What's next for you?
My next stage is to develop a plan to take Nisha Haq Photography full-time eventually. With the extra time in the day dedicated to my business, I'm hoping to expand my services and get involved in more commercial projects, which would include more design work as well offering boudoir photography later this year. I'll also be looking to develop a professional office/studio space and hope to take on more mentees/work experience placements. I've enjoyed mentoring Solent graduates on helping them how to freelance so look forward to offering more photography opportunities.