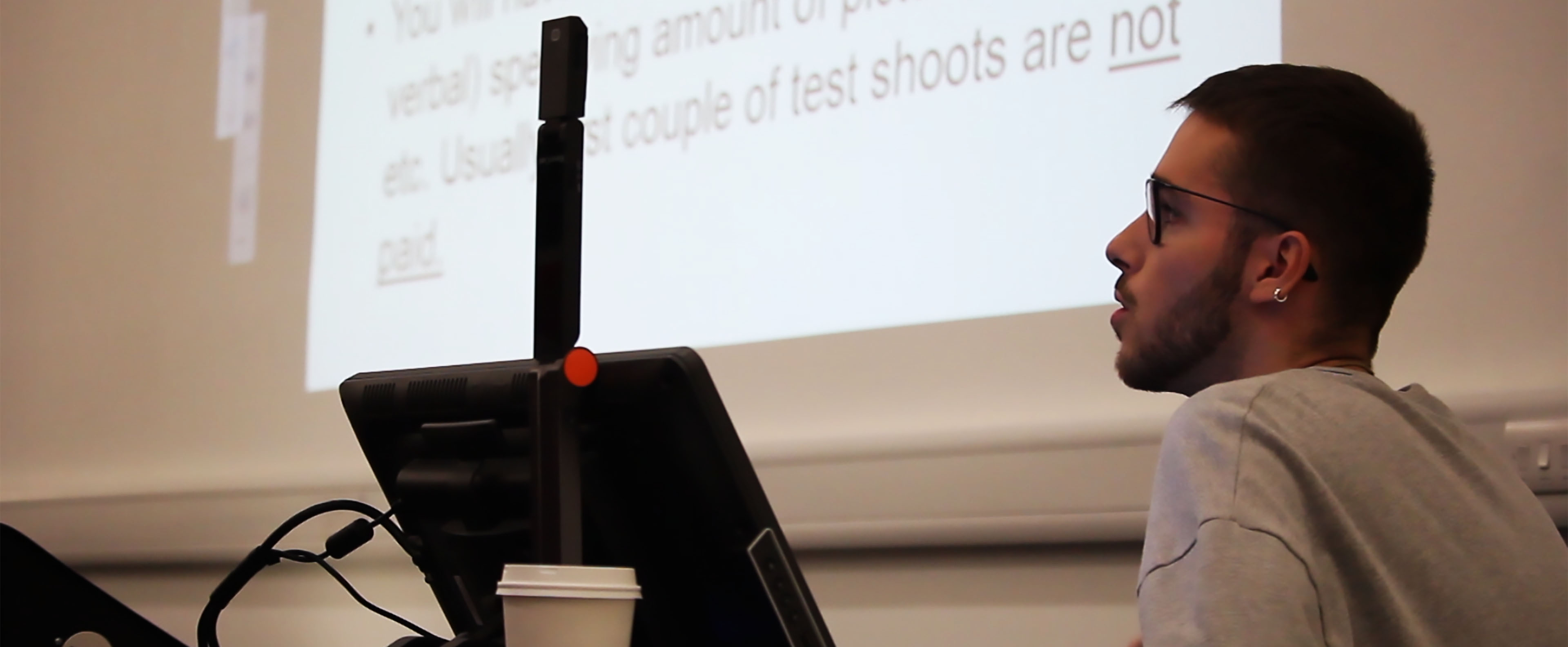 How to make it in the fashion industry: 10 tips
10 tips to get into fashion
17th January 2017
During this year's 'Industry Week', we hosted thought-provoking events in-house, where leading experts and accomplishing alumni came together to inspire and empower future generations.
We caught up with two of our most recent success stories – Teri Corbett, print and pattern designer, and Alvaro Gracia, fashion photographer. They both graduated two years ago, and since then, they've taken the fashion world by storm – designing for the likes of Topshop and photographing models from top agencies like Elite.
Despite having left university not long ago, they have already managed to make a name for themselves, which is hard to do, especially in such a competitive world. Want to know how to make it? Here are their top tips:
1 – Pick up the phone, don't just email
People are busy and they only skim through emails, especially when they get over 200 of those a day. A phone call is more personal and shows you made more effort to actually track them down. It's also more direct and if they can help you in any way, they will.
2 – Any experience is good experience
Even if you're not interested in styling or buying, if you have the opportunity to get work experience somewhere, make sure you take it. You'll learn a new set of skills that will be useful in jobs to come and you never know if you're accidentally going to fall in love with that career.
3 – Be confident
You're more talented than you think you are. Be confident in what you do, and what you think you'll bring to the company. The employer wants to see that you won't be too shy to talk to fellow contacts at meetings, so demonstrate your social skills and how easy-going you are.
4 – Show your work to everyone and use the feedback
Sometimes it's hard to hear that a piece you worked on for weeks isn't appreciated by many people, but take that feedback and use it to improve for next time. In this field you'll need to grow some thick skin and learn to adjust your work to please clients.
5 – Have hobbies
Loving fashion is great but try to get inspired by other things around you. Employers look for people with a wide variety of interests, especially because everyone in the fashion industry loves fashion (duh!). Having a different hobby or interest will make you stand out.
6 – Update your LinkedIn
You can almost forget Facebook and Twitter stalking, LinkedIn is where it's at when it comes to job applications. Connect with your future boss, get in touch with them, and make yourself known. Having an updated profile with all the information needed is essential – it can make you or break you.
7 – Stress how much you want to grow and improve
Of course you want to sell yourself and impress at any given chance but don't be afraid to also let them know how much you would learn by being there and doing the job. If you're curious and you're thirsty for knowledge they will appreciate it.
8 – Do things on your own
Sometimes during our time at university we rely too much on friends, but the sooner you start being independent the better. No one is going to be holding your hand at job interviews or during your first big assignment at work.
9 – Do more than just the bare essential
A lot of jobs in the fashion industry require a portfolio of work and the sooner you start working on it the better. Don't just do enough work to complete the assignment, go the extra mile and work on side projects for yourself that you can use to build experience and potentially contacts.
10 – Be yourself
Basic but so important. Despite what you might picture people to be like in this field, we're all humans and we like to have a good time. Showing emotion and personality gets you further in life because you're relatable and warm so don't shy away but shine!
For more advice from the experts, see the video below:
Find out more about our fashion courses.