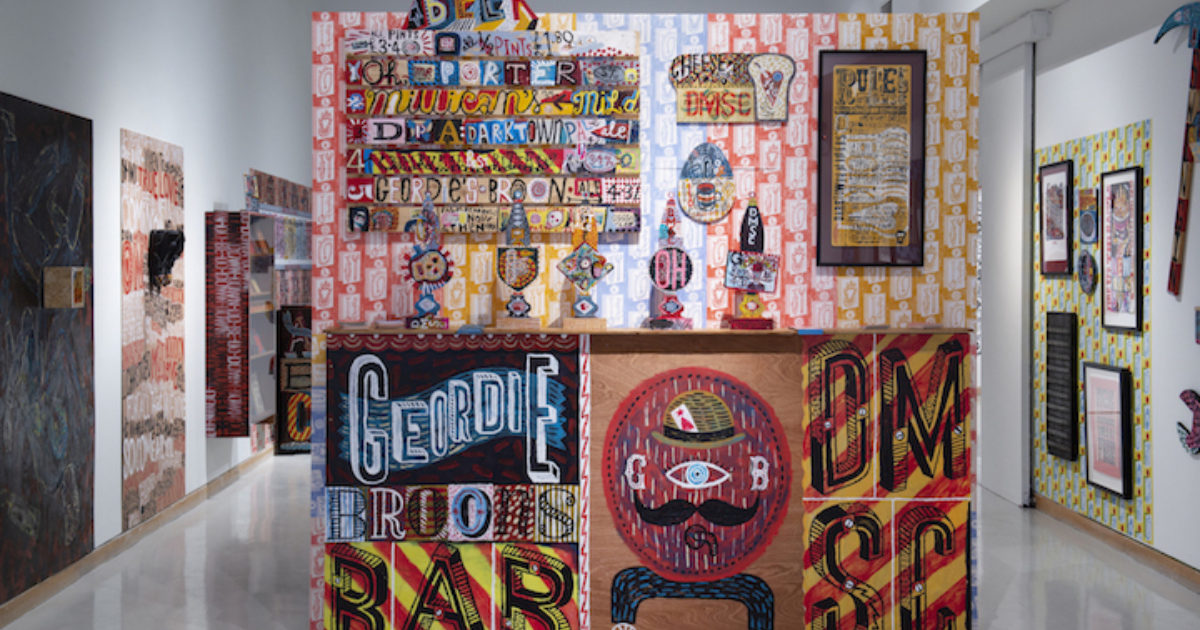 Jonny Hannah presents Northumberland Folk
Solent University Senior Lecturer, and world-renowned illustrator Jonny Hannah, shares the success of his recent exhibition, 'Northumberland Folk'
11th October 2021
Solent University Senior Lecturer, and world-renowned illustrator Jonny Hannah, shares the success of his recent exhibition, 'Northumberland Folk', and tells us how his artwork has been raising funds to go towards the Afghanistan Appeal.
Northumberland Folk is made up of four exhibitions, spread across the county celebrating some of Northumberland's strangest stories and most curious characters, and draws inspiration from the Museum Northumberland collections, the heritage buildings themselves, and hundreds of tales and contributions from the local community.
Each exhibition shines a light on some of the untold stories and intriguing characters that make up Northumberland's past and present history; all told through Jonny Hannah's paintings, prints, publications and cut-outs, alongside objects and artefacts from the museum collections.
We caught up with Jonny to find out more:
Hi Jonny, tell us more about the exhibition:
Folk and folklore are often seen as voices from the distant past; cautionary tales from the deep, dark forests of beasts and bogeymen. And there is some of that in my project, but I was keen to compliment what was expected with a huge helping of what I call 'urban folk'. Folk tales, songs, heroes and devils are very much alive and kicking and are just as at home on the concrete streets of Northumberland, (and anywhere else for that matter). So the stories I gathered from the folks on the streets included a romantic phone box, a train carriage murder just outside Morpeth, and a cocktail recipe as a homage to Paul Gascoigne. And as for heroes, we saw the passing of Ashington legend Jack Charlton, and we all fought the biggest beast of all, COVID-19. So my prints, paintings and drawings are my visual tribute to almost every part of what I call 'folk', with a sizeable chunk of it being inspired by the folk song, from The High Level Rangers, to Alex Glasgow, and bringing it all up to date, the extraordinarily everyday stories by Richard Dawson.
"Absolutely loved it. Felt much wonder and joy and also humbled by how much l don't know. Felt quite emotional, something about the love and detail in all the works. The brilliance of a unique and engaging style to celebrate a shared heritage." - Visitor quote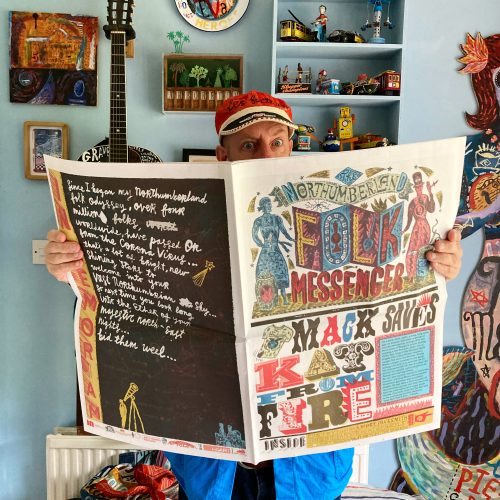 What I love about Folklore is the many, many unanswered questions. Modern life gives us answers in a fraction of a second via the wonderment of the internet. They may not always be correct, but the answers are there. But who, exactly, pray tell, was the Countess of Derwentwater? What happened to the Hexham Heads? Where are they now? Was Jimmy Strength really one hundred and fifteen when he died? We'll never know, and how I find that immensely satisfying.
I began exploring the county of Northumberland in July 2019, when Museums Northumberland awarded the commission that was to be the main summer exhibition of 2020. I quickly came up with the name 'Northumberland Folk'. That did the trick nicely. Then I looked in books, fumbled around websites, and best of all, went out there and started nervously talking to folks, and more nervously, got attention from busking on the streets, handing out booklets and getting stories in return. I came up with a tagline 'You Are The Folk', a sentence that doesn't really make sense, but be sure of one thing… we're all part of history. Even if we're not on the telly, or publish pedagogical papers, we all have stories to tell that are worth listening to. It's what I call 'Urban Folk'. Concrete streets can produce folk phenomenon just as much as the deep, dark forests of yesteryear. So then I started painting, drawing and printing… and four exhibitions later, and of course, one year later (what Folk tales will we have about the pandemic in the decades to come?) it all opened to the public, who seem to have enjoyed what they see. As on visitor to Wooodhorn said… "So colourful, thought provoking. How much people work to keep us all going and how people are often badly paid, in poor conditions and undervalued. Like key workers today. What an amazing portrait of the colourful nature of this community."
So, as you can see my job is done. But where, oh where, are the Hexham Heads?!?...
"I loved everything about it! It even made me cry! I was overwhelmed with emotion. It reminded me of my family members who are no longer here and it filled me with that undying North East pride!" - Visitor quote 
What's coming up next for you?
My new book has just been published – The Story of the Skids. Written by frontman Richard Jobson, published by St. Jude's, telling the story – ups and downs of the band. It's a graphic novel. Illustrated on every page, with all the text being hand lettered. Richard wrote the story in small vignettes, then I started drawing, making a 'comic book ' of sorts. We both grew up in the same place, Dunfermline. And it was hugely influenced by another great Scottish pop culture phenomenon, DC Thomson's Beano and Dandy.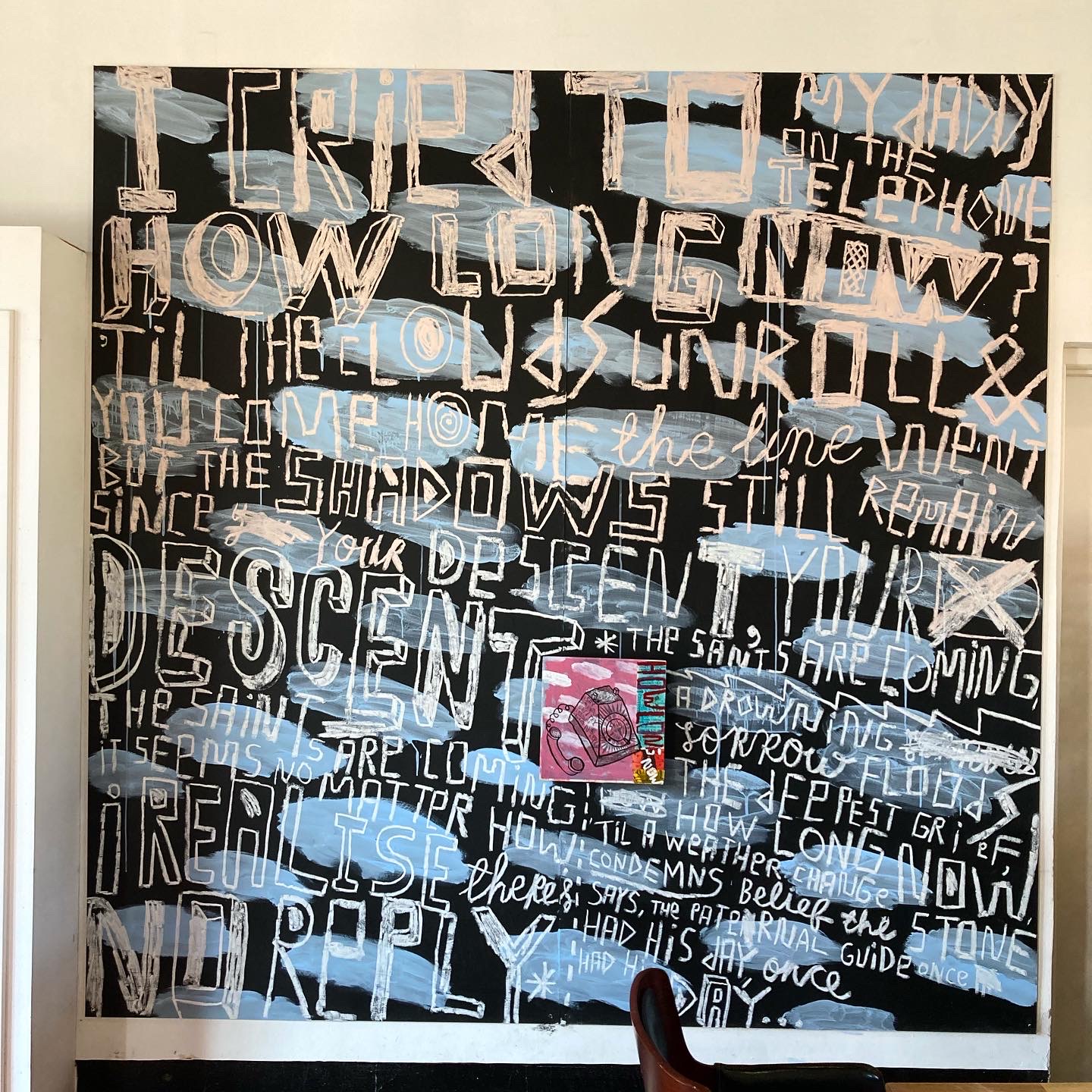 Tell us a bit about the print you created for the Afghanistan appeal:
The screenprint is an add on to the exhibition I created in Dunfermline called Betrothed and Divine to coincide with the new book – a small black and white drawing illustrating the song 'Kings of the New World Order'. So I advertised it on Instagram, at £10 each, then sold over 200 of them raising £2200 and gave all the money to the Refugee Council. I like to think it would pay the rent of a family for three months in Southampton.
Northumberland Folk is now open at Woodhorn Museum, Hexham Old Gaol, Berwick Museum and Art Gallery, and Morpeth Chantry Bagpipe Museum and runs until 31 October 2021.