Legendary Saints FC manager awarded honorary degree
Lawrie McMenemy received the honorary degree of Doctor of Sport from Southampton Solent University on Friday 15 July.
15th July 2016
Sport and fitness
Football
Lawrie McMenemy, one of the UK's most successful football managers, received the honorary degree of Doctor of Sport from Southampton Solent University today (Friday 15 July).
"This is a massive honour for me and I take it on behalf of my family," said Lawrie. "If you're successful in any walk of life you have to have people behind you. I've been lucky, I've got the best wife in the world, and without her I wouldn't have got anywhere."
Lawrie started his playing career with Newcastle United before moving to non-league Gateshead in the late 1950s. An injury ended his playing career in 1961 and he moved into coaching, where he spent a further three years at the club.
After spells as manager at Bishop Auckland, coach at Sheffield Wednesday, and manager of Doncaster Rovers and Grimsby Town, he was appointed manager of Southampton Football Club in 1973.
In 1976 he guided Southampton to FA Cup victory with a 1-0 win over Manchester United. In 1979 he guided the club to the final of the League Cup, reaching another semi-final of the FA Cup in 1984. Southampton also reached their highest league position in the club's history finishing runners-up to Liverpool in the top flight in 1984. Lawrie left Southampton in 1986 to join Sunderland AFC as managing director and he became manager of the England 'B' and U-21 sides in 1991.
In 1993 Lawrie returned to Southampton Football Club as director of football, resigning in 1998 to become manager of the Northern Ireland national team.
Since 2000 Lawrie has concentrated on his role as a Football Association Ambassador and as Chairman of the Special Olympics Great Britain. He is also involved with many other charities, and is a founder member and Life Vice President of the League Managers Association.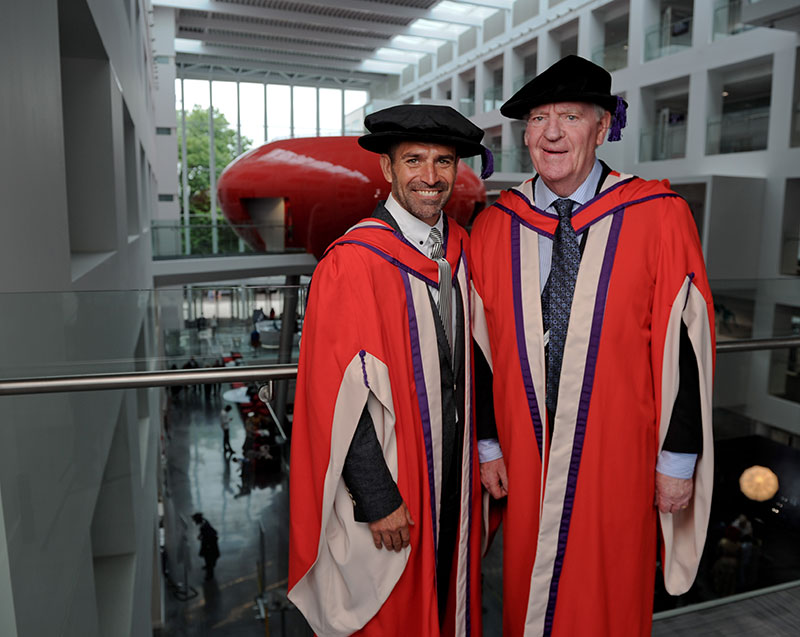 Lawrie has had a longstanding relationship with Solent University. He has sat on numerous panels and committees, providing evidence to support the validation of degree and professional courses in the sport areas, gives talks to sports students and attends University events.
His commitment to football and Solent was recognised by the University in 2009 when it named the University's new football research centre after him. Lawrie continues to play an active role in raising the Centre's profile nationally and internationally.
He was awarded an MBE in 2006 for services to sport and made a Freeman of the City of Southampton in 2007.
In his address to the new graduates, Lawrie said: "It probably took you three of four years to get a degree, it's took me about 44 years. And when you get on a bit, and believe me I am, you start looking back and you wonder if you should have done something different, made a different decision. You are at that stage where you're looking forward but now and again, if you're on your own, just have a think and sit and ask, am I doing the right thing now? Am I justifying all that hard work, by parents, by teachers, and yourselves, are you doing it right?"
Almost 2,500 students will be graduating with degrees and professional qualifications from Southampton Solent University during ten ceremonies over five days (11- 15 July).