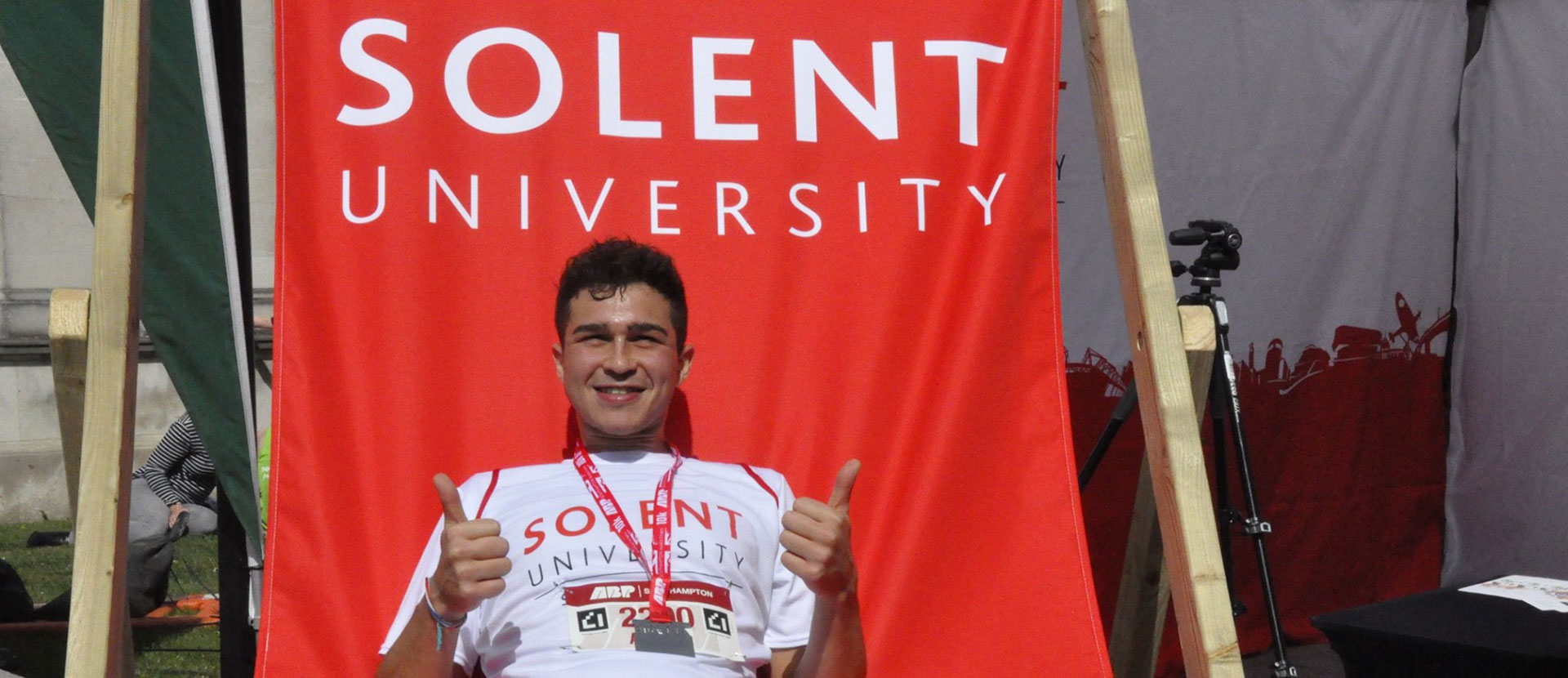 Marathon day success for Solent
We were proud to support the ABP Southampton marathon with a cheering point, race-day photos, entertainment and free massages for the runners.
13th May 2019
From live student performances to providing free massages, Solent once again played a key role in helping to deliver the ABP Southampton Marathon. And through the fundraising efforts of students, staff and alumni, a further three local student bursaries can be awarded to Solent students.
It's been five years since the University first pledged its support of this key city event, with this year seeing more staff, students and alumni involved than ever before. Over 150 free massages were provided by 28 students studying BSc (Hons) Sport and Exercise Therapy, helping relieve tired legs after completing their run around the city.
Students from the University's BA (Hons) Popular Music Performance course also got involved in the activity with student band 'BASH!' taking to the main stage and entertaining crowds. Commenting on their involvement Miles Hobbs said: "It was a privilege to play at such a wonderful event for the second year running (if you'll pardon the pun). It's events like these that encourage positive collectivism within our city. BASH! will be running next year!"
As well as this, we must mention and congratulate Solent student Isaac Farnworth, who was the fastest runner winning the 10K race!
This year the course also ran a competition for students and alumni to compose submissions that could provide the soundtrack to the official race day video. Chris Lyndon's submission was chosen as the winner - check out the video and soundtrack.
Each year, Solent's support has grown and this year over 20 students, staff and alumni ran the race to raise funds for our Local Student Bursary scheme. Thanks to our runners, a further three students from our local community will now benefit from a bursary in autumn 2019, supporting them financially with their studies.
Commenting on Solent's support of the ABP Southampton Marathon, Nikki Rees, Event Director at Rees Leisure, said: "Over the last five years we have grown our partnership with Solent to utilise the University's diverse base of skills and resource. This not only enriches the experience for our race day participants, but also enables students to gain real-world experience, working on briefs that enable their work to be showcased across the city".  
Throughout the day participants were also offered the chance to grab a free race-day pic at our Solent photo-points.