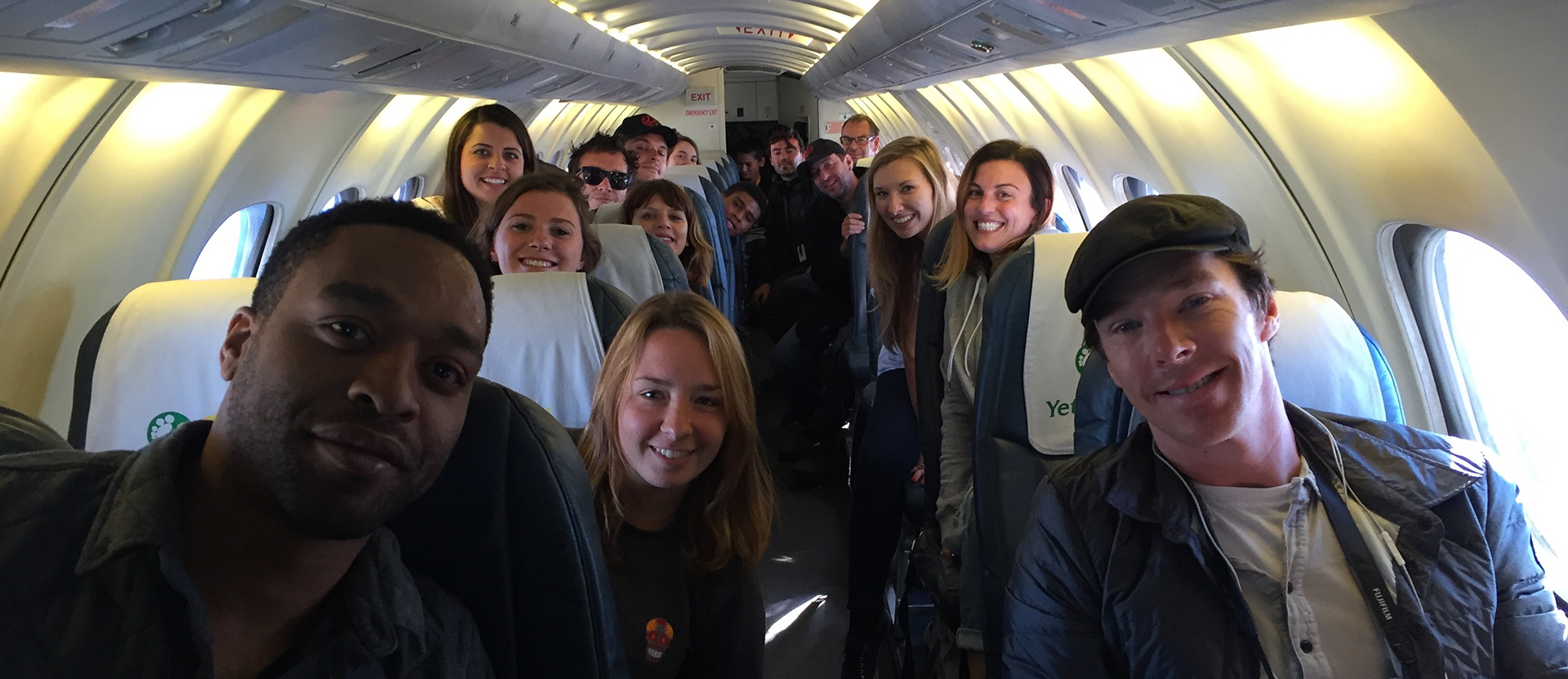 Monster talent - Abbie Sheridan traces her journey from TV Production graduate to working on Jurassic World II
7th April 2017
TV, film, media production and technology
Abbie Sheridan graduated in 2013 with a BA (Hons) in Television and Video Production. We caught up with Abbie from the set of Jurassic World II to find out how her start at Solent University set her on a career path working with some of Hollywood's finest creatives.
Tell us about your job
My job title is Set Production Assistant and I work in the assistant director's department on major feature films. My main responsibility is looking after the cast, making sure they are in costume/make-up and on set in time for when camera, lighting and everything else is ready for action. This includes fetching many teas, breakfast and lunches. It is also my responsibility to make sure departments such as costume, make-up and props are aware of what shot is happening next and what is coming up after.
Alongside this, I make sure my team (1st AD, 2nd AD, 3rd AD) are looked after, and everyone on the floor is informed of what is happening that day. In some cases, my role can include setting background action with extras.
Tell us about your journey from graduation to where you are now
After I graduated, I did a few TV jobs such as The X Factor and Britain's Got Talent, so was used to dealing with open auditions. I was part of a Facebook group called 'People Looking for TV Work: Runners' and there was an advert looking for people to help out at an open audition for a film called Pan. I messaged them and luckily the 2nd Assistant Director got in touch with me. I worked one day at the open audition at Wembley Arena and did everything I could to impress the team there. It obviously worked as they asked me back and I ended up working on the whole film. It was such a learning experience. I met so many amazing people who took me on to the next film, and it just went from there.
What are the perks of working in the industry?
I've had some amazing experiences. Yes, I get to meet many, many famous actors and actresses. But I also travel to different countries such as Morocco, Nepal, Iceland - flying in helicopters, chartered flights - and get paid for it. Wrap parties are fun, where you receive gifts and one-of-a-kind film memorabilia. We get to see the finished film at cast and crew screenings. And I've witnessed Ben Affleck sing karaoke.
But I have to mention the not-so 'perks of the job', particularly the hours and schedule. We will often work long filming days (continuous, with no lunch break) starting at 6am and finishing no earlier than 7pm. Working weekends are a regular thing, as are weeks and weeks of night shoots.
How did your degree prepare you for work?
My degree in television and video production helped me integrate into working life by teaching me how to be organised. I wouldn't be able to do my job if I couldn't organise crews, have the confidence to speak up to people, inform them of problems and then create solutions. At Solent, I was always able to speak to my tutors to get advice on how to make our TV shows better, and I feel this has given me confidence to speak to my superiors on how I can improve and become a better assistant director.
Did you do any extra work experience while at Solent?
I always tried to gain extra work experience by working in the live TV studio, whether it was operating the cameras for the drama performances, or coming in to help the guest speakers for the events that were put on. I was a series producer for Scene South TV which was an amazing experience as it was my job to communicate between the Daily Echo newspaper and our student crew, to come together and make a great, informative and entertaining web series.
What's next for you?
Next for me would be stepping up to be a 3rd assistant director, which I plan on doing at the end of this year. I love the AD department as we are the go-to people on set, and I love being able to solve problems and communicate with each department. There is a clear career path for me and I plan on staying in the film industry for the rest of my life. I cannot tell you how much I love my job, I feel like the luckiest girl in the world!
Is there anything else you'd like to add?
All the hard work of Solent's television production degree is worth it, trust me. It's not always 'who you know' in this industry - I have absolutely no ties in the film industry, either family or friends. I managed to get in on the back of a Facebook post and what I gained from Solent - so if I can do it, anyone can.
Films Abbie has worked on:
Pan (Hugh Jackman, Rooney Mara)
Star Wars Episode VII
Now You See Me 2 (Jesse Eisenberg, Mark Ruffalo, Woody Harrelson, Morgan Freeman, Michael Cain, Dave Franco)
King Arthur: Legend of the Sword (directed by Guy Richie, starring Charlie Hunnam, Jude Law)
Mission Impossible 5: Rogue Nation (Tom Cruise)
Spectre (Daniel Craig, Christoph Waltz, Ralph Fiennes, Naomie Harris, Lea Seydoux. Travelled to Morocco and filmed in the Sahara desert.)
Stratton (Dominic Cooper)
Rogue One (Felicity Jones)
Doctor Strange (Benedict Cumberbatch, Rachel McAdams, Tilda Swinton. Travelled to Nepal.)
Justice League (Ben Affleck, Henry Cavill, Gal Gadot, Amy Adams, Jason Momoa, Ezra Miller. Travelled to Iceland.)
Jurassic World 2 (Chris Pratt, Bryce Dallas Howard)
Find out more about our television and film production degrees