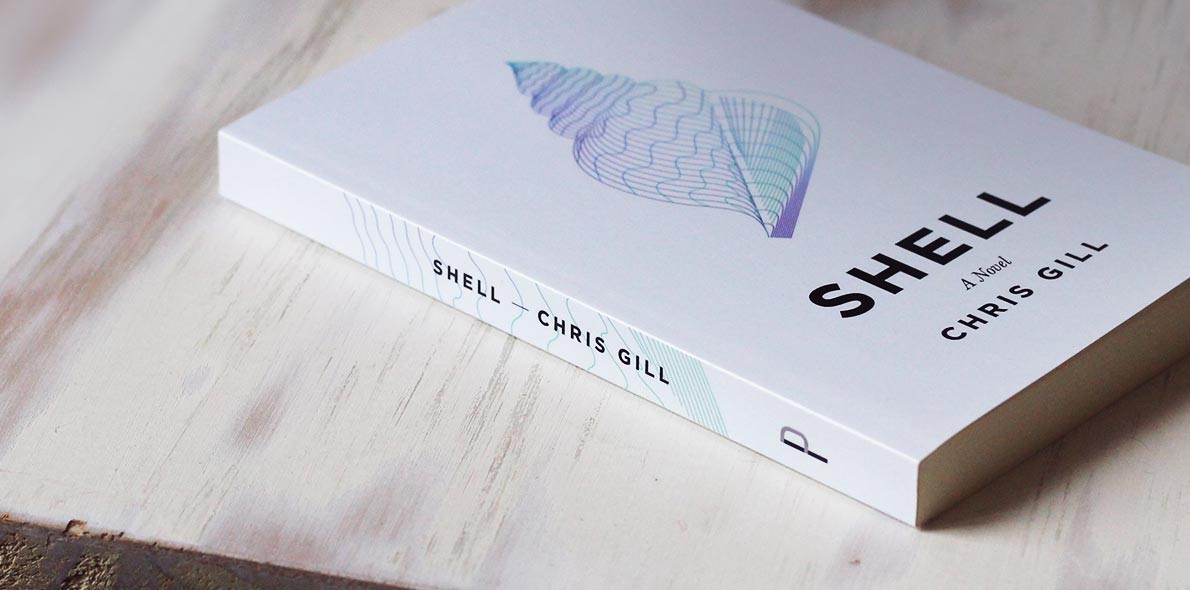 Publishing in the internet age
From Passion to Profession: Chris Gill
1st February 2016
Chris Gill has always had a passion for writing, and since graduating from Solent's journalism degree in 2010 he's been turning that passion into a profession. "It sounds so cliché but it's true," Chris says. "As soon as I could hold a pen in my hand I was scribbling down short stories and that love for creative writing never went away."
Now living in Sydney, Chris is a working copywriter and the co-founder of independent publishing company PRNTD. He's also recently self-published his first novel, Shell – a dystopian science fiction tale where society has retreated to a claustrophobic city on the seabed.
"When I was writing Shell I would have some days where I would write three chapters and others when I'd write three sentences! So you can't force it, you just have to move with the wave when it arrives. I've actually already started writing my next novel, so fingers crossed writer's block stays well away!"
"If like myself writing is something you simply have to do, then it all comes down to the three Ps: Patience, Perseverance and Passion. Get a day job (ideally one that doesn't suck out all of your brain power) and write in the evenings and weekends. It takes a lot of sacrifice, but trust me – all the sacrifice is worth it once you're holding your very own novel in your hands. So, what are you waiting for? Get writing!"
Shaking up the industry
Like the music industry, publishing has seen a lot of upheaval in recent years – the rise of the e-book, Amazon's dominance of the bookseller market, and the internet self-publishing phenomenon that has produced mega-hits like Fifty Shades of Grey, as well as sleeper successes like fellow science fiction novelist Hugh Howey's Wool. Does Chris think traditional publishing is on the rocks?
"I don't think it's dying in the same way that physical albums are in music. I still think many people like to own a copy of a book, whether it's to throw in their hand luggage when heading off on holiday or to simply give them a break from the screen before they go to sleep at night. That said, I am definitely someone with an eye on the future and no one could have predicted how the internet would go on to revolutionise the world when it was first created.
"So in many ways I think it's just the tip of the iceberg for the big changes that will come in the publishing industry. But much like music, literature is an art form that has been around since time began, and will hopefully be around forever. So no matter how we're consuming our books, it's just important we are reading them!"
The indie avalanche
Influenced and inspired by the successes of authors like Howey – as well as Chris's favourite musician Ani DiFranco, an independent folk singer who started her own record label over 20 years ago and has been releasing albums on it ever since – independent publishing was the obvious route. It's not without its challenges, however…
"The biggest challenge about the rise of indie publishing is that the market has become very over-saturated. Anyone can now write a book and upload it onto Amazon, but that doesn't necessarily mean it's any good. So readers are often having to find their way through an ocean of sloppy novels that haven't even been professionally edited before they come across something half-decent. I'm all for lowering the barriers to entering the market… it just means all authors, whether self-published or not, need to step up their game."
Creative control
So what does self-publishing offer Chris? "The biggest benefit in my eyes is retaining creative control and independence," he says. "I've known authors who've had to compromise their work and try to fit their books into the mould of what is marketable and what sells. To me, this destroys what should be a unique piece of art.
"I want to have as much creative control as possible along the way. Publishing independently removes the middle man and allows me to explore and oversee all aspects of the publishing process, from marketing to design."
Talking about Shell's distinctive cover, Chris says, "In my eyes, design in particular is a very important aspect to an author's job. In 2016 we're living in a very visual world, which apps such as Instagram have proven, so it's important to make sure your work is noticed. Particularly with the rise of digital publishing, I feel that the visual aspects to a book should and will be explored further as we move into the future.
"I also feel that the cover art and surrounding marketing creative are extensions to a book, they help build an extra dimension to the story beyond the words on the pages. Social media is without a doubt crucial for anyone putting something creative out into the universe. You need to go where your readers are, which for me happens to be Facebook and Instagram."
Dead-tree vs electronic
For all that he recognises the way digital technologies are shaking up the publishing industry, Chris still loves a paper book. "It's very convenient to be able to carry an e-reader around wherever you go, but in my opinion nothing beats a physical book. From the way it looks, feels and smells, I grew up reading and owning books, so I don't think I will ever be able to let that go.
"There's also something about downloading a book that feels very throwaway to me. After working so hard and for so long on my debut novel, I can't help but hope people will choose to own the physical copy or pass it on once they've read it!"
Shell is available now through PRNTD. To read the first chapter for free, visit chrisgillbooks.com/shell