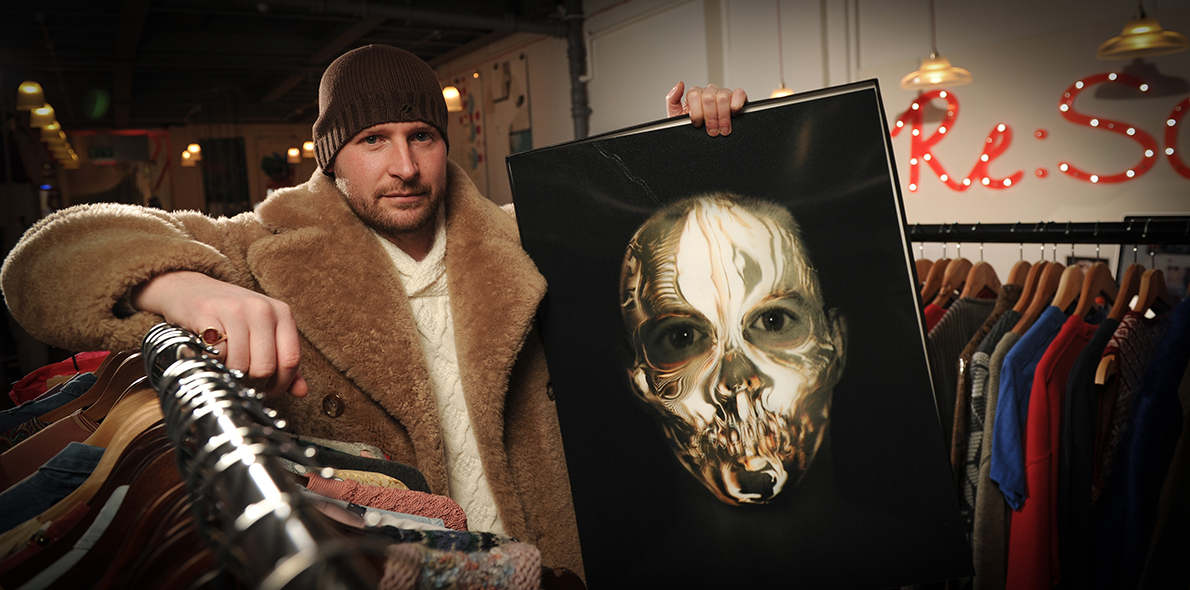 Re:So welcomes Gary James McQueen
Catwalk designer speaks at Re:So
28th January 2016
Re:So was proud to present Gary James McQueen, a self-taught textile designer with a great imagination, as guest speaker at its recent creative networking event.
Inspired and mentored by his late uncle, Lee Alexander McQueen, Gary's creations have been seen on high-end designer catwalks and students and staff had the opportunity to talk to the designer about his practice.
We chatted to Gary about his career and advice for students entering the fashion industry today:
Tell us how you got to where you are today
I studied graphic design at college, which isn't really what I wanted to do but I was kind of influenced by the tutor to follow that route. I wanted to do fine art, which is kind of where I ended up. From that I started as a junior graphic designer in a publishing house, I taught myself a lot of the software – you don't really learn that kind of thing in college, or at least I didn't. That was a hard time for me because I had to learn a lot of the software and digital programmes that have got me to where I am today. Then I got a call from Lee who said a position had opening with Alexander McQueen so I said I would take it, obviously. He gave me a trial period and I kind of fell into it. Fashion isn't something I thought I would be doing but it's what I ended up doing. I felt right at home designing on a 3D canvas. It's funny where life can take you.
Who, what or where do you get inspiration from?
It's a mixture of things I've seen growing up, it could be music, science or nature. I look at what's happening out there but I don't let it influence me. I've got my own ideas and a strong vision of what I want to do so I try to keep to that.
What's your favourite fashion creation and why:
A lot of McQueen stuff to tell you the truth. My favourite show was Plato's Atlantis, just so forward thinking and futuristic, I thought it was quite a break through. As a textile designer I thought it was amazing how the piece came through.
As a self-taught textile designer, how do you think a university learning environment can benefit students?
I think that it's good to bring different people with different skills together. When you go into the world of work, it can be a small community where you can bump into each other. Having these connections during university times can help you collaborate in the future.
What advice do you have for students wanting to pursue a career in the fashion industry today?
The advice I would give to students would be to be true to yourself and to your own style. There's no set rules for anything. That's how things progress and evolve. That's how new things come about. Be inspired but not influenced.
What skills or qualities should students focus on developing when trying to establish their own creative identity?
Work hard on your own style and get in your mind your own focus and what that is. Always look at what's going on and new technologies that are developing to keep you ahead of the game. It's not an easy road, it's a jungle out there, but if you persist and work hard you'll get there.

Gary's talk is one in a series of events featuring industry leaders, specialists and experts, run by Re:So – Solent University's 'Retail Solent' initiative. Re:So is an innovative concept that has been developed by the University's fashion management programme to provide a real life, work-based learning model, placing emphasis on developing industry led employability skills.
Follow @ReSoSouthampton to keep up to date on Re:So's latest fashion tips and events.