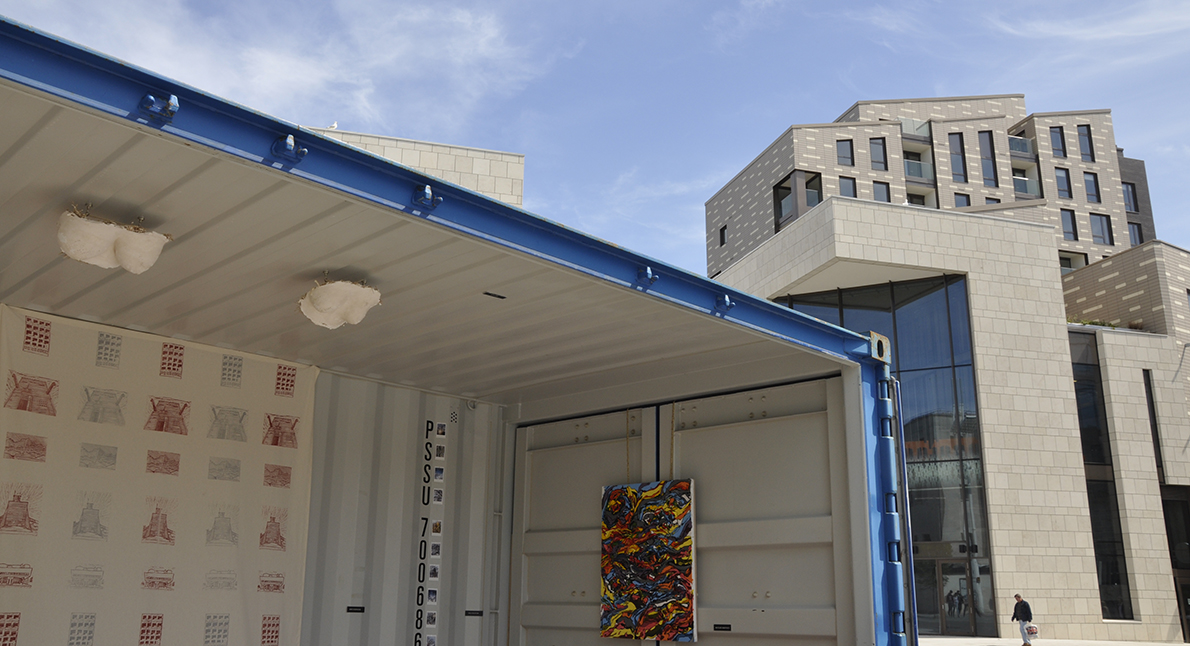 Robin's 'Versatility' proves popular at public exhibition
Second year student's sculpture becomes Instagram hit.
26th April 2016
This April our second-year fine art students were given the opportunity to showcase their work in shipping containers in Guildhall Square. The exhibition got a great response from people who enjoyed seeing the work in such a public space and talking to the artists. Robin Price's sculpture got lots of attention and became a bit of a star on Instagram. He spoke to us about the very personal inspiration behind his work and the public response.
What was the inspiration behind your sculpture?
My girlfriend was recently diagnosed with IBS and watching her suffering these episodes of pain and discomfort is really heart breaking for me because I can't do anything to help. It got me thinking about other types of illnesses, physical and mental, that cannot be seen. I wanted to make something that expressed these pains and torments and got people talking about these often stigmatised issues.
How did you decide on the form, materials and space for the piece?
Making it in the form of a human being has had a greater effect on how people react to the work.
I chose the metal for structural reasons and because it was going outside. Making the outer-skin out of spandex really makes the work come alive. The extrusions of the metal stretch the fabric giving it a painful look.
It was originally going to be placed on top of one of the containers but putting the figure a bench was the best thing I could've done for the work. It was great watching the public interact with the sculpture and take selfies with it too! I found a post on Instagram of a skater wearing white clothes holding my sculpture's hand with a caption saying "when you and bae wears matching outfits". People would ask me why he was so spikey and painful-looking; it was great to explain my concept and have conversations with absolute strangers about issues that are rarely spoken about.
What was your biggest challenge for this piece?
Once I'd decided on the concept, creating a pose for the figure that would fit comfortably and look normal within the space, was the biggest challenge for me.
What have you enjoyed most about this exhibition?
Seeing my work up in a public space and observing peoples' reaction to him has been the best part of this whole experience. That's what I wanted from the work; to see people interacting with the sculpture -I couldn't be happier.
What's the biggest thing you've learnt from this experience?
That I must make work for the public. My work doesn't deserve to live in a gallery where only people interested in art look at them, they belong to the public. I feel that I have a responsibility to bring my work out into spaces so my audience can see, touch and feel within the power of public art.
Tell us a bit about yourself and your love of art
I am twenty years old and although I was originally born in South Africa I have lived most of my life in Dibden, Southampton.
My love of art started from a really young age. I was always taking apart my toys to understand how they worked…although I was never able to put them back together again!
I was also inspired by my grandmother, also an artist, who told me to never give up making art. As I got older I used to make things out of anything I could find. Secondary school was where I thought to myself that all I wanted to do was make art and I went on to study at Brockenhurst College before coming to Solent.
You can see more of Robin's work on his website