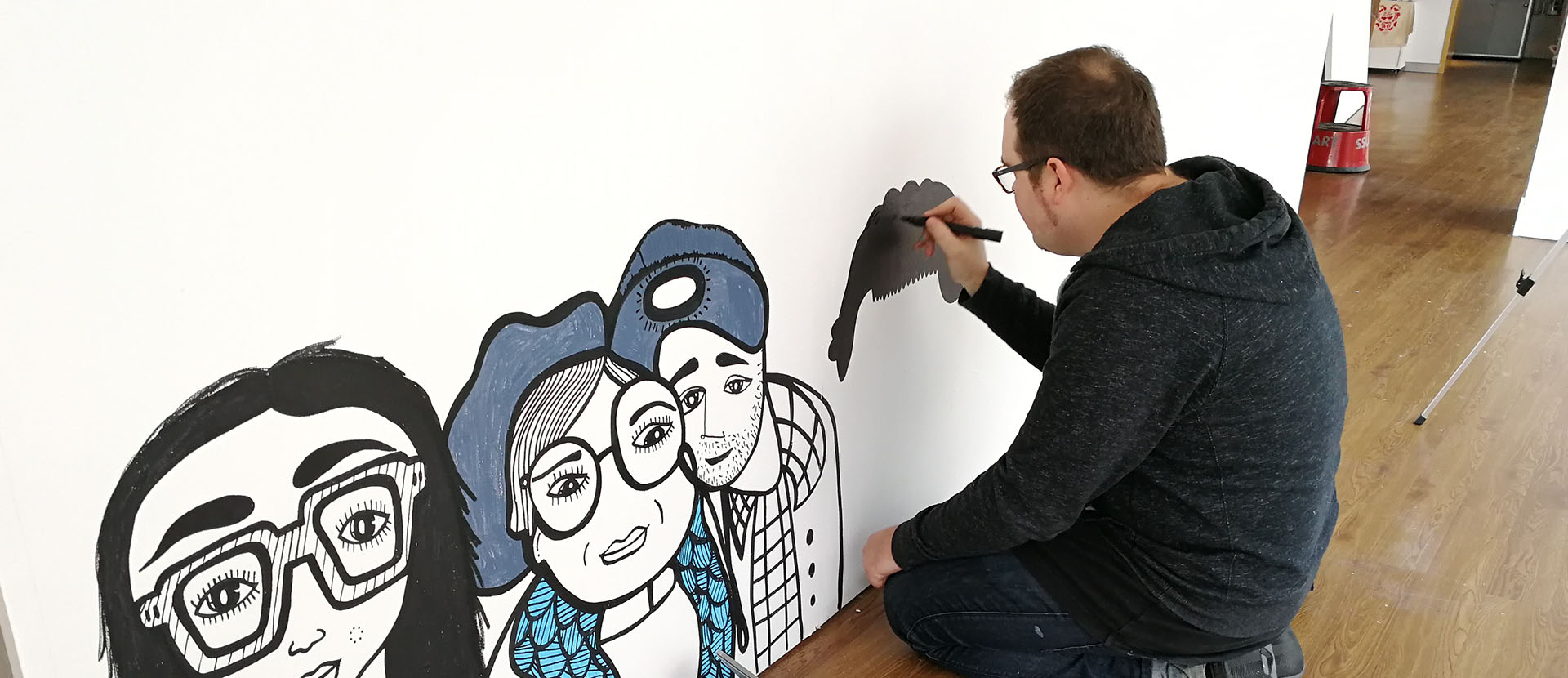 Selfies become serious art
Community project at Showcase Gallery
19th January 2018
The selfie phenomenon is being transformed into serious art at the Showcase Gallery in Southampton, part of the Stand Together art project by leading artist Kev Munday.
Open to everyone, the 'selfie send-in' project is kicking off a new exhibition and inviting the general public to send in a selfie, along with a fact about themselves, for a chance to appear in a mural created by Munday.
Part of a wider art exhibition which is supported by Arts Council England, Stand Together, will see Munday produce new works inspired by the community across Southampton Solent University's Showcase Gallery walls and public spaces across the city, as well as offering activities and workshops for the public.
The Stand Together project will also include a bin and billboard project. Similar to the selfie send-in, both will allow the public to witness some of Munday's work in locations across Southampton. The billboard project will see Kev create a large scale art piece for two billboards inspired by designs from local school children. The bin project, which has been funded by Go! Southampton, will allow Munday to decorate 10 bins, forming a trail around the city.
"Over the next three months, the hope is to increase accessibility to the arts for the public, by demystifying the artist 'creating in the studio' and encouraging approachability through participatory spaces and workshops that anyone can join," says Showcase Gallery curator Kate Maple.
"Throughout the exhibition there will be special performances, music and debate to discuss what our community can be when we Stand Together", she continues.
For Kev Munday - a Solent University alumni who usually exhibits his work worldwide in sell out shows – this will be his first exhibition with a non-commercial gallery. The exhibition will also be the first time that Munday will be developing site specific work directly onto the walls of the gallery over a three month period – allowing him time for reflection and style development.
To enter the Showcase Gallery 'selfie send-in' and see your face within the #StandTogether mural that Kev Munday is creating, send your selfie, along with a fact about yourself, to showcase@solent.ac.uk by 16 February 2018. You can also join the conversation on Twitter (@SolentShowcase) and Facebook (solentshowcase). Munday will be adding to the wall throughout the exhibition.
The Stand Together exhibition will officially open from 2 February – 14 April 2018 in the Showcase Gallery.