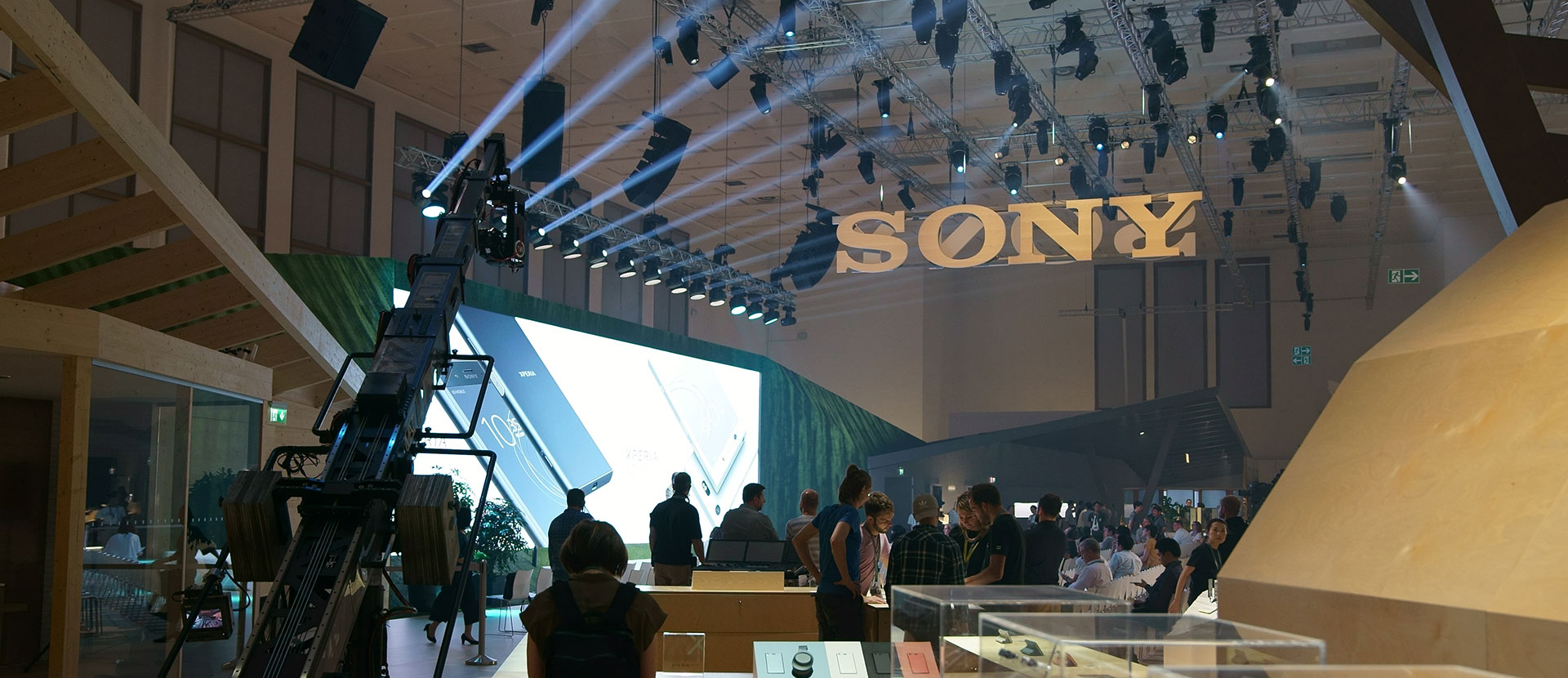 Solent graduate lands key content production role at Sony
1st March 2018
TV, film, media production and technology
Many of our students go on to work for well-known brands and companies when they graduate. BA (Hons) TV and Video Production graduate, Torrin Holland is one such example - he's currently working at Sony as their only in-house videographer for the whole of Europe. We talked to Torrin to find out how his degree prepared him for this exciting role, and his advice for anyone wanting to get into the industry.
How did university prepare you for your career?
I knew I wanted to work behind the camera even before I started university. Solent helped steered me on the right path, and I wouldn't be where I am today so I'm very grateful to all the people I met during my three years. It prepared me for life outside education - during my second and third years I started to do client work and build contacts with the outside world. This meant that during my first year after graduating, I had the knowledge and experience that helped me continue to get work.
The TV and video production course itself allows you to be flexible with what you want to do. You can focus on post production (editing and graphic design), production and be a part of the filming crew, either on small shoots or ranging up studio work. Or if you're like me, you could train in all three areas. Above all, it allows you get 'hands on' with the different equipment used by professionals and also gives you access to the professionals who can offer tips and advice. Ultimately, the course is for you if you enjoy the idea of expressing your creative ideas through video either online or in the broadcast realm. 
"The TV and video production course to me was the perfect gateway to get to where I am now, without it I doubt I would not have made it in the video world."
What's your favourite Solent memory?
There are always two sides to uni - the work and personal. I'm happy to say that there was never a dull moment in either. Solent is placed perfectly in the middle of Southampton. Before I joined I remember being nervous thanks to my autism, however the staff and people I met during my time really made me comfortable. Looking back on it, my fondest memory would be with those people I met.
Tell us about your career so far
After leaving Solent I freelanced for two years for a number of companies. These included travel companies and corporate companies doing a variety of things.  I was very lucky to work for the Holiday and Cruise channel and got to go to Canada for a week to film and edit a televised advert. It was extremely nice to see it on TV when it aired.
After the two years I found a long term job at Sony as their only in house video content producer for the whole of Europe. I create a variety of content that's used across many different platforms including social and instore. To have this kind of responsibility and trust is amazing as my work is very much at the forefront of our marketing team.
What's been your career highlight?
My career highlight so far is very difficult to answer. Interviewing icons like Tony Hawk, going to Canada and Tokyo to create online adverts ... it's very difficult to pin point a favourite! I will just say that being able to do everything I do is a highlight, and I try to never forget that.
What tips would you give to someone wanting a career in your industry?
My tips for anyone wanting a career in this industry is never to give up. There were times where I thought I wasn't going to get anywhere. But it's normal to feel like that; we're only human and sometimes things take time. The important thing is not to let it cloud you. If you want this career you have to work, and work hard for it. I was taking jobs left right and centre, even if it wasn't my forte, just to make sure I made contacts and learnt as much as I could.  
Sony has also published an interview with Torrin on their website: