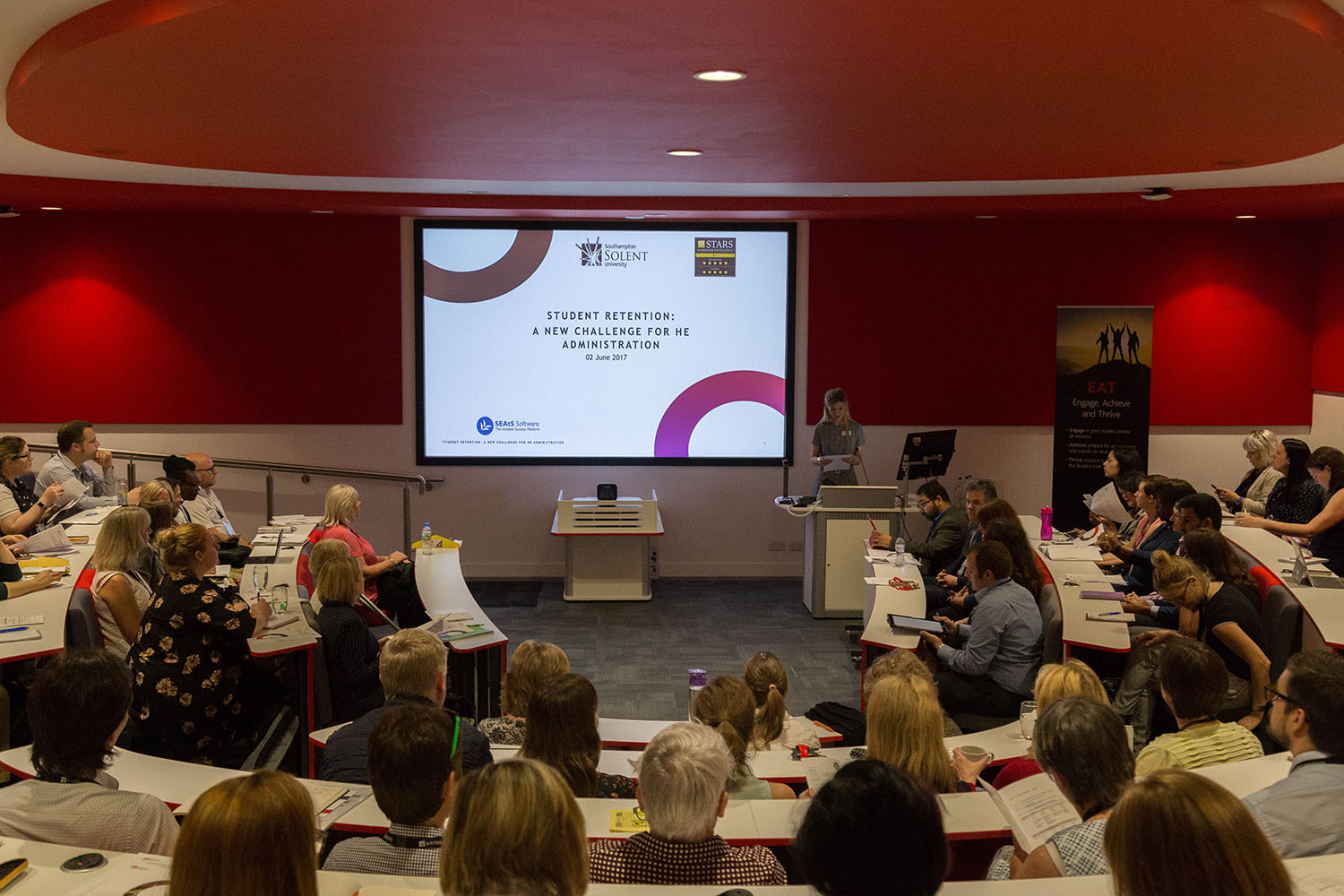 Solent leads student retention discussion
Exploring best practice in student achievement
5th July 2017
More than 100 senior HE professionals from universities across the UK met at Solent to share their experiences in helping students reach their full potential.
The one day retention conference, sponsored by SEAtS software, featured a variety of guest speakers and interactive workshops.
While historically, student retention has meant an emphasis on classroom delivery, it addresses multiple aspects of the student experience. This has been a key focus for Solent, with the University climbing 11 places in Whatuni's Student Choice Awards. 
Osama Khan, Director of the Solent Learning and Teaching Institute, opened the conference by providing an overview of Solent and its plans for the future. "I'm proud to work at such a vibrant institution, where there the student experience is at the core of everything we do.
The University has exciting plans for the future and it's great that we've been able to share these and our learnings so far with others," he said.
Dave Dowland, Academic Registrar at Solent, provided an insight to the University's recent work with the Office of Fair Access. The new Access Agreement will ensure that Solent can sustain and improve access, student success and progression for students that have come from disadvantaged or under-represented groups.
"Retention is a broad theme to explore and it's important to remember that it's not only university life that can impact a student's potential to succeed," he said.
From how the HE sector tackles attainment gaps to looking at the role of attendance monitoring systems, conference delegates shared best practice and learnings through a series of interactive workshops. Alexandra Banks, Student Achievement Manager at Solent, led a session on retention models and how data can be used to inform future working strategies.
"Before working on your strategy it's important to understand the various transition points that students go through during their time at university," she explained.
"You need to consider what help and support is already available out there and where you can add greatest value. Solent provides support services to students on a diverse range of issues from employability to wellbeing and we want to make sure that support initiatives are easily accessible."
Peer mentoring is one of the services offered to students by Solent. The programme, now in its sixth year, enables students to take part in facilitated learning sessions, delivered by trained students who have already studied the unit. Ninety per cent of mentors involved in the programme feel it has helped them with their future career progression while 70 per cent of mentees feel their confidence has improved as a result.