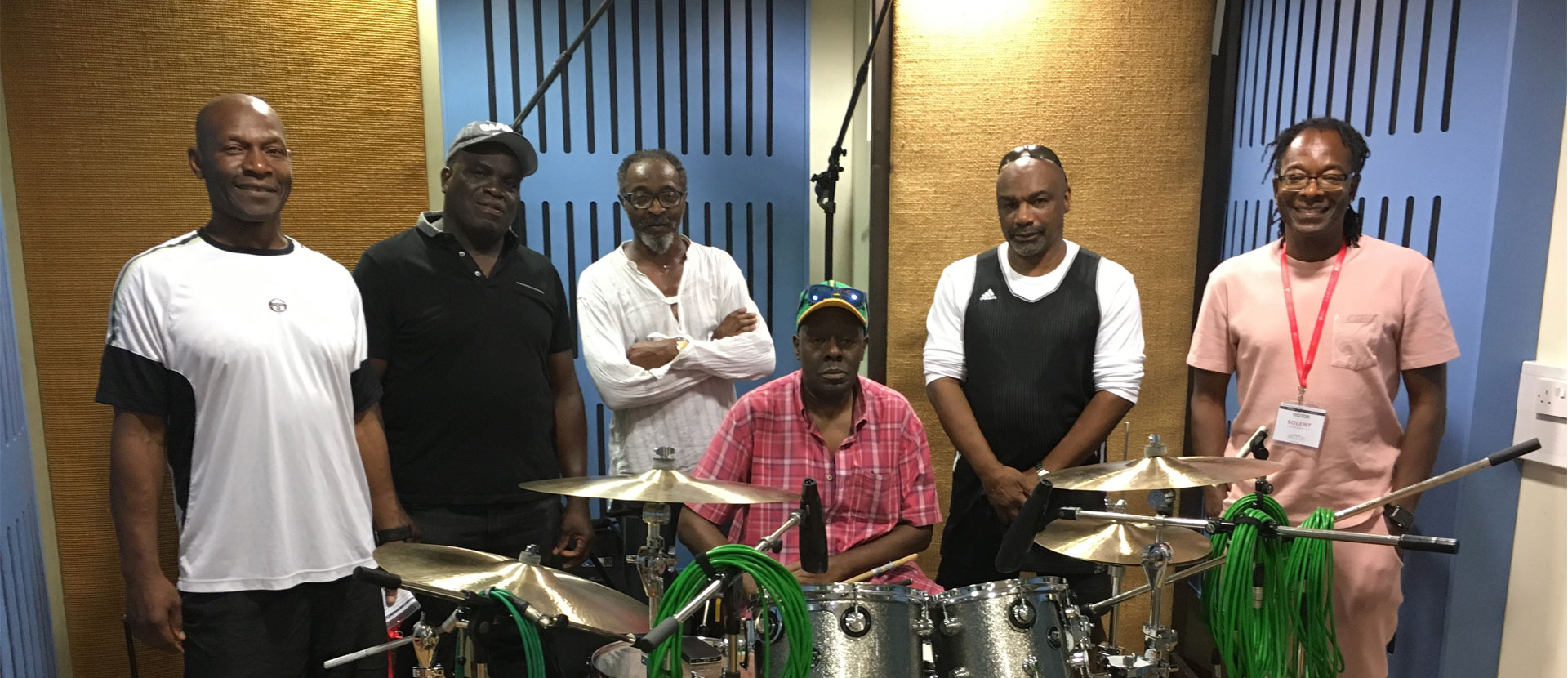 Solent reunites Ebony Rockers
One of Southampton's most influential reggae groups, Ebony Rockers, re-united at our East Park Terrace campus to re-record the backing rhythm to the 1980's hit 'Human Jungle'.
29th July 2019
One of Southampton's most influential reggae groups, Ebony Rockers, reunited at our East Park Terrace campus to re-record the backing rhythm to their 1980s hit Human Jungle. The group made use of Solent's music studios and were supported by alumnus Joe Burgess.
Human Jungle was a major breakthrough for the group in 1979, with the lyrics reflecting society's attitude towards the African-Caribbean communities within our inner cities. Forty years on the group have reunited to refresh the hit and rewrite the lyrics to reflect today's society's views and perceptions of cohesion in our communities.
Born locally, within Southampton's inner city, the group were managed by Don John, a local campaigner for equality and diversity and most recently awarded an Honorary Doctorate by the University. Don's role with the group increased awareness around the challenges faced by young people within our inner city communities - something he now aims to recreate.
Commenting on the project, Don said: "40 years ago Human Jungle resonated with people across the UK. They could see the divides that were apparent in our society and were keen to raise awareness of how this was impacting on people's chances of success. While great work has been undertaken to drive equality, today we face new challenges with new technologies and evolving communities. We are grateful to Solent University for providing us with access to their industry standard facilities and enabling us to make the project a reality. 
Since the release of the single, a lot of progress has been made by society, on a local, national and international level. Southampton has experienced a significant transformation during this period and is home to a diverse and creative community - we are therefore calling on people across the city to get involved with this project and help shape the future lyrics."
Commenting on the support of the project, Professor Julie Hall, Deputy Vice-Chancellor at the University, added: "We are delighted to be supporting such a worthwhile project for the city. The release of the original track marked a key milestone in Southampton's cultural development and it's exciting that this project is taking place at a time when the city is once again evolving its love of culture."
Staff, students, alumni and the local community are all encouraged to get involved in shaping the new lyrics. Anyone interested in supporting the project should contact the University via engagement@solent.ac.uk.
The final single will be released at the official launch of Black History Month in Southampton in late September.