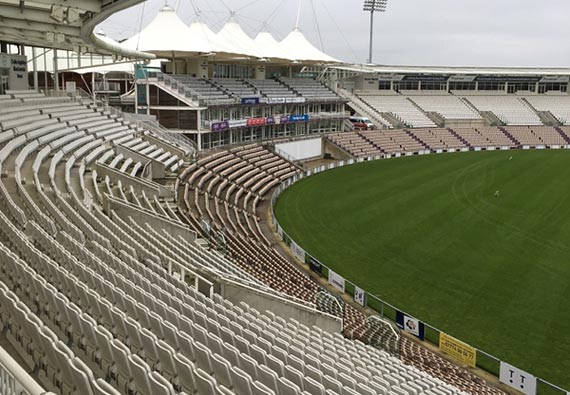 Solent sports journalists team up with Hampshire cricket
Cricket Camera Creativity with Sports Journalism Students
24th February 2016
Health, psychology and sociology
February in the UK is not synonymous with cricket, but for Solent University's BA (Hons) Sports Journalism students this is very much the time of year to get the red ball rolling.
The course has a long standing relationship with Hampshire County Cricket club, and each year a group of students work with the media team at the Ageas Bowl to provide video content for the club's online TV channel.
The County Championship season starts for Dale Benkenstein's men in earnest on 10 April when they host Warwickshire, before heading north to take on defending champions Yorkshire at Headingley.
For seven third year students, preparations for this new campaign have already begun.
Alex Mitchell is one of the group who has been tasked with working alongside Hampshire's media team to produce film, interview players and edit footage – bringing to life some of the stories emerging from the club.
"It's been a great project to get involved with, and something I have already got lots out of", Alex explained.
"Getting up close and personal with elite athletes and being able to see what makes them tick has been an eye opening experience. Plus, the facilities at the Ageas Bowl are second to none"
Fellow third year Joe Wallace says the live brief has helped him with his university work. He said:
"I can feel my camera skills improving each week and I'm getting more comfortable using additional software to help make the videos look even better.
"Also, I'm able to improve my contacts list and I'm using interview skills in other areas of my University work."
Andy Ford teaches TV broadcast skills on the sports journalism degree and says the relationship between the University and the cricket club is mutually beneficial:
"We're very lucky that each year Hampshire come to us and ask us to provide them with a team to help bring their stories to life on screen.
"They do this because they know they are getting good students with a strong work ethic, and for those young people who get involved, it always proves to be a fantastic live working brief.
"Hampshire demand content of a professional broadcast standard and that is exactly what they get from us."
Hampshire Cricket's press officer Jamie Hopkins, himself a former Solent University Sports Journalism student, has nothing but praise for the work that the current crop are producing:
"Not only have I been very impressed with the enthusiasm and commitment of the students, but the quality of the work has been of a high standard.
"The creativity behind the camera has made for a lot of extremely engaging content for our fans, with Hampshire Cricket TV playing a key role in the video content that we produce ahead of a new season"