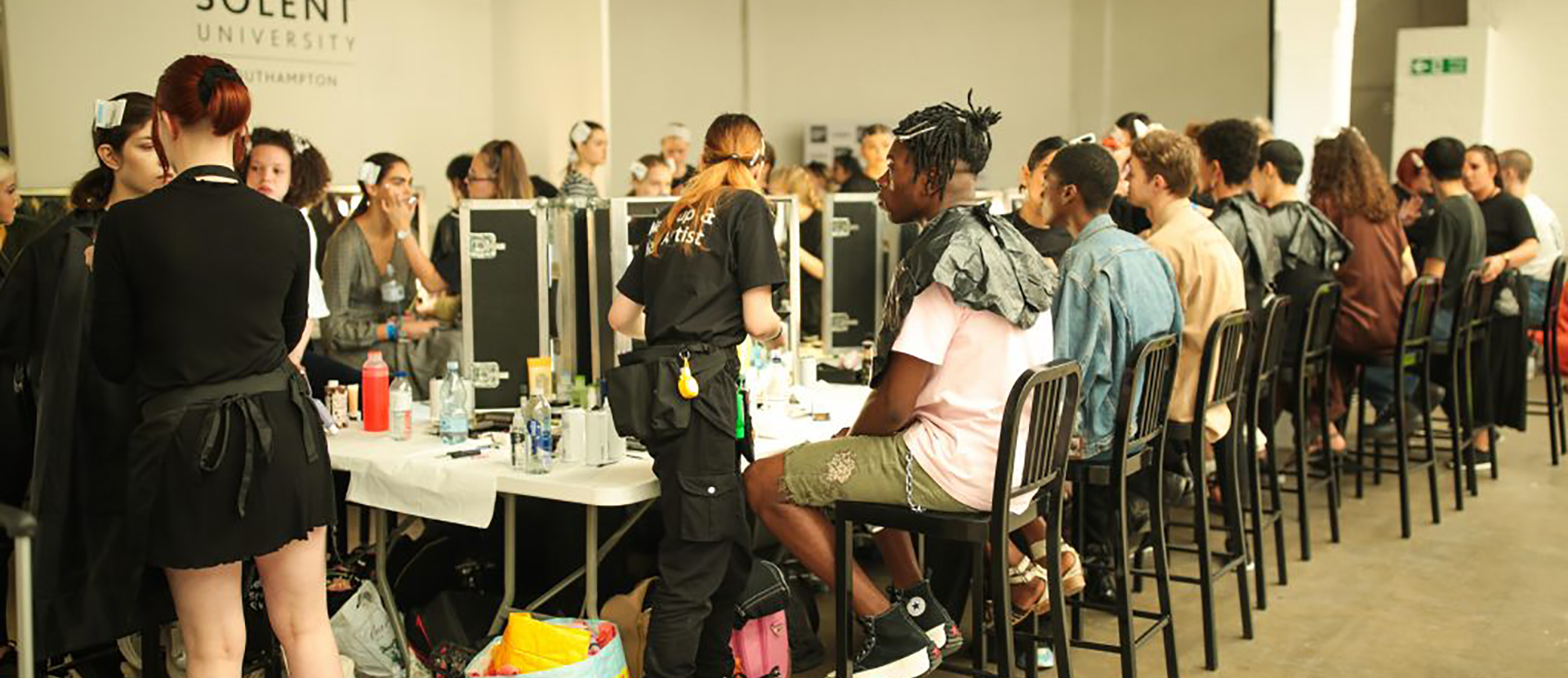 Solent students lead make-up looks at Graduate Fashion Week
BA (Hons) Make-up and Hair Design students recently had the fantastic opportunity to create and apply the make-up looks for the Graduate Fashion Week (GFW) shows, working alongside industry professionals from L'Oreal.
13th June 2019
We caught up with three of the Solent team -Lucy Murphy-Ackroyd, Annistasia Chandler and Sinead Alves - to find out more about their experience, and the stunning looks they created.
How did the opportunity come up to do the make-up at GFW?
Lucy: It came about because of our previous work alongside Edinburgh College of Art. Sharon D Lloyd, Rachel Collins, Eloise Robinson, Misha James and I travelled up to Edinburgh to collaborate on their Diversity Network. Through this, we as a University, were recommended by the Fashion School of Designs Programme Director, Mal Burkinshaw.
What were your main roles at GFW?
Lucy: I was lead makeup artist alongside four others. We were responsible for designing the looks with each university for their catwalk shows, demoing the looks to the rest of the team, and then supervising the team while they carried out the looks on the models. We were also responsible for ensuring all models were ready for the catwalk, and touching-up backstage.
Annistasia: I was a make-up artist, where I had to recreate a look the lead artist had created for each catwalk. This involved using certain products for key features of the look, allowing for the collection to look whole. I was also lucky enough to go backstage for touch-ups for several of the shows, including being able to do all the final touch crosses on the Norwich show. Touch-ups also include rubbing moisturiser into the models legs/arms/back - any skin on show really. It was the most incredible experience being there for touch-ups and the buzz of backstage was unreal!
Tell us about the looks you created
Lucy: I was responsible for five looks for the shows - my personal favourite would have to be for the Best of GFW show. There was no brief for this look as it was a series of the best collections from across the universities. This meant I had the chance to be creative which I thoroughly enjoyed. After discussion with the show director, I decided on a bold look of clumped coloured lashes, using a different colour on each model. I knew this would work well because of its versatility - having a different colour on each model made sure it wouldn't suit one more than another.
Sinead: The clumpy colourful mascara was definitely my favourite to create. It consisted of applying colourful mascara or any other cream product on the eyelashes - we had to really layer it out to make it look extremely dramatic.
Any favourite moments you can share?
Annistasia: The first time coming out of backstage, my hands were shaking from the adrenaline rush! The whole experience was surreal and I honestly cannot put into words what backstage is like. 
Lucy: My favourite moment was after I had finished the Best of GFW show. This was my final show and I felt a huge sense of accomplishment. I was taking a break when I bumped into New Zealand fashion journalist, Hilary Alexander. She kindly asked me to do her eye makeup for the Gala Award Show. It was such an incredible experience to be able to not only do the makeup, but to also have the chance to speak to such an incredible and inspiring lady in the industry. 
How do you feel opportunities like this are helping you prepare for your future career?
Sinead: It helped me become more clear on what I want to do after I graduate, and I made great connections with photographers and models. So far, this was one of the best things that's happened since I started my academic journey with Solent.
Annistasia: Experiences like this push us as artists and creatives, but with a back-up safety net of tutors/lead artists being there if we need them. It's also giving us fantastic opportunities to network, which in this industry is invaluable. I honestly cannot thank Sharon and Lottie enough for the wonderful experience, and the lead artists for running such incredible teams with amazing designs.
Lucy: These quick-paced events teach you far more than you would ever be able to learn in class. Classes teach you the skills, which is fantastic, but these shows and events teach you so much more, such as working quickly yet professionally, dealing with criticism, working among a group of other artists, and so much more. These traits cannot be taught, they can only be gained through experience.
Images courtesy of Kobe Ikram for @fashionlamourmagazine, and make-up artists' own.