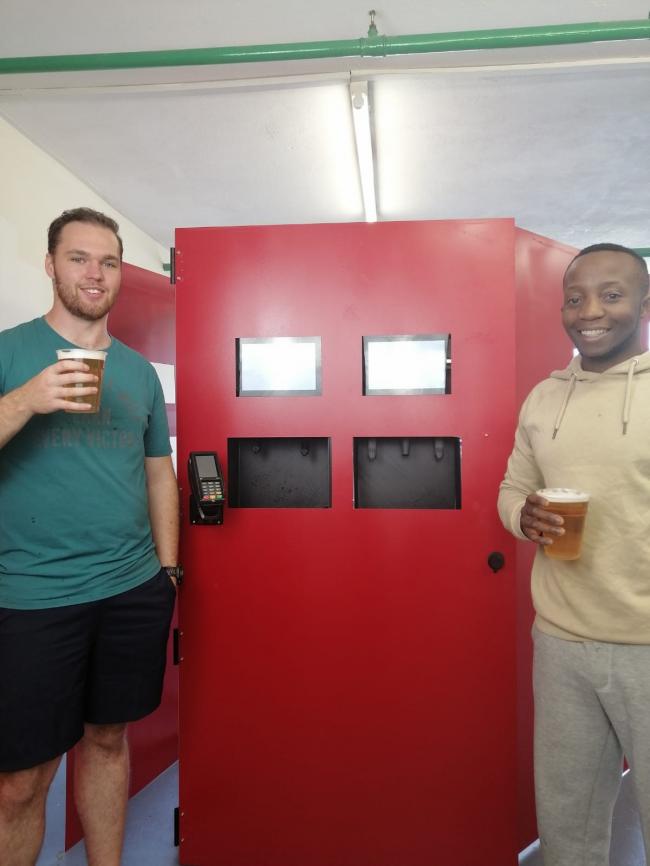 Solent University grant boosts company producing the world's first self-service automated bars
Solent University alumni Patrick Songore, and his business partner Michael Jobson are the founders of OTB Vendors, a company that designs and manufactures the world's first truly self-service automated bars for events and venues.
11th August 2021
'The Draughtinator' is a self-serve automated bar, aiming to reduce customer frustration by reducing waiting times. The equivalent of six bartenders, it can serve over 1,000 alcoholic and soft drinks per hour and pour 18 drinks simultaneously.
Solent University awarded the business partners their first grant in April 2020 at the height of the COVID pandemic. This enabled them to work on the concept and push the idea forward. They were also loaded onto an Accelerator program hosted by both Solent University and The Royal Society with the chance of winning £25,000 in business support, which they went on to win.
OTB Vendors products are designed with the sole aim of improving the serving capacity and speed of venues and events. The modular design of the machines means that they can be easily designed, installed, and placed in any location to cater to every event or venue needs.
CEO and Co-founder Patrick Songore said: "With the help that Solent has given me, I will be forever grateful. This time last year I didn't understand how to create a business plan and if someone put financial forecasts in front of me, I would have been clueless! But the opportunities that Solent have provided meant I have been able to present business plans etc to investors and business owners. Though success is not guaranteed in my venture, I can wholeheartedly report that I am optimistic about life, just because of the scheme Solent ran."