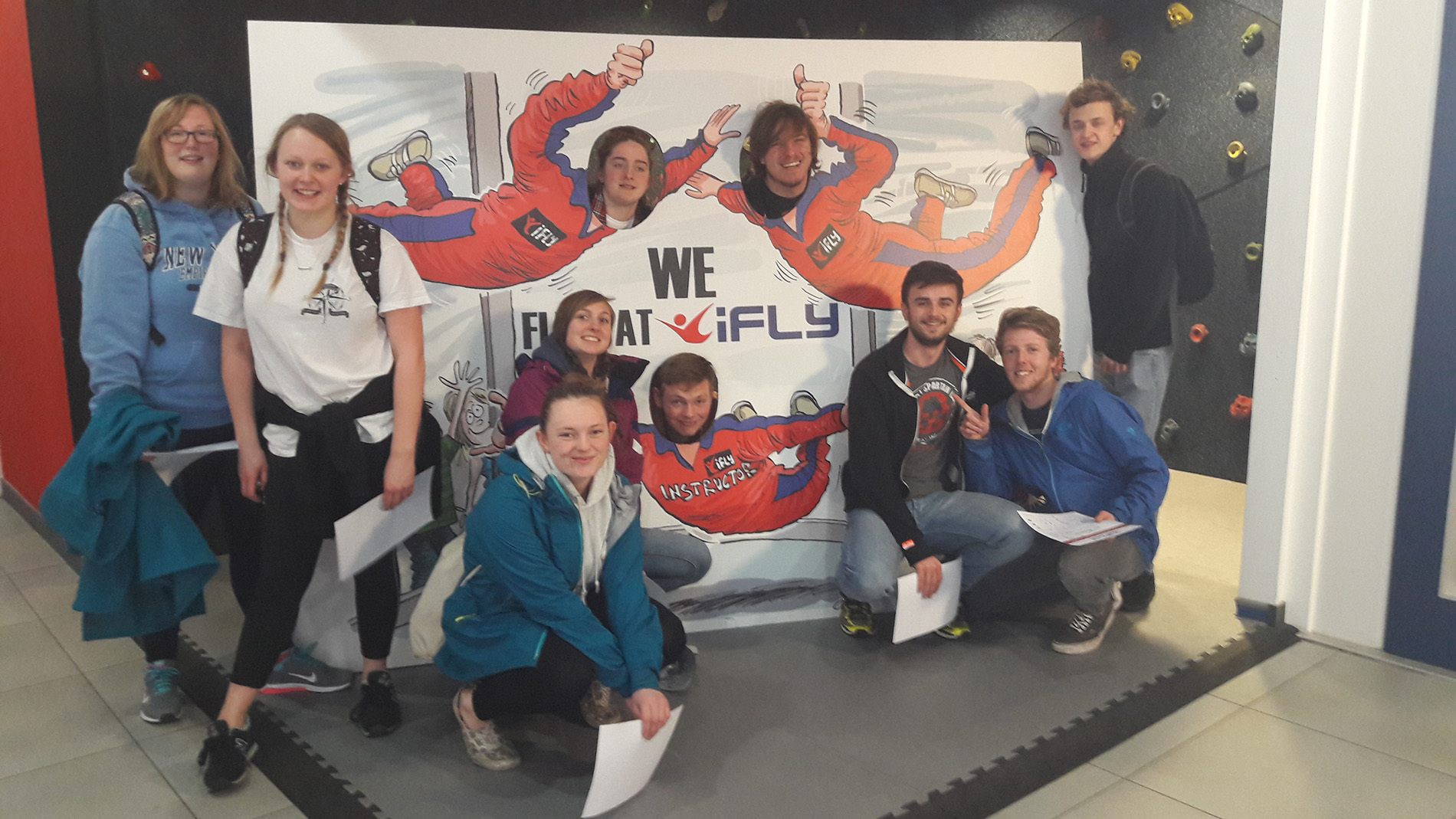 A taste of the high life
12th April 2017
Sport and fitness
Sport management
At a time when technical innovation and growth in the 'Macdonalisation' or commercialisation of adventurous activities is literally at an 'all time high', second-year BA (Hons) Adventure and Outdoor Management students investigated what it's like to get a taste of the 'high life'.
The students visited Basingstoke's Indoor Sky Diving centre, run by IFly, to understand why this industry has exploded and how they can apply their degree in this area.   
Centres like IFly are attracting a wide audience from children to adults, beginners to advanced, and offer the benefit of a 'controlled' yet 'exhilarating' outdoor recreational experience.
Other artificial experiences at IFly include a rotating climbing wall, 'brush board' surfing (no water required!) and ski-plex (an indoor training ski slope), and students were able to observe all of these in action.
A bumpy ride for some
During the visit students had an opportunity to try first-hand, how the indoor wind tunnel technology works with some finding it easier than others; as one of the students Charlie Gambrill describes: "I learned I am as aerodynamic as a brick! IFly made my dream of crashing into every wall a reality. It was a great all round experience though and I was able to gain a really good insight into the commercial / artificial sector of the adventure industry."
The Icarus Project
Students were also fortunate to receive a talk and workshop by astronautics lecturer and experienced extreme sports enthusiast/base jumper, Dr Angelo Grubisic as part of the Icarus Project. This research initiative is looking to design the most technologically advanced wingsuit to improve safety and to help break world records for the fastest, farthest and longest wingsuit skydiving attempt. Students learnt about the physics and techniques behind skydiving while recognising the influence of technological advancements in associated equipment.
The future of adventure technology and exciting career opportunities
At a time when the first 'human carrying drones' have been created (the Hoversurf), there appears no end to the extreme adventure industry. As a recent Mintel report observes 'brands that can deliver on extreme experiences for consumers while leveraging the latest technology are likely to appeal to a thrill-seeking consumer base' (Mintel Trends 2017).
Field trips like this allow students to apply academic theory on topics such as business development, marketing and operational management to 'real-world' experience, allowing skills, knowledge and understanding to develop in preparation for future careers.