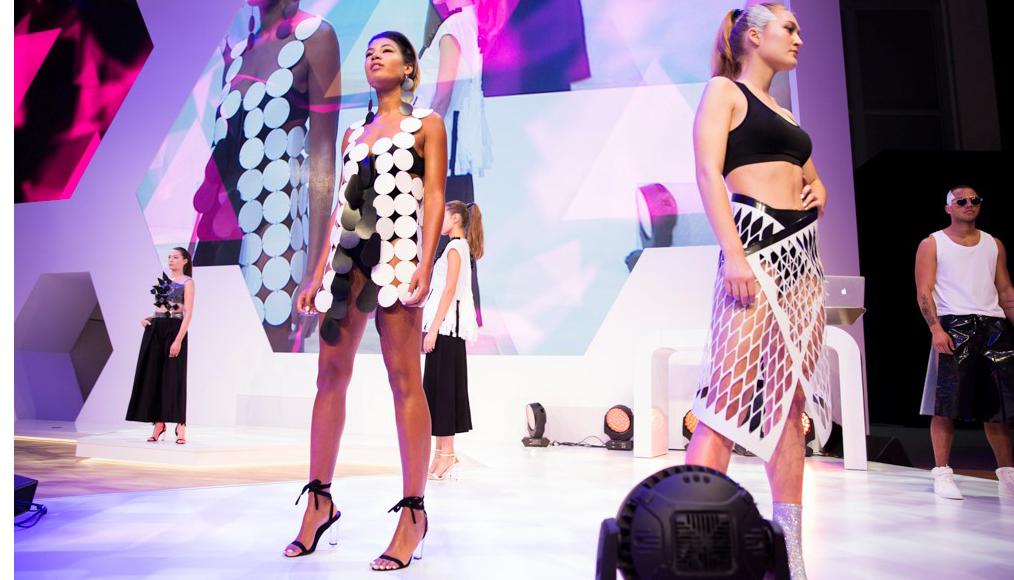 Students showcase fashion fantastic plastic on international catwalk
Charlotte & Lily are plastic fantastic
23rd November 2016
Last month, a selection of our make-up and hair design students jetted off to Düsseldorf to showcase their work at Face of Innovation - an international catwalk event.
Earlier this summer, we spoke with Lily & Charlotte, final-year, make-up and hair design students, who were both working hard in the hope they would be shortlisted to attend. 
Now back from Düsseldorf, they tell us all about the trip, the hands on work experience they've gained and why they would do it all again in a heartbeat…
How was your time in Düsseldorf?
Lily: Düsseldorf was amazing! Getting to go to a different country to work on a fashion show is an opportunity that you don't ordinarily get while studying.
Charlotte: The fashion show went really well and was such an amazing opportunity. I learnt a lot both professionally and personally while we were out there.
When we last spoke, you didn't know you had been shortlisted…
Lily: After working so hard on the project throughout the summer it was amazing to find out that we would get to go.
Charlotte: We put in so many hours creating garments. To find out we would actually be going on the trip was both incredibly rewarding and scary.
What is your favourite part from Düsseldorf?
Lily: The hands on experience that I gained would have to be my favourite part. Getting real experience of the industry was invaluable.
Charlotte: The live shows. I was fortunate enough to be assisting our Creative Director, Clementine O'Hara and during that time I learnt so much from her. Around half way through our time there she left and I took over her role, previously the idea of being a Creative Director hadn't been something I had thought about, however from my time working alongside Clementine, my aspirations have grown immensely. Seeing everyone's work go out on the runway after how much hard work had been put into it was rather emotional but filled me with so much pride.
Would you encourage other students to get involved in the project?
Lily: I would whole heartedly encourage people to get involved. I would do it again in a heartbeat.
Charlotte: Absolutely! The Dow project was such a rewarding experience and opened up so many opportunities for us as students. The project really pushes you out of your comfort zone to fully develop you as a professional.
How did you manage the project alongside your other coursework?
Lily: It has all been about time management.
Did your project get a good response on the catwalk?
Lily: The feedback we had was incredible. We even had people stop us when we were in the airport waiting to check in for our flight home! The fashion show seemed to be a huge talking point at K2106.
Charlotte: The garments we made for the project received a huge response on the runway. The most popular one from our four creations was definitely the scaled body armour which made the front page of Plastics News magazine!
Anything else to add about the experience?
Lily: Seeing our garments on the catwalk was such an experience. I feel very privileged.
Charlotte: I'd do it all again tomorrow if I could!
All of the students involved in the Face of Innovation catwalk created wearable, stylish garments, from reusable plastic materials. Nine students were shortlisted and showcased their work at Dow's Face of Innovation exhibition which is part of K2106, an international event where plastic and rubber from across the world is presented.
Dow, one of the world leaders in the plastics market have been working closely with Solent make-up, hair and fashion students over the last few months. Dow's Face of Innovation theme was one of the exhibitions at K2106 and students were invited to get involved.
Find out more about Lily & Charlottes work here.